What took place in the Wellington Shores Wellington Florida real estate market in 2012? Let's review! The real estate market in Wellington Shores ended as a sellers market and the median sales price increased tremendously from the previous year.
In 2011 the median home sales price in Wellington Shores was $262,000,  but fast forward 12 months and at the end of 2012 it was $375,000, that's over a 43% INCREASE. The median list to sales price ratio in 2012 was 96.2% and the lowest and highest sale prices for the year also increased since 2011.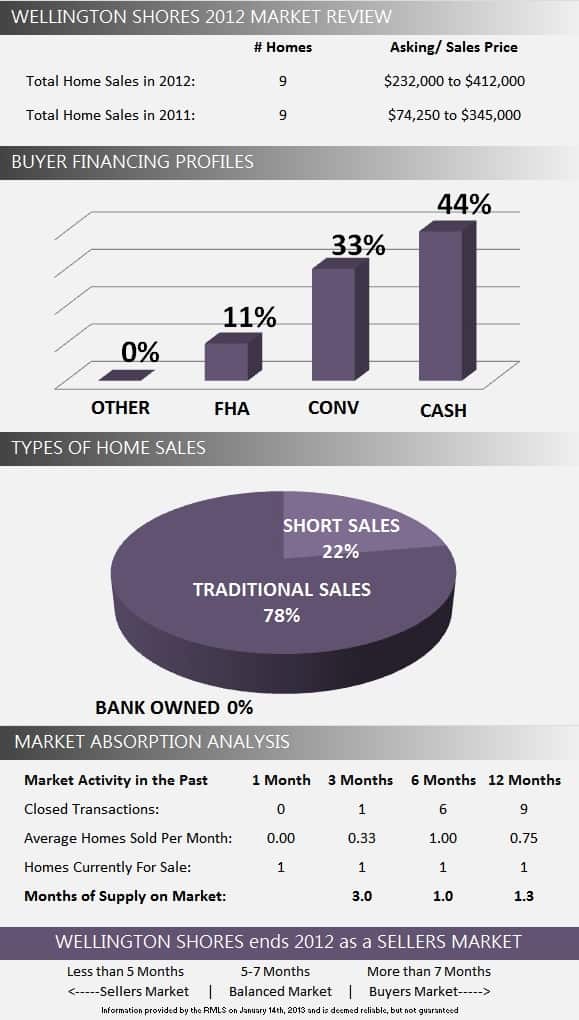 If you are looking to SELL, BUY or RENT a home in Wellington Shores the Wellington Home Team can help!
SELLING: Do you want to sell your Wellington Shores home in Wellington Florida? If you are thinking about selling your home and want to know the value you can find out @ What's my Wellington Shores Wellington Home Worth? or call us @ 561.333.0446 for a free on line or in home market analysis. You can also take a sneak peek at some of the marketing we do to get top dollar for your Wellington Shores home in the shortest amount of time @ Marketing your Wellington Shores Home. If you are upside down and owe more than your home is worth, but need to sell you may have options to avoid foreclosure, such as short selling your Wellington Shores home.
BUYING: Are you looking to buy a home in Wellington Shores Wellington Florida? Let us do the searching for you by filling out our Online Buyer Questionnaire. Once received we will do a custom home search based on your needs and then e-mail you a list of Wellington Shores home for sale in Wellington Florida.
LANDLORDS: Do you need to list your Wellington Shores home for rent in Wellington Florida? Visit our Landlord Resource Center to find out the Steps to Listing your Wellington Shores Home for Rent. Here, you will also be able to find out how much your home will rent for, take a peak at our Rental Marketing Plan and learn more about our Tenant Screening Process.
TENANTS: Are you looking to rent a home in Wellington Shores Wellington Florida? Receive a list of available homes for rent in Wellington Shores by filling out our Online Rental Questionnaire. Once completed we will do a custom MLS home search and e-mail a list of homes that fit your needs. Learn more about the rental process @ 9 Steps to Renting a Home in Wellington Shores and Rental Tips and Expectations.
Contact the Wellington Home Team @ 561.333.0446 or [email protected] for all of your Wellington Shores Wellington Florida Real Estate needs.