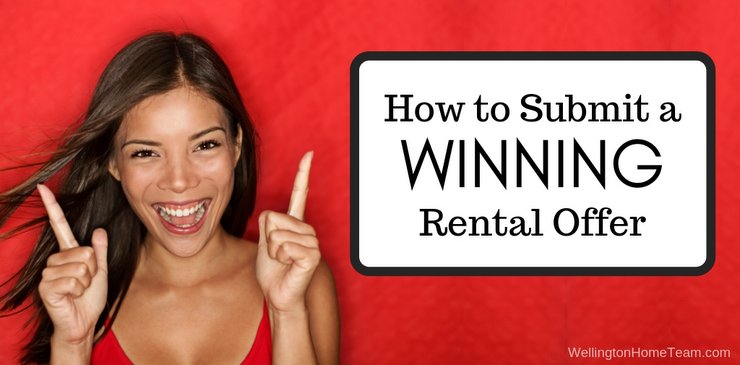 How to Submit a Winning Rental Offer on a Home
I have been assisting Wellington Landlords and Tenants with their rental needs for over a decade now and know how to put together a Winning Rental Offer.
I require tenants to fill out our Online Rental Questionnaire, so I can show them as many properties that fit their needs and try to give them as many options as possible.
I also require a copy of their credit report to verify if I'm working with a credit challenged tenant, which makes a difference on how I will present their offer.  Plus, some homes for rent in the MLS will state "Landlord will not accept tenants with a credit score below "X" amount. "These homes will obviously be ruled out if someone doesn't fit the criteria.
When we sit down to write an offer a tenant will need to provide a Rental Application and proof of income, which should be on hand before we start our rental search.  If they have bad credit or a unique situation I will have them write a letter to the potential landlord explaining the HOW, WHAT & WHY.
Here's What Winning Rental Offer Includes:
1.  Contract to Lease: This is the written offer that will have a tenant's terms and conditions, which must be signed by everyone who will be on the lease.
2. Rental Application: This will typically list your current address, past and present jobs, type of vehicles, occupants of home and pets.
3.  Credit Report: Usually anyone over the age of 18 will have to provide or have their credit report pulled.
4.  Background Check: Usually anyone over the age of 18 will have to go through a background check.
5.  Proof of Income: Usually a recent paycheck stub or W2 to verify income.
6.  Introduction Letter: If you have bad credit or a unique situation explain why, make the prospective landlord focus on you NOT the number on a piece of paper.
7.  Copy of Deposit Check: This is a deposit to hold the property.
By submitting these 7 items with every rental offer I have placed tenants with bad credit, who are unemployed, and who have pets both big and small.  I can't stress enough how important it is for tenants to be prepared BEFORE they start their Wellington rental search. With the lack of rental inventory in Wellington, there is a strong possibility a tenant will lose a property to another tenant if they are not prepared and submit a Winning Rental Offer.
ACCEPTED VS. DENIED
Their offer included 3 of the 7 items on my list: Contract to Lease, Rental Application & Copy of Deposit Check
We requested the remaining 4 items: Proof of income, Rental History since it wasn't included in the Rental Application, Credit & Background check, which we pulled, and then an explanation for their credit report, which was barely over 500.
While this perspective tenant didn't look too impressive at first after the missing information was reviewed the landlord accepted this tenant.  Now if this agent would have submitted a Winning Rental Offer upfront, it probably would have been accepted within hours instead it took several days and they almost lost the property to another tenant.
How to Submit a Winning Rental Offer on a Home