Tiger Shark Cove, Wellington, Florida
Tiger Shark Cove is a wonderful park in Wellington Florida that offers softball fields, batting cages, and one of the best playgrounds in the County. However, unlike most parks, the playground at Tiger Shark Cove was designed by input from village residents and rebuilt in March of 2012 by hundreds of community volunteers.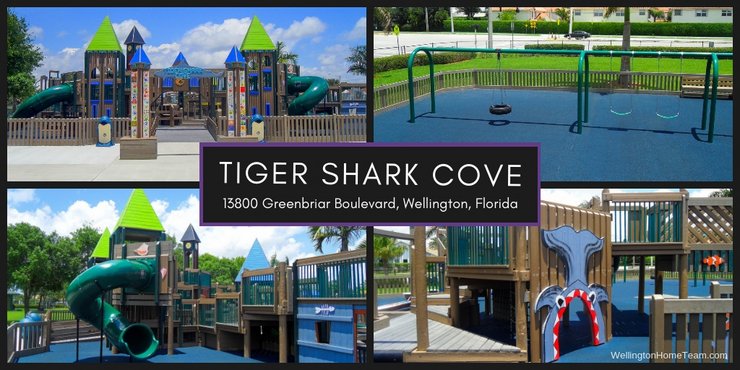 While the playground at Tiger Shark Cove has a new look after 12 years there are still a few items that have remained the same.  One of my favorite parts of the new design is the sunken pirate ship, which has a giant octopus on the side for kids can climb.  Additional slides were also added during the $300,000 makeover along with new swings, a sunken treasure cave, surfboard balance beam, and a submarine that includes a tower and periscope for kids to enjoy.
Tiger Shark Cove is a great place to get together with friends and family for special events or just to hang out. It offers plenty of shade under the pavilions and trees along with benches and seating throughout the park. There is also a spot within the playground where visitors can cool off under the waterworks.
Tiger Shark Cove | 13800 Greenbriar Boulevard Wellington, FL 33414 | 561-791-4000
For other parks in Wellington Florida visit: Wellington Florida Parks