Early Occupancy | 6 Reasons Home Sellers Should Not Allow It
Sometimes when you are selling your home, you may get a request from the buyer to move in early. The buyer might make this request because their home has already sold or their lease is up and they need a place to live.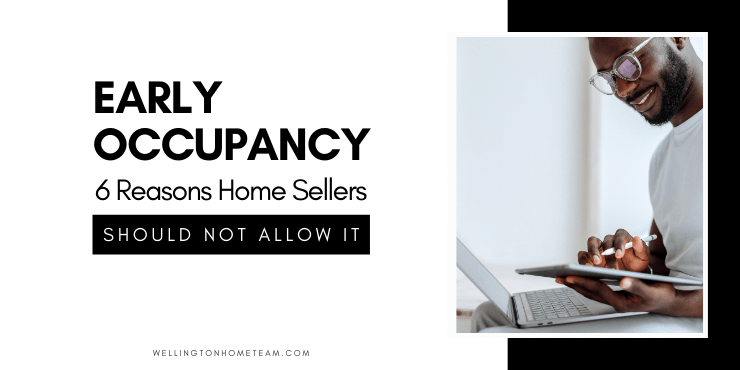 When a buyer requests to move into the property they're purchasing prior to closing is commonly referred to as early occupancy. As a seller, you naturally want to help the buyer where you can, and if your property is already empty, why not help them out? Agreeing to this arrangement will avoid alienating the buyer, but is it really a good idea to give them early occupancy?
6 Reasons Why Sellers Should Deny Early Occupancy
Giving the buyer possession before closing might seem like a nice thing to do, but there are more dangers involved than you might imagine. As a seller, you should never allow early occupancy even with a pre-closing occupancy agreement or early occupancy addendum in place.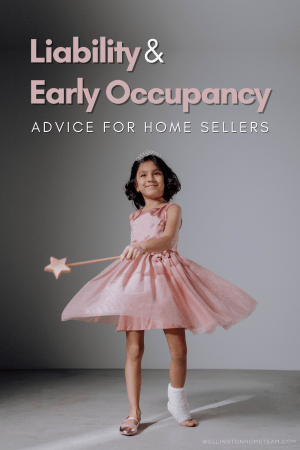 Liability
If you allow the buyer to live in your home before closing, the responsibility remains your problem. This means that if the home burns down, or someone gets hurt, will your insurance cover it?
Normally, homeowners insurance is just that, coverage for the homeowner when they live in the property. If someone else is living in the home, likely, the insurance won't be valid. If the buyer's dog bites the mail carrier on your property, who is responsible?
A Change of Heart
If the buyer lives in the home for a while and comes to realize that it isn't right for them, they could cancel their contract. Perhaps the floorplan isn't working for them, maybe they don't like the neighbors, or the neighborhood isn't what they imagined. Whatever the reason, giving the buyer early occupancy could show them the home isn't somewhere they want to live.
Even if they don't have any contingencies to give them away out without consequences, they could still take the risk. And if they do, you will be back to square one, looking for a new buyer for your home.
Finding Problems
With the buyer in the home before closing, you risk them discovering problems that they will want you to pay for. If they find something that wasn't apparent during the home inspection, they could require you to pay for the repairs before closing.
Even something that was in the inspector's report but didn't require repairing, could seem a lot worse to the buyer when they have lived in the home for a few weeks. You could be presented with a list of changes and fixes the new buyer now considers necessary. If you have already made repairs and negotiated, returning to this stage is going to be very frustrating.
There is a good chance that allowing the buyer to live in the home early will lead to them finding things wrong that they will look to you to repair. This is going to add expenses when you thought you had already dealt with everything.
Are you selling your home and the buyer wants early occupancy? Here are 6 powerful reasons you should say no, even if they're willing to pay you. #earlyoccupancy #homeselling #realestate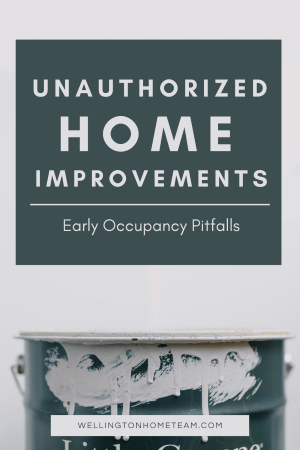 Making Improvements
The buyer might make some improvements while they are living there, expecting to close on the home. But if the sale falls through, they could place a lien on the property for the value of the improvements.
They could also make changes they consider improvements, that you might not, which you will be left with if the sale doesn't close. You could find yourself having to pay to return the home to the condition it was previously.
Damaging the Home
Another possible issue could be the buyer causing the damage themselves. They could claim that the damage was already present and ask you to fix it, hoping that you will give in and pay so that they continue to closing. And then there is also a risk that they might damage the property and then not continue to buy.
Refusing to Leave
If you allow the buyer to live in the home, and then their financing falls through, they might not be willing to move out. Even if they've been preapproved for their mortgage, things can go wrong unexpectedly during the underwriting process.
While the buyer might leave the home voluntarily if this happens, they might not. This will lead to you needing to take legal action to get them out. The eviction process might not be over quickly either.
It could be many months or even years before your home is vacant again. You are also going to face a large attorney's bill and a lot of worries while you wait for the situation to be resolved. And during this time, your real estate agent will have the difficult task of finding another buyer with an unwanted and uncooperative tenant in the home.
Agreeing to Early Occupancy
If you still want to give early occupancy after finding out about the risks, you can get the buyer to sign a liability waiver and pay a deposit. If you make the deposit non-refundable, it can cover your expenses should the sale not close.
An early possession agreement can also help you reduce your risks. This should set out how long the buyer has to vacate the home if things fall apart. There should be clauses preventing changing the home or landscaping the yard. A security deposit might also be required, and this is another thing that needs to be included in any agreement.
You could also charge rent for the time they are occupying the home before closing. The agreement should state how much is due and when, as well as details like who is responsible for utilities. You might want background checks performed and references as well.
You will need to contact your homeowner insurance provider to find out what the situation is, and there could well be extra charges.
Consult your real estate attorney to set up this agreement, and they will advise you to make sure you are as protected as you can be. In the end, however, having an early occupancy clause will still not completely remove the risks.
Final Thoughts
As you can see, there are many reasons why real estate professionals advise sellers against getting into an early occupancy agreement. Agreeing to this arrangement means that the seller is taking a one-sided risk. The buyer doesn't really have anything to lose from this situation, so as a seller, you will be better off avoiding it completely.
Please consider spreading the word and sharing; Early Occupancy | 6 Reasons Home Sellers Should Not Allow It
Are you selling your home and the buyer wants early occupancy? Here are 6 powerful reasons you should say no, even if they're willing to pay you. #earlyoccupancy #homeselling #realestate
About the Author
Top Wellington Realtor, Michelle Gibson, wrote: "Early Occupancy | 6 Reasons Home Sellers Should Not Allow It"
Michelle has been specializing in residential real estate since 2001 throughout Wellington Florida and the surrounding area. Whether you're looking to buy, sell, or rent she will guide you through the entire real estate transaction. If you're ready to put Michelle's knowledge and expertise to work for you call or e-mail her today.
Areas of service include Wellington, Lake Worth, Royal Palm Beach, Boynton Beach, West Palm Beach, Loxahatchee, Greenacres, and more.
Early Occupancy | 6 Reasons Home Sellers Should Not Allow It