UGLY Home Staging that Does Not Work | Mistakes to Avoid when Selling
First impressions are everything when selling a home, so it's imperative your home is "show ready" when you list it for sale. Some home sellers will hire a professional stager or decorator to help them with staging while others will go at it alone. If you are a do it yourselfer and choose to go at it alone there are several do's and don'ts when it comes to staging. Below are 6 ugly staging mistakes that seller often makes along with advice on how to avoid them.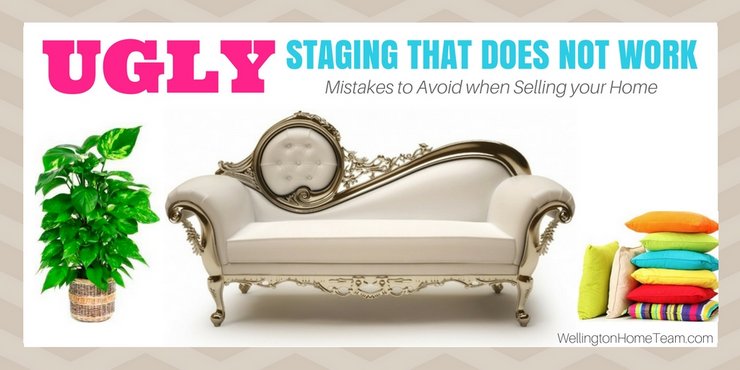 Unsightly Furniture
If you have outdated or beat-up furniture your best option is to replace it or remove it altogether. Occasionally a slipcover may look good over a couch, but oftentimes slipcovers, blankets, or an overabundance of pillows won't help, they tend to make the outdated or beat up furnishing a bigger eyesore than it already was.
Tip: If you can't afford to replace unsightly furniture renting furniture may be a great option. Another option is to visit second-hand stores for gently used items, which can be much more affordable than brand new furniture.
Decorative Themes
Making your home look like the Vatican is not neutral and will not be appealing to a majority of home buyers. If you live in a beachy area or an equestrian community you may be able to get away with some subtle decorative themes, but don't let seashells or horses take over the house. There is a solid line between tasteful decor and cheesy decor that looks more like clutter and as a seller you need to know the difference.
Tip: Try to keep your home as neutral as possible when it comes to paint, furnishings, and decorations.
Pillows and Towels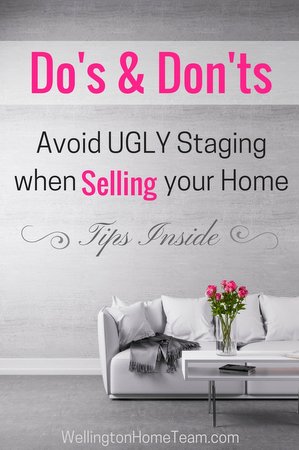 No matter how many decorative towels you use in an outdated kitchen or bathroom you are not going to distract the buyer nor is it going to improve the appearance of the room. Having a few towels is acceptable, putting towels everywhere is not. The same goes for decorative pillows. Pillows on the sofa, pillows on the floor, pillows on the bed, pillows on the kitchen chairs, pillows, pillows, pillows. Just like towels having a few pillows is acceptable, putting pillows everywhere is not.
Tip: Streamline pillows and towels throughout the home. The fewer the better and make sure they match the rest of the decor.
Fake Plants
That fake ivy you have hanging in the bathroom is not appealing nor is the dusty fake plants sitting on top of your kitchen cabinets. Besides looking out of place it certainly isn't going to help sell a home.
Tip: Add real flowers or plants tastefully throughout the home. Occasionally a really nice silk plant may be a nice addition and add appeal, but not always.
Empty Boxes
Placing an empty brand name box in a vacant walk-in closet is out of place and borderline tacky. Why would someone leave a Gucci box in an empty closet? Is it to give the impression that the person who previously lived there could afford a Gucci purse or shoes? This is a "staging" tactic I've never understood.
Tip: Empty boxes should not be used as focal points for staging.
Area Rugs
Area rugs can ground a room and make it feel "finished" and warm, but they can also take over a home. There is no need to have area rugs in every single room, hallway, and doorway. When a plethora of rugs are throughout the home it will sometimes make a buyer think the seller is trying to hide something. Are there damaged floors or foundation issues under all of those rugs?
Tip: Use neutral area rugs if they add appeal to a room and remove dirty, matted, or smelly area rugs.
Final Thoughts
Properly staging a home isn't always easy. Sometimes it's best to bring in a professional stager to ensure your home looks its best. Yes, hiring a stager costs money. However, depending on your home and the real estate market conditions it could pay off.
If this article, UGLY Home Staging that Does Not Work | Mistakes to Avoid when Selling, was an interesting read please share it!
UGLY home staging never works and it's a mistake a lot of home sellers make. Sellers only get one first impression, so they need to make it count. #homestaging #homedecor
Additional Home Staging Advice from Top Professionals
About the Author
The above real estate article "UGLY Home Staging that Does Not Work | Mistakes to Avoid when Selling" was written by Michelle Gibson of Wellington Florida Real Estate. Specializing in residential real estate since 2001 in Wellington and the surrounding area. Not only does Michelle assist buyers and sellers, but she also assists landlords and tenants. She would love to share her expertise and guide you through the entire real estate process.
We service the following areas; Wellington, Lake Worth, Royal Palm Beach, Boynton Beach, West Palm Beach, Loxahatchee, Greenacres, and more. If you are considering selling your home, we welcome the opportunity to work with you and list your home with a top Realtor in Wellington Florida