What is DOM in Real Estate and Do they Matter?
If you are buying or selling a home you may come across the abbreviation DOM and wonder what it means. DOM stands for Days on Market, but what does days on market mean in real estate? It is the number of days a property has been on the market. DOM start accumulating once the property is entered into the MLS (Multiple Listing Service) and will continue to do so until the property goes under contract.
However, sometimes days on market continue to accrue even when the seller accepts an offer and the status is changed. Why? Because there is more than one status to choose from in the MLS when a property goes under contract. The three most common statuses in MLS's across the country are contingent, back-up, and pending. In most cases "pending" is the only status that will actually stop the DOM clock.
Are Days on Market Useful?
Absolutely! Days on market can be a great tool for home buyers. They can paint a picture of what's taking place in the real estate market along with individual properties. If a property has a low number of DOM it can tell a buyer several things.
One, it's a new listing. Two, other buyers may be very interested in the property. Three, the seller may not be very negotiable since it's new to the market. On the flip side, a high number of DOM can tell a buyer the property is overpriced and the seller isn't realistic. However, sometimes the properties that have a high DOM could be priced right because it has since had a price reduction. This is why it's always important to look at the property history too. 
Can Days On Market Be Adjusted?
Days on market cannot be adjusted. Once a property is entered in the MLS the days start accruing and there is no going back. Now, DOM will go back to zero if the listing has been canceled or expired and re-entered into the MLS. However, if the property is re-entered into the MLS within a certain period of time the DOM will reset, but the CDOM will not.
What are CDOM in Real Estate?
CDOM stands for Cumulative Days on Market, which is the total number of days a property has been on the market. Even if a property was relisted with the same real estate agent or a different one the CDOM will appear. The only way to completely reset a properties DOM and CDOM is for the home to be taken off the market for a certain amount of time, for most MLS's it's one year.
How can Sellers Reduce their Days on Market?
There is always a reason a home will have a high number of DOM and not sell. Sometimes it's the list price while other times it could be the showing instructions. Here are the top ways for sellers to keep their DOM low and get their property sold.

List Price
The number one mistake sellers make is overpricing their home. There is no benefit to overpricing a home other than not being bothered with showings, having to keep a clean house or being inconvenienced with packing. Overpricing a property is a surefire way to have a high number of days on market. Check what price other people in your hometown have set for their houses and list your property to sell online with a practical price.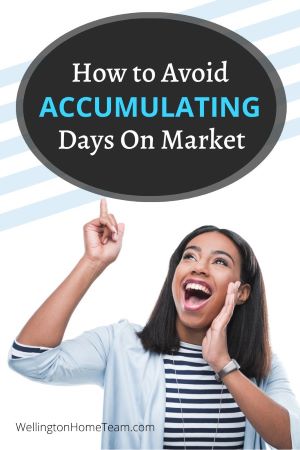 Access
If a buyer can't see a home they can't buy it. Sellers need to be flexible with showing and not have crazy restrictions.
Yes, selling a home with pets and kids can be difficult, but the harder it is to view a property the quicker the days on market will stack up. Not only do sellers need to accommodate showing it needs to be easy for agents to obtain showing instructions.
Appearance
It is imperative a home show like a model and be staged to sell. A fresh coat of paint and a deep clean can go along way when it comes to selling a home. In addition to a property looking it's best repairs need to be made prior to listing as well. An unmaintained property that doesn't show well will easy collect DOM.

Negotiate
It can be very difficult for sellers to put their emotions to the side and negotiate. While every offer won't be what a seller is looking for it's a start. The prospective buyer submitted an offer, so they are clearly interested in the property and took the first step to start negotiations. Regardless if the seller thinks the offer is "good" or "bad" they should always keep an open mind and open to negotiating.

Marketing
Whether a house is listed for $100,000 or $10,000.000 professional photographs are a must! They are usually the first impression for most buyers and will determine if they want to view the house or pass. Next, is the description. Not everyone is familiar with the area, neighborhood, builder or house itself, so a detailed description is a must as well. Open houses? A for sale sign in the yard? A classified ad? These usually aren't dealbreakers in most areas, but the listing agent will be able to guide the seller on the best marketing.

Hire a Top Realtor
Almost every person knows a Realtor, but do they know whether or not they're a top Realtor? A big mistake sellers often make is hiring their friend or family member who's an agent, not the one who can get their home sold for top dollar in the shortest amount of time. This is why it's important for all sellers to interview multiple agents and hire the best agent for the job.
Final Thoughts
The number of days on market can be a great tool for buyers, but sometimes they can be misleading. So they should never be the sole focus for a buyer when they're deciding to look at a home for sale.
A great example of how DOM can be misleading is if a property goes "contingent" on day 7, but the deal falls apart 30 days later the actual days on market is 7, but most MLS's will display 37. Once again looking at the full history of a property is just as important as looking at the days on market.
And a seller's primary goal should be to keep DOM to a minimum and sell their property for top dollar.
Please consider spreading the word and sharing; What is DOM in Real Estate and Do They Matter?
If you are buying or selling a home you may come across the abbreviation DOM and wonder what it means. Here's everything you need to know about DOM. #realestate #homeselling #homebuying
About the Author
Top Wellington Realtor, Michelle Gibson, wrote: "What is DOM in Real Estate and Do They Matter?"
Michelle has been specializing in residential real estate since 2001 throughout Wellington Florida and the surrounding area. Whether you're looking to buy, sell or rent she will guide you through the entire real estate transaction. If you're ready to put Michelle's knowledge and expertise to work for you call or e-mail her today.
Areas of service include Wellington, Lake Worth, Royal Palm Beach, Boynton Beach, West Palm Beach, Loxahatchee, Greenacres, and more.
What is DOM in Real Estate and Do they Matter?