3 Benefits of Overpricing Your Home for Sale
Properly pricing your home when selling is crucial, it can make or break the sale. If you price your home at market value you'll be able to sell it for top dollar. Alternatively, if you price it too high you may not receive the same results. While there are benefits to pricing your home accurately there are also some benefits to overpricing it. Below are the top 3 benefits you might experience if you decide to overprice your home for sale.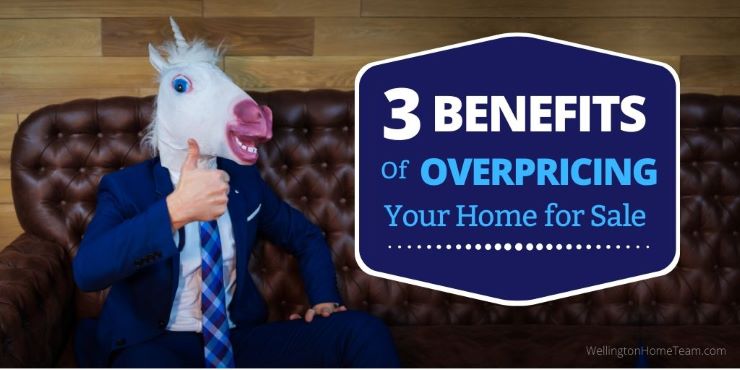 Showings
Statistically, a majority of showings will occur within the first 5-7 days of a home being listed for sale. This means your everyday life will be interrupted. Buyers look at properties day and night 7 days a week. Early in the morning before they go to work, in the afternoon before they have to pick up the kids from school, and in the evening after they finish eating dinner with the family. Even on Sunday mornings before church or their kid's soccer game. 
However, if you overprice your home you won't have to worry about being inconvenienced with a lot of showings, odds are you won't have any. Homebuyers don't want to waste time looking at overpriced homes because overpriced homes are usually owned by unrealistic owners. Who wants to deal with unrealistic sellers? The answer is nobody, not the buyer or the buyers' agent. Heck, even the listing agent may not want to deal with the seller. Trying to negotiate with a seller who overprices their home is oftentimes an exercise in futility. 
Just because your home is overpriced doesn't guarantee you won't have any showings. In a strong seller's market you might get some foot traffic due to lack of inventory. Will these showings produce an offer? Maybe, but keep in mind not many buyers are willing to overpay for a home no matter how nice it is. Plus, if they aren't paying cash the house has to appraise, and with appraisals being based on recent sales, this may become yet another obstacle. 
Cleaning 
Trying to keep your house spic and span around the clock while selling can be next to impossible especially if you have kids and/or pets. While some people are cleaner than others nobody's home is model perfect on any given day.
Even if they don't "live" in their home and only sleep there it still needs to be dusted, vacuumed and scrubbed more often than usual. This is why some sellers choose to move out of their home prior to putting it on the market. They know firsthand they won't be able to keep it clean 24-7, but not every seller can pick up and move before selling, so the next best thing is to hire a maid. Now, this service isn't free, but it's worth every penny and only needed while your home is actively listed. 
With that being said if you decide to overprice your home you won't have to worry about moving out prior to listing or spending money on a maid. The only time your house needs to be clean is when you have buyers knocking down your door to see it. This usually isn't the case with overpriced listings, showings tend to be few and far between. This is just one more benefit to asking more for your home than it's worth. 
Packing 
Does anyone enjoy packing or trying to find a moving company to do it for them? In my experience, nobody is excited about packing up their entire life and moving. Packing is one of the biggest chores a seller has to do during the selling process. It can be very time-consuming and exhausting. Even if you hire a moving company you still have to do the legwork to find a trustworthy company to relocate your belongings. Plus, you certainly don't want to take every single thing you own. Odds are you'll have plenty of items that need to be trashed, donated or sold. This is something a moving company won't be able to do for you. 
If you choose to overprice your home you will have plenty of time to plan for packing, in fact, you may not have to pack and move at all. Sellers who price their home correctly usually have to move within 30-60 days. That's not a lot of time for most homeowners especially if they work full-time. Choosing to overprice your home will guarantee you several months if not years to pack or find a moving company. 
Final Thoughts 
If you are a motivated seller who wants to obtain top dollar in the shortest amount of time there is no benefit to overpricing your home. However, if you're not motivated you can certainly "test" the market and see if you can find a cash buyer willing to pay above market value for your home.
In this case, you may experience the benefits listed above that sellers who price their home right don't experience. Not many showings, not a lot of cleaning, and plenty of time to pack your belongings. But when it's all said and done your home may just sit on the market and ultimately never sell. So before deciding on a list price you need to determine if you want to move or have to move. 
Please consider spreading the word and sharing; 3 Benefits of Overpricing Your Home for Sale
Who says there aren't benefits of overpricing your home? Most likely 99.9% of Real Estate Agents. However, here are 3 benefits sellers may experience. #homeselling #overpricing
Additional Resources About Hiring a Realtor
There are so many reasons sellers give for overpricing their home, from needing a certain amount of money to not being in a hurry to sell. No matter what "reason" a seller gives it can absolutely negatively impact their sale.
Sometimes a seller has no clue their home is overpriced, why? Because they're listening to their real estate agent. Yes, there are agents who don't know the market or want to "buy" the listing, which means they'll tell a seller an unrealistic list price in order to get the listing. It's imperative sellers look at comparable sales, just like buyers will, prior to deciding on a list price.
Some sellers want to claim my Realtor overpriced my house, but the reality is the list price is the seller's decision, not their Realtor's. Their Realtor is there to educate them about the market conditions and provide recommendations, not decisions.
Wondering how to tell a seller their home is overpriced? Simple, provide facts. Show them comparable sales that support the actual price. Discuss the typical days on market and where their home falls. In addition to the lack of offers or what they consider "lowball offers."
About the Author
Top Wellington Realtor, Michelle Gibson, wrote: "3 Benefits of Overpricing Your Home for Sale"
Michelle has been specializing in residential real estate since 2001 throughout Wellington Florida and the surrounding area. Whether you're looking to buy, sell or rent she will guide you through the entire real estate transaction. If you're ready to put Michelle's knowledge and expertise to work for you call or e-mail her today.
Areas of service include Wellington, Lake Worth, Royal Palm Beach, Boynton Beach, West Palm Beach, Loxahatchee, Greenacres, and more.
3 Benefits of Overpricing Your Home for Sale