Can a Buyer Work With Multiple Real Estate Agents?
You're in the market to buy a new home and working with a real estate agent, your cousin Sara. She has shown you countless homes, but none of them check all of your boxes. Instead of sitting around waiting for Sara to send you new listings you decide to start looking on your own.
Lo and behold you find a few homes online that you like. So you call the number on the website. The agent you called isn't the listing agent for the homes so they aren't able to answer all of your questions. However, they take time out of their day to obtain the answers for you. Based on the response there are a few homes you'd like to see so you schedule a time to view them with the agent.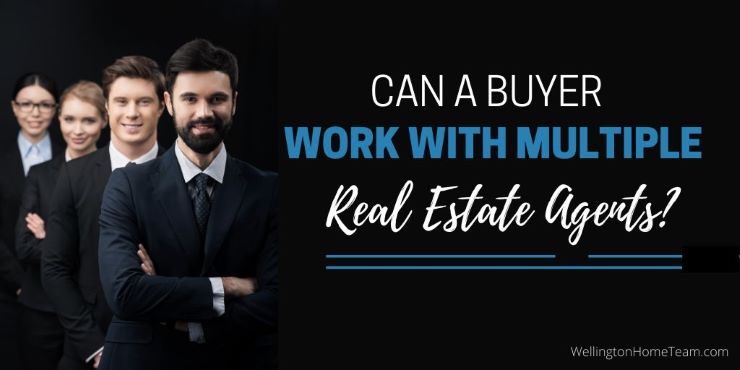 Situations like this happen daily. Some buyers just don't want to bother cousin Sara on a Sunday. While others believe it'll be more beneficial to have multiple agents looking for their new home. Then there are buyers who just don't understand how real estate works.
In this article, we're going to discuss if buyers are allowed to work with multiple real estate agents and the repercussions if they do.
Can a Buyer Work with Multiple Agents?
Yes, a buyer can work with multiple real estate agents. However, if they signed an agreement with an agent they could be responsible for paying that agent a commission out of their own pocket if they don't use them to purchase a home.
In most areas, these types of agreements are called a buyer's broker agreement or buyer representation agreement. It's basically a contract stating the buyer agrees to work with a specific agent, in a certain area, and the commission due to that agent is XXY%. Now, it's customary for the seller to pay the real estate commission. So the "commission due" will come from the seller and in most cases cover the XYZ% the agent and buyer agreed to.
However, if a buyer uses another agent to purchase a home the seller will be paying that agent/agent's broker, not the agent the buyer signed an agreement with. Therefore, that agent could be owed a commission unless otherwise agreed to or the agreement itself was canceled. So before a buyer decides to work with multiple real estate agents they need to understand their obligations.
Should Buyers Work with Multiple Real Estate Agents?

Finding a home and getting to the closing table can take time, a lot of time, energy, and money on the buyer's part and an agent's part too. Real estate agents usually only get paid when they successfully sell a home. So from a real estate agent's perspective buyers should only work with one agent.
Who wants to go to work every day, spend money doing so, and not get paid? The answer is, nobody. However, from a buyer's perspective, they may feel it's beneficial to work with more than one agent. The more agents the better, right?
Let's explore the pros and cons of working with multiple real estate agents when buying a home.
Are you entering the home buying market and wonder if you can work with multiple real estate agents? If so this article is for you! #realestate
Pros of Working with Multiple Agents
Areas of Expertise
If a buyer is looking in a broad area or multiple counties, working with one agent probably isn't unrealistic. With that being said buyers should all of the agents know if they plan to work with multiple real estate agents that cover different areas. Many real estate agents only work with a certain number of clients. So some agents may not want to work with someone who may or may not purchase a home through them. Remember a majority of agents do not get paid until they sell a home.

Different Information
No two agents are alike therefore buyers are going to get different results, different levels of service, and different expertise. Real estate agents have access to the same exact information in the MLS, so it comes down to how they search for homes. Some agents might use specific criteria resulting in minimal options. While others might use broad criteria resulting in a lot of options to choose from.
Cons of Working with Multiple Agents
Different Information
Yes, receiving different information from different agents was listed as a pro, but it's a huge con too. Since agents have access to the same information odds are a buyer is going to be bombarded with the same information from multiple agents. Not only that, when a buyer decides to work with multiple real estate agents they can receive hundreds of properties that don't even meet their search criteria. In order for a buyer to ensure they don't miss the "perfect home" they'll have to take the time to review all of the listings. With that being said they might scroll right by the perfect home because they're overwhelmed and not paying attention.
When a buyer works with one agent they should receive homes that fit their criteria, not duplicate listings or listings that don't fit their needs.

Wasting Time
If a buyer decides to work with multiple real estate agents it can be exhausting! Trying to keep track of who sent what, who showed what, and who said what. Even the most organized person will have difficulty keeping track of everything. And if the buyer is looking on their own they will certainly waste time inquiring about properties that aren't even available.
When a buyer works with one agent that one agent will keep track of everything for them. What listings they've sent and what homes they've seen. They'll also be able to investigate any listings a buyer finds, for those buyers who can't help but look on their own.

Commitment
If a buyer is not committed to one real estate agent odds are a real estate agent isn't going to be committed to the buyer. How much effort is an agent going to put forward when there is a strong possibility they won't get paid? Not only that but what type of agent is going to work with a buyer who has chosen to work with multiple real estate agents? Odds are not the best in the business.
Now, this is assuming buyers working with multiple agents are upfront with every agent, which a majority probably won't be. Here's the thing, outstanding agents will quickly figure out a buyer's loyalty to them and fire them on the spot or just stop communications.
When a buyer works with one agent that one agent is going to bend over backwards for their client. When that new listing hits the market they'll make sure their client is the first one in the door. When a fire starts they will promptly put it out.

No Rapport
The home buying process can be a long, sometimes stressful process. How is a buyer going to build rapport with an agent when they're basically using multiple agents as door openers? The answer is they're not. When a buyer is working side by side with one agent that agent will quickly learn what type of home they're looking for. This, in turn, is going to keep a buyer from looking at homes their agent knows won't work. Their agent will also have suggestions they wouldn't have even considered. Top Realtors know their market. They know the builders, the inventory, and the pricing.
Working with one top agent is priceless. It makes buying a home fun and exciting, not stressful, and a constant scramble.
Final Thoughts
Just because a buyer can work with multiple agents doesn't mean they should. Buying and selling real estate is a full-time job. A job only licensed real estate agents know how to do effectively. Buyers can certainly work with multiple agents and the agent who finds them a home "wins," but is the buyer really winning?
When it comes to negotiating an offer do they have the best agent in their corner? If inspection or appraisal issues arise do they have the best real estate agent advising them? There is more to real estate than finding a home, that is the fun and easy part. ANYONE can open a door, but can they provide the best advice and service?
Purchasing a home is usually the biggest investment a person will make in their lifetime. So the agent guiding them through this process shouldn't be whoever opened the door.
Please consider spreading the word and sharing; Can a Buyer Work With Multiple Real Estate Agents?
Are you entering the home buying market and wonder if you can work with multiple real estate agents? If so this article is for you!
Additional Home Buying Resources
One of the biggest real estate myths is a buyer will save money if they go directly to the listing agent. Real estate commission is determined before a home even hits the market. So cutting out the buyer's agent doesn't mean their commission goes into the buyer's pocket. Not to mention who does the listing agent represent, are they a seller's agent, dual agent, or transaction broker?
There are a lot of do's and don'ts when buying a home, there's a certain buying etiquette that should be followed. In addition to working with one Realtor buyers should follow "home viewing rules." Always be on time, don't bring children or pets, don't touch personal items, don't keep revisiting the same property, don't drink or eat while walking through the home. Buyers need to remember the home they're looking at is still someone else's, not theirs, and need to respect that.
Thinking about buying a fixer-upper? Some buyers think buying a home that needs work will be a great investment, but unfortunately, that's not always the case. Sometimes a fixer-upper can become money pits and easily drain a person's life savings or create massive debt.
Before a buyer enters the real estate market they need to know the costs associated with buying a home and how much they can afford. In fact, there are a number of important reasons why a buyer needs to get pre-approved before looking for homes. The best way to obtain this information is by contacting a mortgage broker. A mortgage broker will be able to go over the different loan options and costs associated with each. By doing so will ensure a buyer isn't falling in love with homes that can't afford or qualify for.
Additional Home Buying Questions
If a Realtor shows me a house do I have to use them?
Buyers never have to use an agent they don't want to. However, if they have an agreement with the agent who showed them the home but decide to use another agent they could be on the hook and have to compensate the agent who showed them the property.
Can two Realtors list the same property?
The answer is, possibly. Two Realtors can agree to co-list a property together. However, if a seller wants to hire two different agents from two different brokerages the answer could be no, but it ultimately depends on the listing agreements.
Can you work with more than one Realtor when buying a house?
As discussed above a buyer can work with more than one Realtor but there could be repercussions, including financial ones.
Is it ethical to have two real estate agents?
In general, it is not considered unethical to have two real estate agents, as long as they are both aware of your intentions and both agree to work with you.
About the Author
Top Wellington Realtor, Michelle Gibson, wrote: "Can a Buyer Work With Multiple Real Estate Agents?"
Michelle has been specializing in residential real estate since 2001 throughout Wellington Florida and the surrounding area. Whether you're looking to buy, sell or rent she will guide you through the entire real estate transaction. If you're ready to put Michelle's knowledge and expertise to work for you call or e-mail her today.
Areas of service include Wellington, Lake Worth, Royal Palm Beach, Boynton Beach, West Palm Beach, Loxahatchee, Greenacres, and more.
Can a Buyer Work With Multiple Real Estate Agents?