Buying Etiquette 101 | Rules to Follow when Buying a Home
There are a lot of do's and don'ts when buying a home, but many of these "rules" are unwritten. Some of these things are common sense, but some of them are not and many people are completely unaware that certain actions and behaviors are frowned upon.

While a lot of home buyers are excited to look at homes a majority of sellers are not excited to have strangers traipsing through their home especially when the buyer has no etiquette, which in turn can stress them out. However, if buyers follow these simple rules they will alleviate unnecessary stress not only from the seller, but from the Realtors involved as well.
Rules to Follow when Buying a Home
1. Do NOT Call other Realtors
If you have a Realtor do not call other Realtors! It's understandable that you want to see that new listing right away, so you call the listing agent directly. However, you should be calling your agent and if they are unavailable to show it to you they should be able to make arrangements for one of their associates to show it to you.
The same holds true for any questions you may have, some buyer's want to do the "legwork" for their agent, so they call other agents trying to obtain answers, but once again your agent should be able to answer any questions you have and if they don't know the answer they should be able to find the answer.
2. Children & Showings
It is best to leave your children at home when looking at homes for sale. However that's not always an option for some families, so when you have to bring your children with make sure they are by your side the entire showing and if they are smaller make sure to hold their hand or carry them. If your children are unruly it may be best to leave them in the car while you take turns viewing the property. It is not the seller's job or your Realtors job to keep track of your children to make sure they don't touch or break anything.
3. Avoid Multiple Visits
It's common to narrow down your home search and want to take a second look at your top picks to make a decision, but it is not normal to continue going back to the same property especially if you haven't even submitted an offer. Once you go under contract it's understandable that you want to show everyone your "new home," measure for furniture or start getting estimates from contractors, but it's not your home yet. If you need to measure or want to get estimates prior to closing have everyone come during the inspection, which usually takes 1-3 hours, more than enough time to accomplish these types of tasks.
4. No Entourage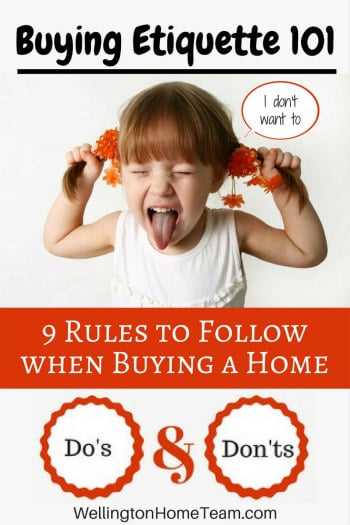 Do not drag your parents, friends, and second cousin's sister's son with you when viewing homes. Respect not only the seller's time but your Realtor's time too.
Dragging multiple people through a home not only takes additional time it can also be very distracting. Plus, it's incredibly rude to invite people to walk through a stranger's home when they have zero part in the home buying process.
Buying Etiquette 101 | Rules to Follow when Buying a Home #homebuying #realestate
5. Food & Drinks
You can certainly bring food and drinks with you when looking at homes for sale, but leave everything in the car, do not bring a bag of chips and soda into the seller's home.
6. Be On Time
Sellers and Realtors regularly go to great lengths to prepare for an appointment. So respect everyone's time and be on time. Also, keep in mind this is the seller's first impression of you. If you're running late make sure to call. The last thing you want is the seller thinking is you're lackadaisical about buying a home and don't respect their time.
7. Pets & Showings
Do not bring your pets into a seller's home. If you have a service animal make sure to discuss how to proceed with your Realtor. Some sellers have their own pets who may like people, but not other pets, so don't bring your pet.
8. LOOKING at Properties
If you're curious what a home looks like, but have no intention of purchasing it do not ask your Realtor "can we just look?" This same rule applies to homes above your budget and homes already under contract. Not only are you wasting your time, your Realtors time, and the Listing Agents' time, but you're wasting the seller's time too. A lot of sellers jump through hoops to prepare their home for a showing. So it is extremely irritating and frustrating when non-serious buyers waste everyone's time.
9. Follow Showing Instructions
If the seller asks you to remove your shoes or put on shoe covers, do it. If they do not want a door opened, don't open it. Homebuyers need to keep in mind while the home is listed for sale people still own it. Some sellers do not want dirty shoes in their home and may have a pet behind that closed door.
Final Thoughts
Be respectful of people's time and property! If you're working with a Realtor who is unresponsive or has limited availability, you may have hired the wrong Realtor and might want to consider hiring a Realtor that's a better fit. Buying and selling can be a stressful process, but respect can go along way and alleviate a lot of stress.
If you think this article, Buying Etiquette 101 | Rules to Follow when Buying a Home, was an interesting read please give it a share!
Are you looking to buy a home? If so there are a lot of do's and don'ts aka a certain buying etiquette that you need to follow, here are the top 9 rules. #homebuying #realestate
Additional Real Estate Advice from Top Professionals
About the Author
The real estate article above, "Buying Etiquette 101" was written by Michelle Gibson of Wellington Florida Real Estate. Specializing in residential real estate since 2001 in Wellington and the surrounding area. Not only does Michelle assist buyers and sellers, she assists landlords and tenants too. She would love to share her expertise and guide you through the entire real estate process.
We service the following areas; Wellington, Lake Worth, Royal Palm Beach, Boynton Beach, West Palm Beach, Loxahatchee, Greenacres, and more. If you are considering selling your home, we welcome the opportunity to work with you and list your home with a top Realtor in Wellington Florida