Buying a House with Cash | Top 12 Pros and Cons
If you can get the money together to pay for your house in cash, should you? Being free of a mortgage might seem like a great idea, but the decision to buy a house with cash isn't quite that simple.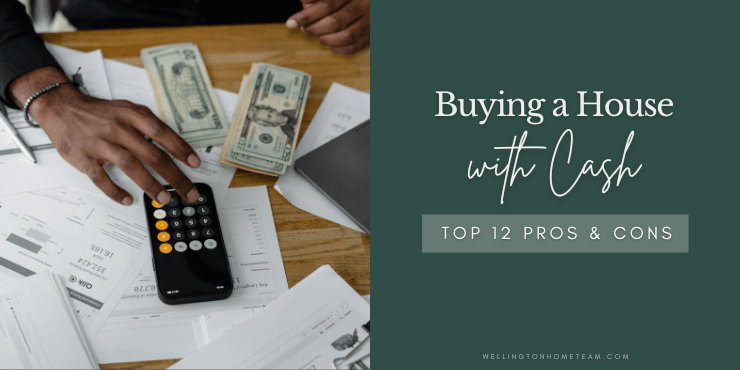 If you have money from a previous house sale or investments that you could use to buy a home, it can be tempting to avoid going to a lender. It's easy to think that not having a mortgage is the best use of your money, but this isn't a straightforward decision.
Using cash to buy your home does mean you won't be paying interest on the loan. You also won't have to deal with a lender and pay their fees. But despite these benefits, there could be a better option. Understanding what the best approach is for your situation means exploring your options.
Let's look at the reasons why you should choose to buy your house with cash, and why you shouldn't.
The Pros of Buying a House with Cash
There are many good reasons to pay for your home with cash, and here are the top benefits of buying a house with cash. Let's take a look!
No Mortgage Payments
If you don't go to a lender for a mortgage, you won't have to pay it back each month. Without this ongoing expense, the amount of cash you have available each month will be a lot more.
With a large loan like a mortgage, there is a lot of interest to pay. Without a home loan, you could be saving tens of thousands of dollars in interest over the loan period.
No Need for Mortgage Insurance
When you take out a home loan with less than a 20% down payment, your lender will expect you to pay mortgage insurance. Private mortgage insurance or PMI protects the lender should you not keep to your payment schedule. And this added cost to your mortgage payments doesn't even protect you, just your lender.
PMI could be costing you $1,000 a year if you do not have 20% equity in the home. When you do reach the 20% equity point, you can normally have this charge removed, unless you have an FHA loan where you will need to remortgage.
Sellers Prefer Cash Buyers
If you are buying a home in a competitive market, your cash offer will probably look more attractive to sellers. This will give you an advantage when you are not the only person wanting to buy the home.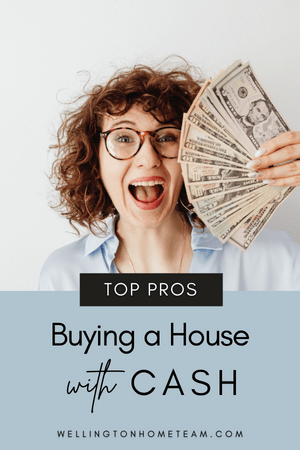 Even without this competition, cash buyers can still get other benefits. Perhaps the seller will be more willing to accept a lower offer or deal with any repairs you want to be completed on the home.
If you can buy without needing to rely on a lender, there is less chance of the purchase falling through. Financing is one of the reasons home purchases don't get to the closing day, when borrowers aren't approved for the loan they expect to get.
Though this situation isn't a frequent issue, it is something sellers will want to avoid. Sellers will also like the fact that there are fewer stages involved if they have a cash buyer.
If you are paying for the home with cash, you might also get a better deal from the seller. They might accept a lower bid in exchange for a faster sale.
Faster Closing
Since you will not need to wait for a lender to underwrite the loan, the closing process is faster. It can take a month or more to close when there is a lender involved, but maybe just a few weeks when you are a cash buyer.
There is less chance of something going wrong that can delay the process, and you will even have fewer things to sign on your closing day.
Reducing Your Closing Costs
When you reach closing day on your home purchase, you will have to pay a lot of closing fees. Many of these fees will be from the lender, so if you aren't using a mortgage to purchase, you will save on these expenses.
Though not having a home loan allows you to avoid charges like loan origination, underwriting, and document preparation fees, there are still some costs you should pay.
You should have a title search to make sure there aren't any problems that could challenge your ownership of the home. Having title and homeowners insurance is also recommended to prevent a large financial loss should something go wrong.
Fewer Worries
As a cash buyer, you won't have as many things to worry about if the economy takes a turn for the worse, or you lose your job. With a mortgage, you have to keep paying the premiums each month or face foreclosure. And if your income changes, you could lose your home.
Without having a home loan hanging over your head, it is also easier to become financially independent. This gives you fewer worries as you get nearer to retirement, and you'll have more money to invest for when your income reduces.
More Freedom
If you have a mortgage and you owe more to the lender than the home is worth, you might have to continue living in the property until the market changes. Without this, you are less restricted and could choose to rent out the home instead.
There are many pros and cons when it comes to buying a house with cash but what is the best option for you? Weigh the pros and cons now! #realestate #homebuying
The Cons of Buying a House with Cash
Avoiding a mortgage has some negatives that you may not have considered.
Investing Could Be Better for Your Finances
Saving on the interest payments will make a big difference over the years you have a mortgage, though you might be able to do better. If you invest the money you would have spent to buy the home, the results could be considerably better.
If you were to invest in the stock market, where average returns are around 10% before inflation, you could be far better off. If you invested for 30 years, reinvesting dividends, and without investing more, the difference could be considerable.
If you were to invest, say $200,000, instead of putting it into a home, you might have a few million dollars after 30 years. Whereas the money you would save in interest payments might only be about $150,000.
There is more of a risk with owning stocks, however, and past performance doesn't guarantee earnings. A big crash in the stock market could change the calculations significantly, but investing should produce better results overall.
Access to Your Cash
If you have tied up most of your money in your home, it will be difficult to access it when you need it. While you can, of course, sell or mortgage your home if you need to, it won't be quick.
Choosing to get a mortgage instead of committing most of your money to the property, leaves you in a better position should a large and unexpected bill arrive at your door.
Adding to Your Equity
When you pay your mortgage, anything that isn't interest is adding to the equity you have in the home. So every month, it is like you are adding hundreds of dollars to your savings.
If you've paid cash for a home instead, or you are just renting, you are less likely to save. For example, the difference between the net worth of a renter and a homeowner is considerable. On average a renter is worth more than $5,000, but a homeowner's net worth is more than $230,000.
Tax Deductions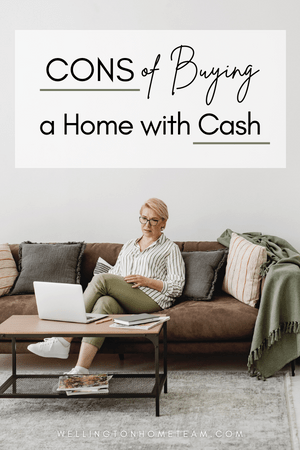 You will receive a tax benefit if you have a mortgage. This could save you thousands on your taxable income, and it is possible to deduct interest paid on up to $750,000 with itemized deductions.
Using standard deductions doesn't benefit in the same way, however. But using itemized tax deductions could be as good as your mortgage rate being reduced by 1%.
Inflation
With the current rise in interest rates, this negative could become noticeable. If you have a fixed interest rate mortgage, you will pay the same each month. Though because of inflation, the value of the dollar doesn't stay the same.
Inflation is the cause of increasing prices, though it increases your salary as well. This all changes gradually, but over longer mortgage periods will be more noticeable. This means the cost of your mortgage will seem like less and less over time. Your salary will increase but your mortgage payments will remain constant.
This will happen if you have a fixed-rate mortgage, but if you choose an adjustable-rate mortgage, it could be different.
Is Buying a House for Cash Right for You?
We can't tell you exactly which option is right for you, but typically, fixed-rate mortgages are better if you are younger. Though if you like the idea of taking more risks with your finances, investing could be more attractive.
If you are nearer to retirement, less debt and less to pay each month might be better. In this case, using cash to buy a home might seem like the better option.
If you are unsure about which option is best, consulting a financial advisor should clear things up.
Final Thoughts
While buying a house with cash might be right for one buyer doesn't mean it will be right for you. There are several pros and cons of buying a home with cash. So it really boils down to weighing each pro and con, then deciding what's best for you and your circumstances.
Please consider spreading the word and sharing; Buying a House with Cash | Top 12 Pros and Cons
There are many pros and cons when it comes to buying a house with cash but what is the best option for you? Weigh the pros and cons now! #realestate #homebuying
Top Wellington Realtor, Michelle Gibson, wrote: "Buying a House with Cash | Top 12 Pros and Cons"
Michelle has been specializing in residential real estate since 2001 throughout Wellington Florida and the surrounding area. Whether you're looking to buy, sell or rent she will guide you through the entire real estate transaction. If you're ready to put Michelle's knowledge and expertise to work for you call or e-mail her today.
Areas of service include Wellington, Lake Worth, Royal Palm Beach, Boynton Beach, West Palm Beach, Loxahatchee, Greenacres, and more.
Buying a House with Cash | Top 12 Pros and Cons