Can I Sell My Fire-Damaged Home? 6 Important Things to Know
If you have experienced a fire in your home, most likely, you are dealing with many emotions and practical challenges. One of the primary concerns is the extent of damages caused and if your house is still safe to live in. A fire-damaged house can take many forms. The extent of damages can range from minor smoke to destruction. 
If your home is exposed to heat, smoke, or flames and water is used to extinguish the fire, it is considered fire damaged. A house fire can cause visible damages, including charred ceilings or walls, weakened structural support, or minor damages, like electrical system damage, due to water.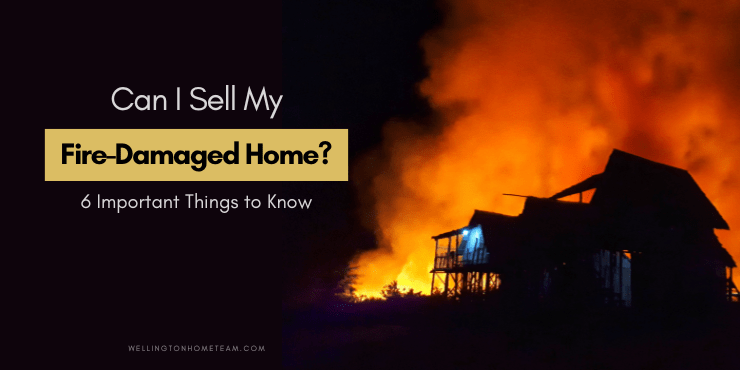 After a fire incident, it is important to find a qualified professional to assess the extent of the damage. Before renovating, ensure your house is safe to inhabit and that all the necessary repairs are done correctly. Also, depending on the extent of the damages, you may have to work with your insurance company. File a claim so that your insurer can cover the repair expenses. 
And if you choose to sell your fire-damaged home? There are essential things to consider to ensure the process is successful and gets the best value.
Selling a fire-damaged home is a stressful and daunting task. Most people are hesitant to buy a home that has fire damage. However, this article explores some essential things to know when selling a fire-damaged home. 
Things to Know About Selling a Fire Damaged Home
Examine the Extent of the Damage 
First, you must understand the extent of the damages to your house. This enables you to determine the value of your house and the renovations needed. 
Find a professional home inspector or qualified contractors to help you assess the damage. They will also estimate the amount you'll spend on the repairs. House fire not only causes extensive damage to your property but can also cause physical harm. Some of the damage that fire can cause to your home includes;
Smoke Damage: 

Smoke can penetrate walls, floors, and ceilings, leaving a strong odor in your house. Smoke leaves a layer of soot that is hard to clean. Smoke also causes discoloration of carpets, curtains, and other materials, leaving permanent stains. 

Structural Damage:

This is one of the obvious and significant damages caused by a house fire. Structural damage causes the destruction and weakening of your house's foundation, roof, walls, roof, and other structural parts. The fire can burn the wooden beams that support your house, causing it to weaken your home foundation. This can also cause your wall to weaken, crack and collapse. 

Electrical Damage: 

A house fire can cause electrical damage to your home. The severe heat from the flames can cause electrical wires and circuits to melt. This leads to electrocution and electrical fires. Hire an electrician to inspect your home and ensure your electrical systems are safe. 

Water Damage:

This is necessary to prevent fire from spreading. However, the same water can cause damage to your home. The water can seep into your floor, ceiling, and walls causing rot, mildew, and molds. The water can also damage your furniture and other personal items. 
Find a Trustworthy Real Estate Agent
Selling a fire-damaged home has to be done by a skilled and experienced expert. This is why finding a reputable real estate professional is important.
Selling a home with damage is not the same as selling a move-in ready home that never had any type of major damage. There are going to be a lot of ins and outs not only in the selling process but the buying process too.
So not only should these real estate professionals understand the selling process but they need the know-how of buying fire damaged homes as well. The qualifications to buy this type of home are very different and it could cost the seller time and money if they don't accept an offer from a qualified buyer.
Price Your Home Correctly 
How to price a fire damaged house takes work. First, you need to consider the extent of the damage, the cost of renovations, and the market value. In this case, hiring a professional appraiser is helpful. You can also consult a real estate expert to help you determine a fair market price for your house. 
Disclose the Damage
When selling a home with fire damage, it is crucial to be upfront about the extent of the damage. So if you're wondering do you have to disclose fire damage when selling a house the answer is yes. It is advisable to provide a detailed description of the damage and the type of repairs already done. Besides, this is a standard requirement by the law. If you are transparent, you stay safe from legal problems. Failure to reveal such details can result in legal action, affecting your ability to sell the house in the future.
Get Your House Ready for Sale
Before listing your fire-damaged home on the market:
Make the necessary preparations.

Do some repair work on the exterior and interior of your home.

Clean up all the debris, and mow your lawn to increase the curb appeal.
This helps avoid any issue preventing the potential buyer from getting a mortgage. You also make your home ready and appealing for staging. Consult a home stager to make your home ready and attractive. 
Consider Cash Property Buyers
Selling a fire-damaged property through real estate agents or selling by an owner can be challenging. Finding a cash property buyer that specializes in buying fire-damaged properties will probably be easier. Either way, when it comes to who buys fire damaged homes the odds are it will be a cash buyer, especially if the damage still exists because a standard bank won't loan money on an inhabitable home.
Final Thoughts
Selling a home with fire damage can be a complex process that requires a great deal of patience, planning, and expertise. It's important to work with professionals who have experience in handling fire damaged properties, such as a reputable real estate agent. Additionally, it's crucial to disclose any damage to potential buyers and to price the home accordingly.
While it may take longer to sell a fire damaged home, with the right strategies and resources, it's possible to find a buyer who is willing to take on the challenge and restore the property to its former glory. Ultimately, selling a home that has fire damage can be a daunting task, but with the right approach, it can lead to a successful sale and a fresh start for both the seller and the buyer.
Please consider spreading the word and sharing; Can I Sell My Fire-Damaged Home? 6 Important Things to Know
If you are thinking about selling your fire-damaged home there are several things to take into consideration and here are the top 6. #realestate #homeselling
Popular Questions About Buying a Fire Damaged Home
Can you get a mortgage on a fire damaged property? Generally speaking, you might be able to obtain a mortgage on a fire damaged property. However, the availability of financing will ultimately depend on the extent of the damage and the lender's underwriting guidelines. If the property has significant damage, unless a renovation loan is obtained, it's unlikely to qualify for traditional financing unless the home is repaired. Speaking with a loan officer to explore your financing needs on a fire damaged home is highly recommended.
How to find out if a house has had a fire? There are a few ways to find out if a house has had a fire; the homeowner, a real estate agent, home inspector, check public records, and/or check with the local fire department. It can be difficult to hide fire damage, so their could also be visible signs.
What happens if a seller didn't disclose fire damage? In most cases the seller could open themselves up to a lawsuit, but it ultimately depends on the state the home is located in and the laws in that state.
About the Author
Top Wellington Realtor, Michelle Gibson, wrote: "Can I Sell My Fire-Damaged Home? 6 Important Things to Know"
Michelle has been specializing in residential real estate since 2001 throughout Wellington Florida and the surrounding area. Whether you're looking to buy, sell or rent she will guide you through the entire real estate transaction. If you're ready to put Michelle's knowledge and expertise to work for you call or e-mail her today.
Areas of service include Wellington, Lake Worth, Royal Palm Beach, Boynton Beach, West Palm Beach, Loxahatchee, Greenacres, and more.
Can I Sell My Fire-Damaged Home? 6 Important Things to Know