5 Reasons Why A Patio Can Increase Your Property's Value
Tired of feeling cooped up inside your home all day? Or craving a sunny spot to relax and soak up some vitamin D? Enter a patio — your very own slice of paradise in your backyard! It's a cozy little nook where you can bask in the sun, host a party, or enjoy a cuppa.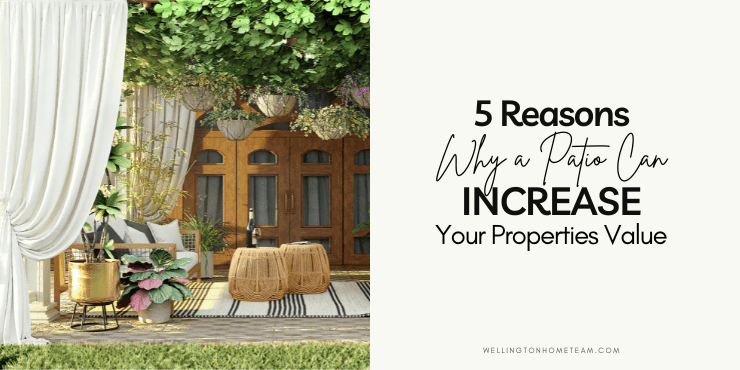 Plus, a patio can help you add some much-needed pizzazz to your property and increase your home's value while making it so much more comfortable. Talk about gifts that keep on giving! And that's not all.
5 Reasons a Patio Can Add Value
Let's check out five popular reasons why you should add a patio to your property.
1. It Expands Your Living Space
Having a patio is like having a whole new room to play with. You can stretch your legs, enjoy the fresh air, and soak up the sunshine while still being able to run inside for a snack or a cold drink. 
But the real magic of a patio is the endless possibilities it offers. Imagine inviting your friends over for a backyard barbecue, where you can cook up some burgers and hotdogs while sipping on some cold brews.
Or how about a cozy afternoon under the sun, snuggled up with a good book (Atomic Habits is a great read!) and a can of Sprite? You can also soak in some vitamin D, which helps you absorb phosphorus and calcium, allowing you to build strong bones. But don't go traipsing out into the sun without any protection. Slather on some SPF (30 would do), and use a towel to cover your face before you go horizontal.
2. It Can Be A Selling Point For Potential Buyers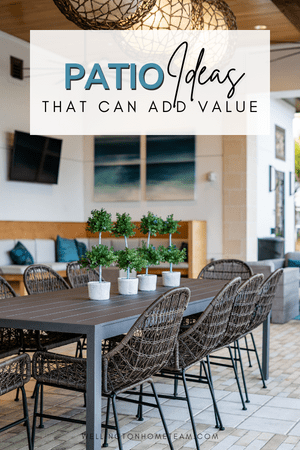 A well-designed patio can be a real selling point when it's time to put your house on the market. But why? For one, a patio adds square footage to your home's usable space. This means your home's overall value can increase simply by adding a functional outdoor area. Potential homebuyers will be drawn to the added space and the potential for outdoor living and entertainment.
A well-designed patio will also add curb appeal and make your home stand out from the rest. Plus, the right design can complement your home's architecture and landscaping, creating a cohesive and visually stunning outdoor space. Use outdoor and landscaping products to improve your patio. And with the wide range of materials, styles, and ArchiPro's outdoor product range, you can customize your patio to fit your taste and preferences — and to your heart's content. 
3. It Creates an Entertainment Area
Imagine this: a warm summer evening, a group of friends gathered around a cozy fire pit, sipping on cold drinks and enjoying some delicious barbecue. Sounds good, right? With a patio, your dream can become a reality. It provides the perfect space for hosting outdoor parties and gatherings. And with the right furniture and decor, you can create an inviting atmosphere your guests will love.
Plus, string lights, lanterns, and even tiki torches can keep the fun going long after the sun goes down. But it's not just about parties — a patio can also be an excellent place for family fun. You can set up a table for board games, a cozy seating area for movie nights, or even a mini-golf course for some friendly competition. 
4. It Improves Your Property's Functionality
If you never step into your backyard because it takes too much energy to go back and forth, you can claim some square footage back with a patio. For instance, you can create a seating area for outdoor dining or relaxation. And by adding a table and chairs, you can turn your patio into an additional dining space, perfect for days when you can't be bothered to clean the dining room or when your table's got too much stuff on it.
However, it's not just about dining — your patio can also be a great space for outdoor work or hobbies. For instance, if you love knitting, you could sit on your patio and knit a scarf or what-have-you while getting some vitamin D. And if you have children, drawing them away from LED screens is going to prevent them from becoming nearsighted.
5. It Makes a Cost-Effective Home Improvement
A patio can be a much more affordable option than adding an extension or renovating a kitchen. And you can easily recoat it again if you're used to painting the exterior of your own home.
Plus, as we've mentioned, a well-designed patio can add significant value to your property, making it a smart investment in the long run. In contrast, a new kitchen isn't going to increase your home value that much.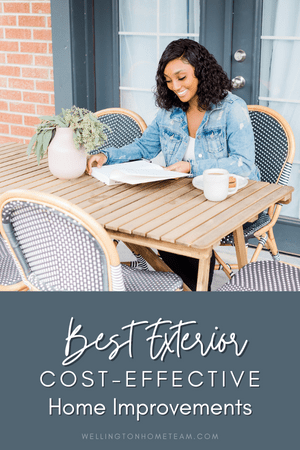 However, costing less doesn't mean costing anything. So, when saving money for your patio project, keep these things in mind:
Select the design and size of your patio based on your needs and budget. There are unlimited options out there, including concrete, engineered wood, and natural stone. So, make sure to compare prices if you want to get the most bang for your buck.

Figure out any additional costs, such as landscaping, furniture, and decor, beforehand. These can add up quickly and give you a nasty surprise when it's time to pay. 

Think about ways to maximize your patio's functionality and appeal to make the most of your investment. You could add comfortable seating, a fire pit, or outdoor lighting to create an inviting atmosphere.
And while thinking about do's and don'ts, don't forget about landscaping — adding some plants and greenery can enhance the overall look and feel of your outdoor space.
Final Thoughts
A patio can be a valuable addition to any home. Not only does it add functionality and aesthetic appeal to your outdoor space, but it also increases your home's living space and can be a great selling point for future homebuyers.  With all of these great benefits, it's not surprising that a well-designed backyard space can increase a home's value. If you're looking for affordable ways to add value to your home, consider adding a patio.
Please consider spreading the word and sharing; 5 Reasons Why A Patio Can Increase Your Property's Value
There are so many benefits of having a patio and here are 5 reasons why having one can increase your property's value. #homeimprovement
Popular Home Improvement Questions
Do gardens increase property value? Gardens can increase a property's value in the sense they enhance the visual appeal, which can increase the overall value of a home. Well-maintained gardens can also indicate that the property has been taken care of and can attract buyers that are willing to pay top dollar for a property. Just know if you spend $10,00 installing a garden it's unlikely you'll get $10,000 more for your home when it's time to sell but it can help the home sell faster.
What are the most popular backyard improvements that add value? The answer ultimately depends on where your home is located. In some parts of the country, a swimming pool will add tremendous value to a home. While in other parts it can be a negative selling point and possibly even decrease the value of a home. However, a deck or patio is usually universal throughout the country and can add value. Lush landscaping can add curb appeal to any home, which in turn can add value.
How much value does a pergola add to a home? This type of improvement doesn't typically add monetary value to a home. It doesn't add living space or functionality to a home, unlike a patio, which does both.
About the Author
Top Wellington Realtor, Michelle Gibson, wrote: "5 Reasons Why A Patio Can Increase Your Property's Value"
Michelle has been specializing in residential real estate since 2001 throughout Wellington Florida and the surrounding area. Whether you're looking to buy, sell or rent she will guide you through the entire real estate transaction. If you're ready to put Michelle's knowledge and expertise to work for you call or e-mail her today.
Areas of service include Wellington, Lake Worth, Royal Palm Beach, Boynton Beach, West Palm Beach, Loxahatchee, Greenacres, and more.
5 Reasons Why A Patio Can Increase Your Property's Value