Moving to Wellington Florida? 8 Reasons You'll Love Living Here
Moving to Wellington Florida? If so it's a wonderful place to call home, but don't just take my word for it! Wellington Florida has been voted one of the "best places to live in America" countless times, most recently by Money.com in 2019. From the prime South Florida location to nearly perfect weather year-round what's not to love? But the benefits of living in Wellington Florida don't stop there!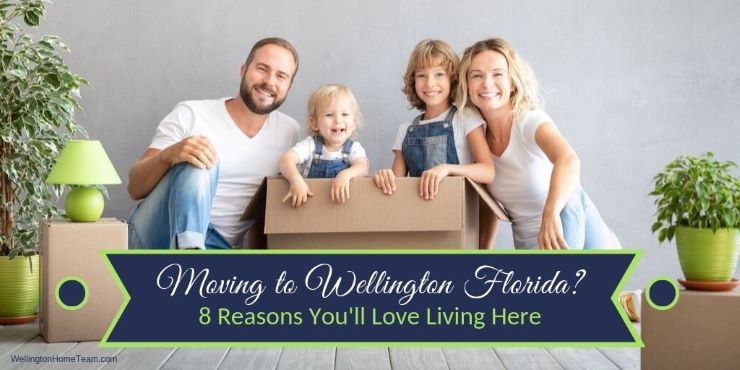 My husband and I have been raising our family in the Village of Wellington since 2001 and absolutely love it here. We couldn't imagine living anywhere else in Florida or even the United States. So if you're one of the many wondering, is Wellington, FL a good place to live? Here are 8 reasons why we love living in Wellington Florida and you will too!
Moving to Wellington? 8 Reasons You'll Love It!
1. Community
The Village of Wellington is a "Great Hometown" and is considered a very close-knit community by most. All 45 square miles are meticulously maintained by the Village and residents alike. With approximately 68,000 residents Wellington is the 5th largest municipality in Palm Beach County by population. While it's technically not a village under the standard definition it is officially a village, which it became on December 31, 1995. At this time there were only 28,000 residents in Wellington, so this little village has substantially grown over the last few decades.
As the winter equestrian capital of the world, some residents are full-time while others are part-time. Seasonal residents are usually here between October and April, some might come for a week and others will be here for 6 months. Traffic does slightly increase during season, but you won't notice much of a difference unless you're hitting traffic attending or leaving an equestrian event. Even then you won't be sitting in a traffic jam for hours like other parts of the country.
2. Location
Wellington is centrally located in the western part of Palm Beach County Florida. The city of West Palm Beach and Lake Worth are just east while Boynton Beach, Delray Beach, and Boca Raton are south. The main north-south thoroughfare is SR-7 (441), which is 4-8 lines wide. It starts north of Wellington and Royal Palm Beach in Loxahatchee Florida and runs south throughout Palm Beach County, Broward County, and ends in Dade County.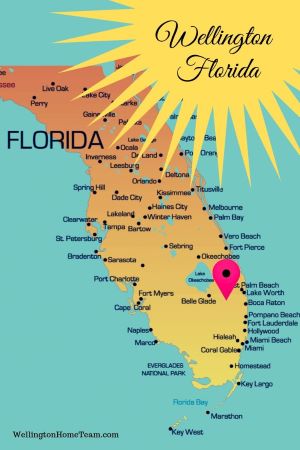 Off 441 you will find the Mall at Wellington Green, home improvement stores, grocery stores, restaurants, banks, salons, and multiple other shops. Wellington Regional Hospital along with several other physician's offices are located on 441 as well.
The main roads that run east-west in Wellington are Forest Hill Boulevard and Lake Worth Road. Forest Hill Boulevard does veer north in the heart of Wellington and crosses over Southern Boulevard into Royal Palm Beach. Southern Boulevard is one of the most traveled roads in central Palm Beach County and is located on the northern border of Wellington.
The Palm Beach International Airport (PBI) is conventionally located off Southern Boulevard and roughly 15-20 minutes away from Wellington.
Both Lake Worth Road and Southern Boulevard provide easy access to the Florida Turnpike. The Florida Turnpike is the main tollway in Florida that runs on a northwest-southeast axis and is approximately 309 miles long. Most Floridians have a Sunpass, which saves you time and money when traveling on the Turnpike. If you're not familiar with a Sunpass it's a pass that sticks on your vehicle windshield and automatically charges your account when passing through a toll.
I-95 is the main interstate highway that runs along the coast of Florida and is free, but oftentimes extremely busy. In order to access I-95 from Wellington you'll have to head east on Forest Hill Boulevard, Southern Boulevard, or Lantana Road. Depending on where you reside in Wellington it could easily take 25-35 minutes to reach I-95.
Moving to Wellington Florida? If you plan on moving to Wellington here are 8 reasons you'll love living here! #wellingtonfl #moving #realestate
3. Weather
Wellington has beautiful weather all year long! Mind you it depends on what you consider beautiful. Does it get hot in the summer? Yes, the "hot" season runs for 4 months, from June to September, and the average temperature is 86°F. During the summer months besides heat, you can expect rain and clouds too. Sometimes it may rain all day while other times you might drive right through a rain cloud.
During the summer months into fall is "hurricane season," which runs from June 1st to November 30th. Every single state, county, or city has the potential to be impacted by a natural disaster. There definitely isn't an upside to hurricanes, but unlike a tornado we have days, not minutes, to prepare.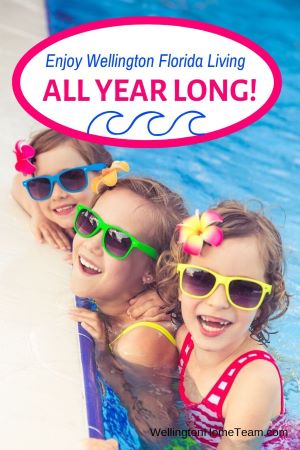 Home construction has drastically changed over the decades to better withstand hurricanes. Power lines are going underground to make electricity service more resilient. Hurricane shutters, screens, and windows are more affordable now than ever and a majority of homes in Wellington already have them.
The "cool" season in Wellington runs from December to February and the average temperature is 77°F. However, it can and does get much colder. While dipping down into the 40-50's is warm for some parts of the country it's freezing for locals, but the great news is these types of cold spells don't last long.
One day you might turn your heat on to get the chill out of the air and the next day you might have your AC back on. While it's rare for Wellington to get extremely cold it does happen, so don't get rid of any winter clothes you may have if you're relocating from a colder area.
Overall, the temperature in Wellington varies from 57°F to 90°F. So if you love warm weather all year long you'll definitely enjoy living here!
4. Schools
Wellington Florida has top-rated public schools, some of the best in the state! There are six elementary schools in Wellington; Binks Forest, Elbridge Gale, Equestrian Trials, New Horizons, Panter Run, and Wellington. There are three middle schools in Wellington; Emerald Cove, Polo Park, and Wellington Landings. Then there are two high schools in Wellington; Palm Beach Central and Wellington. In addition to public schools, Wellington has private schools too, which include; St. Davids Episcopal, Wellington Collegiate Academy, and Forest Trail Academy.
Wellington doesn't have any colleges or universities within the village, but Palm Beach County does. The most popular colleges and universities close to Wellington with more than 2,000 students include; Florida Atlantic University, Keiser University, Lynn University, Palm Beach Atlantic University, and Palm Beach State College. Palm Beach State College has a campus in Loxahatchee Groves, Lake Worth, Boca Raton, Belle Glade, and Palm Beach Gardens.
5. Community Events
The Village of Wellington does not hold back when it comes to community events. From special holiday events to weekly events Wellington always has events residents are sure to enjoy. Almost all of the events that take place throughout the year are FREE!
Some of the biggest holiday events include the Egg Hunt, 4th of July Celebration, the Fall Festival, and the Holiday Parade. While weekly events include the Food Truck Invasion, Free Movie Night, Free Concerts, and more! A majority of these events take place at Wellington's Amphitheater or Village Park, also referred to as Pierson Park.
In addition to the events hosted by the Village of Wellington there are several other events that take place. We have world-class equestrian activities and events, like jumping, dressage, and polo that take place during season. The Chamber of Commerce also puts on great events, like Winterfest, which is one of the biggest and most anticipated events of the year.
6. Community Programs
From toddlers to seniors Wellington has a program or class for everyone, including your dog! Art, dance, enrichment, health & wellness, music, rowing, and sports are just some of the class and program categories.
"Enrichment" is geared towards babies and toddlers (4 months to 7 years old) and offers kinder sports, tumble tots, storytime, and crafts. Under "Health & Wellness" you'll find yoga classes for kids and adults, meditation, pilates, and Zumba.
While "Education" offers ACT & SAT Workshops for 16-18-year-olds, Fun with Science for 8-10-year-olds, and Learn with LEGOS for 4-7-year-olds. Wellington offers almost every sport imaginable and for our furry friends, there is a Dog Obedience Training Class.
A few of the senior classes in Wellington include; aerobics, ki-waza, walkers of Wellington, Zumba gold, and Zumba gold chair. They also do trips and tours for seniors and have several great programs like bingo, smart driving courses along with a transportation & ride program. All of these classes and programs are for residents over the age of 55.
These are just a few of the classes and programs that Wellington has to offer and they're constantly changing throughout the year. So if you don't see something of interest find out what classes and programs are coming up. To view a current list of activities you can visit @ WellingtonFL.gov online or go in person to Village Park or the Community Center. If you are new to Wellington's recreation program you'll have to register in person the first time, after that, you'll be able to register online.
Moving to Wellington Florida? If you plan on moving to Wellington here are 8 reasons you'll love living here! #wellingtonfl #moving #realestate
7. Places
A few short decades ago Palm Beach County residents considered Wellington to be in the middle of nowhere. Back in the 1970s, 1980s and even 1990s they were right, not many stores or restaurants existed. However, those days are long gone because today Wellington has everything a person needs! From major shopping to fine dining and community parks to a library, you name we have it.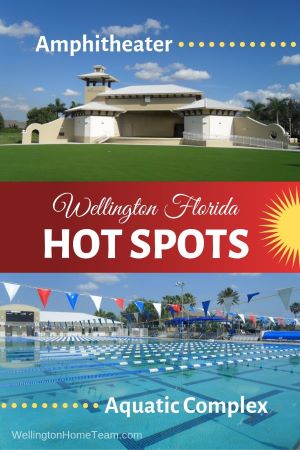 Wellington has its own city hall, community center, tennis complex, aquatic complex, amphitheater, and patriot memorial. When it comes to shopping we have the Mall at Wellington Green, one of the most popular malls in all of Palm Beach County.
From fast food to fine dining and everything in between can be found throughout Wellington. Movie theater? Yep, we have two, one in the heart of Wellington off Wellington Trace and one inside the Mall at Wellington Green. Nail salons, hair salons, massage therapists, gyms, spas, and more. If for some reason Wellington doesn't have what you're looking for you won't have to go very far. 
8. Real Estate
On any given day Wellington has 500-600 different types of properties for sale. While a majority of these properties are single-family homes we also have condominiums, villas, patio homes, townhomes, luxury estates, equestrian farms, and multi-family homes. In addition to the different types of properties Wellington offers an array of communities too.
There are non-gated, gated, and guard-gated communities. There are also communities with an HOA and without. Many of the communities with an HOA have incredible amenities, such as a clubhouse, swimming pool, playground, and fitness center.
We also have all-age communities and active adult 55+ communities. While we don't have an overabundance of active adult communities we do have two; Buena Vida, which offers single-family homes, and Mayfair, which offers first and second-floor condos with garages. Wellington even has its own aeronautical community, Aero Club. There are properties situated on zero lot line homesites and then we have massive acreage estates, but there are 1/4 acre, 1/3 acre, 1/2 acre, and 1 acre homesites as well.
While the very first home built in Wellington was back in the 1950's major construction didn't start until 1971. Although it's rare to find a home for sale that was built prior to the mid-1970s. Since the 70s new construction was booming in Wellington over the next 3 decades and even though it has slowed down there are still new homes being built to this very day.
Learn more about Wellington Communities and the best places to live in Wellington Florida by visiting Living in Wellington Florida | A Community Guide
Additional Resources for Moving to Wellington Florida
Moving to Wellington Relocation Assistance
If you are moving to Wellington Florida I can guide you through the home-buying or renting process. Relocating across the country myself I know firsthand what you're going through and will not only walk you through the relocation process but educate you about the area along the way. Even if you don't plan on moving to Wellington this year don't hesitate to contact me today, it's never too soon to start learning about this amazing place.
Please consider spreading the word and sharing; Moving to Wellington Florida? 8 Reasons You'll Love Living Here
Moving to Wellington Florida? If you plan on moving to Wellington here are 8 reasons you'll love living here! #wellingtonfl #moving #realestate
About the Author
Top Wellington Realtor, Michelle Gibson, wrote: "Moving to Wellington Florida? 8 Reasons You'll Love Living Here"
Michelle has been specializing in residential real estate since 2001 throughout Wellington Florida and the surrounding area. Whether you're looking to buy, sell or rent she will guide you through the entire real estate transaction when moving to Wellington. If you're ready to put Michelle's knowledge and expertise to work for you call or e-mail her today.
Areas of service include Wellington, Lake Worth, Royal Palm Beach, Boynton Beach, West Palm Beach, Loxahatchee, Greenacres, and more.
Moving to Wellington Florida? 8 Reasons You'll Love Living Here