Top 5 Soundproofing Materials for a Quieter Home
Quiet, peaceful, and comfortable home absolutely everyone needs, but it can be difficult to find it, especially for those living in large cities, city centers, industrial areas, etc. We all know that excessive noise can affect our quality of life, including health, communication, and privacy. Fortunately, soundproofing your home can make a huge difference.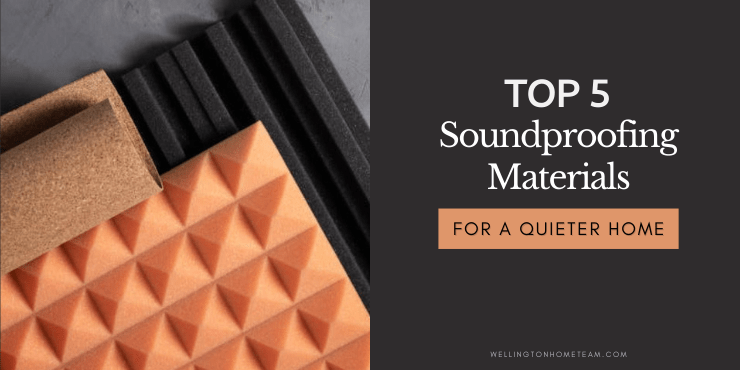 This way, you can reduce noise transmission as well as create a more comfortable and peaceful living space. In this article, we will present the top soundproofing materials for a quieter home, as well as give tips on how to choose the best materials for your home. 
Why Soundproofing Matters for Resale Value
Soundproofing can be extremely beneficial not only for reducing the outside noise but also for making it easier to sell your home when the time comes. Children, older people, and pets are often more sensitive to external noise, so by installing soundproofing solutions, you can effectively block any noise. This can be a huge selling point for potential homebuyers, especially looking for those looking to buy property in busy areas, near industries or airports, city centers with constant traffic noise, or in multi-unit buildings. People want to be able to relax and unwind while in their homes, they don't want to be disrupted by noise, which can make their life less comfortable.
So while soundproofing may not add dollar-for-dollar value to a home it will make it more appealing to home buyers. The same holds true for other items like a new roof or impact windows. While a seller wouldn't be able to add $30,000 onto their asking price when selling their home because that's how much they paid for a new roof it will help sell their home faster than the competition. So soundproofing a home can pay for itself not to mention ensure a quiet, pleasant, and more comfortable living environment. 
Top 5 Soundproofing Materials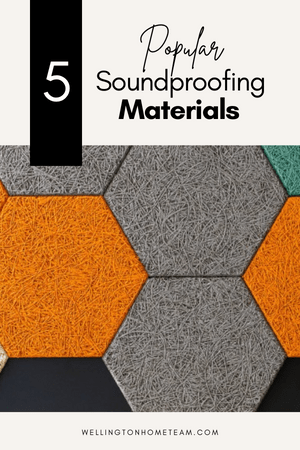 Before we present top soundproofing materials, you should know that there are two types of soundproofing:
Sound reduction

(will keep your home free of outside noises)

Sound absorption

(will stop the sound that is already inside your home from echoing and reverberating)
By adding these materials you can get soundproof floor, windows, doors, or even walls that will reduce any unwanted noise. So if you are trying to figure out how to soundproof your house from neighbours or how to soundproof your house from inside noise continue reading!
Here are some of the top soundproofing materials every homeowner or investor should consider: 
Acoustic Panels

Are made of foam, fiberglass, or other sound-absorbing materials. They are designed to absorb sound waves and prevent them from bouncing around a room. This soundproof material can be installed on walls, ceilings, and floors. Moreover, they come in a variety of shapes and sizes. 

Mass Loaded Vinyl

(MLV) – MLV is a dense vinyl material with added mass for improved sound blocking and reducing airborne noise transmission. This material can be installed on walls, floors, and ceilings. The main characteristic is that is very effective at blocking sound from entering or leaving a room. Furthermore, MLV is so flexible and easy to work with, making it a popular choice for DIY soundproofing projects.

Soundproof Curtains

Are made of heavy, thick materials like polyester, velvet, or suede designed to absorb sound waves in order to make a room quieter, thanks to their porous surface. You can install them over windows and doors to reduce noise transmission. Moreover, they are easily installed and also can be a cost-effective solution for those who don't want to renovate their walls or ceilings. 

Green Glue

Is a water-based, non-toxic damping compound that is used to reduce noise transmission between two sheets of building materials, such as drywall. As sound travels through the air and hits solid objects, such as a wall, it transfers that energy into the structure. Also, this material can act as a viscoelastic material, absorbing and dissipating sound vibrations. Moreover, Green Glue is effective at reducing both airborne and impact noise. Thus, this soundproof material is a popular option for home theaters and sound studios.

Fiberglass Insulation

This material, known as glass wool insulation, is made from molten glass that is spun or blown into fibers. It is a popular soundproofing material that is used to reduce airborne noise transmission. You can install it on walls, ceilings, as well as floors. Moreover, fiberglass insulation can be easily installed and is a cost-effective solution for DIY soundproofing projects.
If you, as a homeowner, or an investor, use any of these soundproofing materials, they can make your home more comfortable, peaceful, and enjoyable.
However, these are just a few of the top soundproofing materials available on the market. Also, which material or combination of materials will work best for your space depends on the type and level of noise, the location and layout of the space, as well as the project's budget.
Tips for Choosing the Right Materials
When you are not a professional when it comes to soundproofing materials, it is hard to know which one is the right choice for you. So, we are going to give you some tips for choosing the best option for you. 
Tip 1:
You should know which type of noise you're dealing with because there are different soundproofing materials that reduce different types of noise. For instance, acoustic panels are super effective at reducing echoes and vibrations. On the other hand, mass-loaded vinyl is way better at stopping airborne noise. So, try to recognize the type of noise in your space, and then choose the most suitable soundproofing materials that will solve your noise problem.
Tip 2:
You should pay attention to the location of your home or any space because it will matter when choosing the right soundproof material. If you live in a city center and your building has no sound isolation, noise that is constantly coming from the outside can not be reduced with the same material used for the noise that comes from the room next door. So, always consider your location before choosing the appropriate material for you.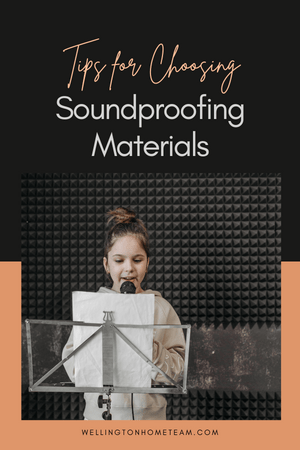 Tip 3:
One of the most important things is your budget. At the very beginning, you should decide how much you want to invest in those materials. The higher the price of soundproofing materials, the better the quality is. That is something that can possibly increase the resale value in the future. However, there are a variety of soundproofing materials on the market as well as prices, so find the one that fits best for you.
Tip 4:
If you are installing soundproofing materials in rental homes or the ones you want to sell in the future, think about long-term goals. This means it would be more profitable if you choose materials that are durable enough, that are attractive to potential renters or buyers, and will provide long-lasting benefits. In this manner, you could also increase the resale value of your property.
Tip 5:
Always contact a professional if you are not sure about which material is the best option for you. Also, they can ensure that materials are installed properly for maximum effectiveness.
Final Thoughts
In a nutshell, soundproofing materials are a big plus for homeowners and investors that want to make a quiet, peaceful, comfortable living space as well as make it easier to sell when the time comes. There is a variety of soundproofing materials, which we shared the top 5; green glue, soundproof curtains, acoustic panels, fiberglass insulation, and mass-loaded vinyl that will reduce unwanted types of noise. 
However, as discussed it is important to consider the type of noise, your location, your budget, and your long-term goals when choosing the soundproof material for your property. So consulting with a professional is always recommended because sound absorbing materials for walls may not be the best for ceilings, a professional will be able to educate and guide you.
Please consider spreading the word and sharing; Top 5 Soundproofing Materials for a Quieter Home
If you are looking for a way to make your home quieter this article is for you! Learn all about soundproofing materials for your home. #soundproofing #homeimprovement
Popular Soundproofing Questions & Answers
What household materials can block sound? Heavy curtains, rugs, shelving, foam insulation, weatherstripping, soundproof curtains, and wall hangings just to name a few.
How can I soundproof my house cheap? While completely soundproofing a house can be a costly process, there are some inexpensive ways to reduce the amount of noise that enters or leaves your home with affordable household materials like soundproof curtains, rugs, and weatherstripping.
What material is best for blocking sound? The effectiveness of a material in blocking sound depends on a few factors, such as the frequency and intensity of the sound, the thickness and density of the material, and the construction of the wall or surface the material is applied. The 5 soundproofing materials we shared are the most common and popular depending on your needs.
What material cancels noise? While no material can completely cancel noise, there are materials that can help to reduce or absorb sound waves and reduce the amount of noise that enters or leaves a space. Here are some popular options; Active noise-canceling materials, acoustic foam, mass-loaded vinyl, mineral wool insulation, and soundproof curtains.
About the Author
Top Wellington Realtor, Michelle Gibson, wrote: "Top 5 Soundproofing Materials for a Quieter Home"
Michelle has been specializing in residential real estate since 2001 throughout Wellington Florida and the surrounding area. Whether you're looking to buy, sell or rent she will guide you through the entire real estate transaction. If you're ready to put Michelle's knowledge and expertise to work for you call or e-mail her today.
Areas of service include Wellington, Lake Worth, Royal Palm Beach, Boynton Beach, West Palm Beach, Loxahatchee, Greenacres, and more.
Top 5 Soundproofing Materials for a Quieter Home