5 Simple Home Renovations To Make Before You Sell
So, you're looking to sell your home? Selling a property can be an exciting time, a significant life change, a move to a new destination, or simply a way to turn an investment property into some long-awaited profit.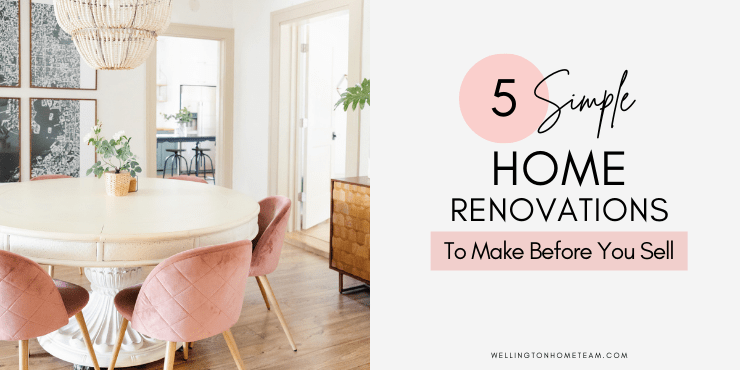 However, amid all the excitement and a little stress, there are some essentials you need to consider if you wish to maximize your home's sellability. Maximizing your home's appeal to potential buyers is a way to squeeze every piece of profit from your property.  
Whatsmore, these renovations, and last-minute home upgrades don't have to break the bank and can all be done over a spare weekend through getting stuck into a touch of DIY. Before selling, let's take a look at what home renovations are worth it.
List of Home Improvement Projects 
1. Painting 
There's nothing better you can do for your home's buyer appeal than to apply fresh paint. This can be exterior, if possible, and throughout the entire interior. Even if walls and ceilings don't look particularly old to you, a fresh coat of paint will eliminate any marks of fading you've become accustomed to while living on the property. 
When a buyer walks into a room, greeted by beautiful bright paint, it not only makes the aesthetics more appealing but gives the impression they're buying from someone who has looked after the property. 
Using neutral paint colors when applying fresh paint is also important, as going crazy with one color can be off-putting to some. Use plain but bright neutral colors throughout your home. Hiring a decorator may be a good idea if you're unsure which colors and tones work best for your home. 
2. Bathroom 
Did you know that the bathroom is one of the home's most significant selling points? Yep, an old, dated, damp bathroom is a considerable buyer turn-off. According to this report by Remodeling, a mid-range addition/upgrade valued at $91,000 can add a resale value of $26,800, meaning a 54% return on investment for a relatively simple bathroom upgrade. 
Carefully consider the aesthetics of your bathroom. You don't have to renovate it entirely, but consider replacing dated tops with new sleek concrete pieces. Adopt a clean, minimalistic approach to appeal to modern buyers. 
3. Flooring 
While this upgrade will require hiring a fitter, replacing and updating your current flooring can work wonders for your home's appeal. Whether you have wood flooring or carpets, sprucing them up is a great way to make a striking first impression on a buyer.
Adding sleek hardwood floors to your home can significantly increase the value of your home. However, this can be a little expensive. So if you're on a tight budget, you may want to upgrade carpets or, if your property already had hardwood flooring, consider refinishing them. 
4. Landscaping 
When you're looking to buy a home, first impressions count. Imagine pulling up to a property you're interested in, only to be greeted by an overgrown lawn, piles of dead leaves, and a tangled mess of weeds. Chances are, you'd drive away before the sellers even had an opportunity to open the door. Curb appeal is everything and your home must shine!
Taking the time and effort to add love to your outdoor space is crucial for selling your home. Either hire a landscaper to completely redesign the garden and create a beautiful area with immaculate lawns, water features, and sculptures. Or, you can get stuck into some good old-fashioned DIY. If you need inspiration for cheap renovation ideas Pinterest is a great place to do this.
At the bare minimum, remove any weeds, mow lawns, trim hedges, and add some fancy plants and pots if you're feeling adventurous. Strive to make that first impression count. Another small, easy DIY job is to clear out your gutters. No one wants to move into a property with gutters overflowing with leaves resulting in flooding when they first move in. Clean out your gutters thoroughly and consider installing a leaf guard for gutters. 
5. Declutter 
You never want to sell a home full of clutter and the messes of day-to-day life. It happens to the best of us; we let out homes get overrun with kids' toys, work stuff, and cooking equipment that can quickly pile up and create a cluttered space before you know it. 
When showing someone you're home, however, you want things to be simple, clean, and clutter-free. So it's important to declutter, remove clutter such as dishes, toys, and piles of washing lying around. That should go without saying, but it's also essential to go a step further than that. Clean out the garage, tidy up the shed, and organize spare rooms, taking anything you don't need to the tip or with you to your new home. 
Final Thoughts
Before allowing people to come and see how fantastic your soon-to-be former home is, make sure you consider all or at least some of these renovations. To recap, let's check out those main renovations you need to make: 
A fresh splash of paint 

Update bathrooms 

Change the flooring 

Landscape 

De-clutter 
Although many of these points are relatively minor factors to consider, they all impact how appealing your home will be to potential buyers. With just a small investment of money and time before you sell, you can maximize how much you can sell your home for. There are so many cheap home improvements that make a big difference and you don't have to hire contractors for many of them. There are several cheap DIY home improvements you can do.
So before you sell your home, make sure you have gone through this checklist to make sure everything is on order before you sell.
Please consider spreading the word and sharing; 5 Simple Home Renovations To Make Before You Sell
Before listing your home for sale there are several home renovations you should consider prior to doing so. Most are small and fairly inexpensive. #homerenovation #homeselling
Popular Home Renovation Questions
What are the easiest home renovations? The easiest home renovations will vary depending on the project and a person's skill set. Generally speaking, simple cosmetic updates such as painting walls, and changing out light fixtures or cabinet hardware are considered relatively easy. Replacing faucets and lighting are also on the easier side, most people don't need an electrical or plumbing background to make these changes.
What are the cheapest home renovations? The cheapest home renovations are often those that involve simple cosmetic changes and do not require extensive materials or professional assistance. Painting walls is one of the most cost-effective ways to refresh a space and can dramatically transform the look of a room. Updating fixtures, such as light switches, doorknobs, or cabinet hardware, can also be inexpensive and make a noticeable difference. Refinishing or repainting cabinets and furniture is another budget-friendly option to give them a new lease on life.
How can I update my house with little money? Updating your house with little money requires creativity and a focus on low-cost improvements. One cost-effective way to update your house is by giving it a fresh coat of paint. Rearranging furniture or repurposing items from different areas of your home can provide a new layout and style without spending any money. Adding new accessories, such as throw pillows, rugs, or curtains, can also bring a fresh touch to your space without breaking the bank.
Another budget-friendly option is to focus on decluttering and organizing, which can make a significant difference in the appearance and functionality of any home. Additionally, consider exploring thrift stores, flea markets, or online marketplaces for affordable second-hand furniture or decor items that can add personality and charm to your space.
How can I save money when doing a renovation? To save money during a renovation, there are several strategies you can employ. One, make sure to set a realistic budget and stick to it by carefully planning your project and prioritizing essential upgrades. Shop around and compare prices for materials, fixtures, and appliances to find the best deals.
You may also want to consider buying used or reclaimed items, as they can often be significantly cheaper than brand new ones. Do as much of the work as you can yourself, if you have the necessary skills and experience, to avoid labor costs. If you don't have the skill set hire out otherwise it can cost more to fix one of your mistakes. And if you decide to hire a professional make sure they have experiencing doing home renovations and are licensed and insured.
About the Author
Top Wellington Realtor, Michelle Gibson, wrote: "5 Simple Home Renovations To Make Before You Sell"
Michelle has been specializing in residential real estate since 2001 throughout Wellington Florida and the surrounding area. Whether you're looking to buy, sell or rent she will guide you through the entire real estate transaction. If you're ready to put Michelle's knowledge and expertise to work for you call or e-mail her today.
Areas of service include Wellington, Lake Worth, Royal Palm Beach, Boynton Beach, West Palm Beach, Loxahatchee, Greenacres, and more.
5 Simple Home Renovations To Make Before You Sell