9 Budget-Friendly Curb Appeal Ideas for Selling a Home
Boosting a home's curb appeal is a must, especially when selling and despite what many people might think it doesn't have to cost a fortune. There are a lot of cost-effective tips and tricks that will give a home a fresh clean look. In some cases, all it takes is a little elbow grease. If you are thinking about selling your home here are 9 inexpensive curb appeal ideas to make your home shine.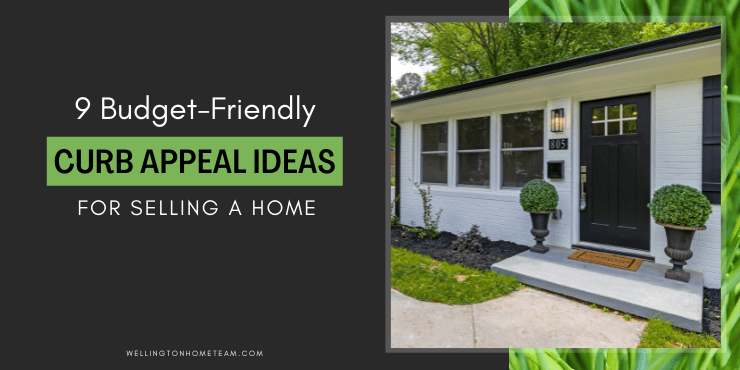 1. Front Door Refresh
Front door curb appeal ideas | A fresh coat of paint and new hardware can go a long way when it comes to a home's curb appeal. Most people use their front door multiple times a day, so the paint and hardware can look dull and worn out. Therefore, before listing your home for sale you'll want to evaluate your entryway and see if it needs to be freshened up. Keep in mind most buyers will be standing at the door for a few minutes while their agent opens up the lockbox, so they will be analyzing everything around them.
New hardware for your front door can cost as little as $100 while paint or stain is usually under $20. If your home is located in a community with an HOA in place you'll want to see if you need approval to paint/stain your door. In some cases, you may have to get approval, even if you're painting it the same color, so you'll want to take the proper steps. Otherwise, you may end up with a violation that can hold up your home sale.
2. House Numbers
Adding, replacing, or relocating house numbers is by far one of the most inexpensive things to do. If you don't have house numbers you'll want to add them. If your current house numbers are dated or worn you'll want to replace them with something modern. If your house numbers are hidden you'll want to move them to a more visible location.
While having house numbers can seem trivial, they're not. The first thing a buyer will be looking for as they drive down your street is your house number, so make sure it exists and is viable.
3. Lighting
Exterior lighting is a must especially if buyers view your home in the evening. So you'll want to make sure every light works. If a light doesn't work try replacing the lightbulbs and if that doesn't work the fixture may need to be replaced. You can certainly call a same day local electrician to analyze the issue, but unless the light fixture is brand new it'll probably be more cost-effective to replace it.
Just like your front door, you'll want to make sure your light fixtures look fresh. If they are old, broken, or worn consider replacing them with something appealing. You certainly don't need to spend hundreds of dollars on lighting, but you won't want to go with the cheapest either.
4. Hide Garbage Cans and AC Units
Most homeowners don't keep their garbage cans inside, which means they're outside and there is nothing appealing about garbage cans. The same holds true for AC units, and unless a home doesn't have central air, everyone has one outside their home. No matter where these unsightly items are you'll want to hide them. The easiest way to hide garbage cans and an AC unit is with fencing or shrubs. Some homeowners take it a step further and build attractive screens that add curb appeal.
5. Replace the Mailbox
Is your mailbox old and tired? If so you'll want to replace it and in most cases, you won't have to replace the whole thing. Sometimes you need to replace is the actual mailbox unless the post is bent.
6. Entryway Decor
Front porch curb appeal ideas | In addition to making your front door feel fresh and new, you'll want to make sure the surrounding area feels the same. Adding a few potted plants and flowers is a great way to add color and curb appeal.
Just make sure you keep everything looking fresh, dead plants and broken pots will take away from the appeal you're trying to achieve. Replacing or adding a new doormat is another great way to make buyers feel welcomed. If your entryway is large enough you can add a bench, swing, or rocking chair to showcase how much outdoor space you have. Homebuyers are always looking for space, both inside and out.
7. Pressure Washing
Deep cleaning a home isn't just for the interior when selling, it's for the outside too. Pressuring cleaning the roof, driveway, sidewalks, patio, and the house itself is a must. Pressure washing is one of the most inexpensive ways to make a home shine.
8. Clean Flowerbeds
If you have flowerbeds in your front or backyard you'll want to make sure they're weed-free. You'll also want to make sure they have fresh mulch or rocks. Mulch is extremely inexpensive and if you're a do-it-yourselfer it'll only cost you $3-$4 a bag. If you don't have any flowerbeds you may want to consider adding a few to add additional curb appeal.
9. Prune and Trim
Landscaping curb appeal ideas | If you have trees or shrubs you'll want to make sure everything is pruned and trimmed. Plants and trees should never be touching the house, if anything is you'll want to have cutback.
In addition to not touching the house trees should not be touching powerlines or fences either. When shrubs and trees are overgrown they can look unsightly and in some cases can cause damage to your property or become a safety issue.
Final Thoughts
Boosting your home's curb appeal is a must when selling and these are the top curb appeal ideas that will have the biggest bang for their buck. Some are free if you're up to the task while others are fairly inexpensive. While it's imperative the inside looks like a model the outside needs to be appealing too. Otherwise, homebuyers might keep driving.
Please consider spreading the word and sharing; 9 Budget-Friendly Curb Appeal Ideas for Selling a Home
Boosting a home's curb appeal is a must when selling and it doesn't have to cost a fortune. Here are the best curb appeal ideas. #realestate #homeselling
About the Author
Top Wellington Realtor, Michelle Gibson, wrote: "9 Budget-Friendly Curb Appeal Ideas for Selling a Home"
Michelle has been specializing in residential real estate since 2001 throughout Wellington Florida and the surrounding area. Whether you're looking to buy, sell or rent she will guide you through the entire real estate transaction. If you're ready to put Michelle's knowledge and expertise to work for you call or e-mail her today.
Areas of service include Wellington, Lake Worth, Royal Palm Beach, Boynton Beach, West Palm Beach, Loxahatchee, Greenacres, and more.