How Often Should You Paint the Exterior of a Home?
When you are planning to sell your home, you'll want to ensure it is looking its best. And the exterior of your home is a big contributor to enhancing the curb appeal. But even if you aren't preparing to sell your home, there are many reasons to repaint.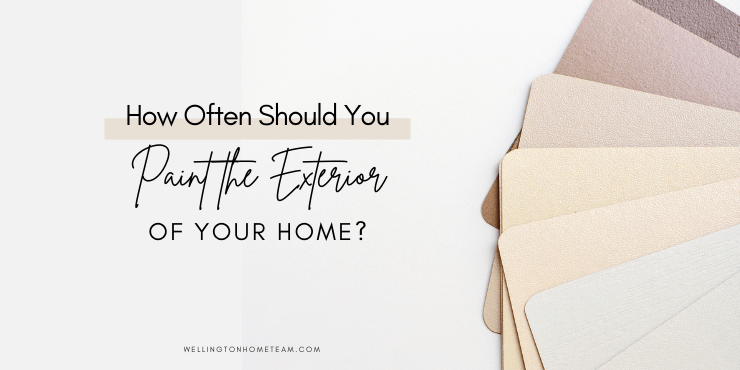 Choosing to not repaint your home when it's needed, could bring other problems. It is a significant expense and a large job to complete, but if you don't do it when needed, it could cause more damage to your home.
For these reasons, making the choice to bring in painting contractors might not be an easy one. But when exactly is the right time to paint your home?
8 Signs That You Need to Paint the Exterior
The exterior of your home could begin to look like it needs repainting after as little as 5 years, but it will depend on many things. A large part of this can depend on the materials used on the outside of your home, as well as other factors.

Exterior Construction
While a good paint job can last more than 15 years, if the siding on your home is wood or aluminum, this could be a lot less. However, vinyl, stucco, stone, or brick exteriors typically need to be repainted less frequently, often looking good for 15 years.
With a wood or aluminum finish to the outside of your home, you might find that a fresh coat of paint is needed after only 5 years. It will protect the siding, and without that protection, you could find you need to repair and replace rotten wood and other construction materials. Much of this will depend on how the elements damage your home.

The Previous Paint Job
How well the home was painted last time, will naturally affect how long it will be before you need to do it again. Quality paint finishes will last longer. So if a professional job was done previously, with multiple coats of fade-resistant paint, you can wait longer before you'll have to do it again.

Weather Conditions
Humid or stormy conditions can also increase how often a home's paint needs to be renewed. This will affect wood sidings more since it is less likely to resist damage from more extreme weather.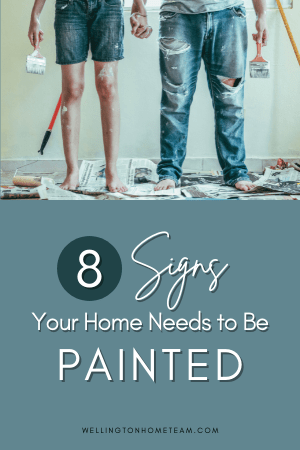 Fading Away
Direct sunlight on your paintwork will cause it to fade. But if there is some shade during the day, it should last longer. This can leave part of the home faded, making the need to repaint more obvious.
While there might not be any damage to the coating, the home isn't going to be looking its best.
If you are selling and want to give the best impression to potential buyers, repainting may be in order. It's by far one of the most cost-effective home improvements that helps obtain top dollar.

Maintenance
There are many maintenance chores to complete around the home, and the exterior is another one. If you have been careful to clean off algae or dirt when present and deal with pests and leaks affecting the siding of your home, the paintwork will last longer.

Wear and Tear
No matter how diligent you have been maintaining the exterior of your home, the paint will gradually wear and age.
You might see signs of cracking, fading, or peeling as time passes. If this happens, water might be getting into your home even if it isn't enough to cause an obvious problem inside. If you leave a seemingly small problem like this, it could become an expensive mistake later on.

Caulk
To seal gaps between windows or doors and the walls, caulking is used. After a few years have passed, this caulk can lose elasticity, crack, and fall away. If this happens, moisture can enter the wood increasing your maintenance problems.
If you have any cracks in the siding, caulk can fill the gaps before you paint. If caulk has been used previously to repair cracks, these will begin to show up over time as things deteriorate.

Selling
Making your home look its best before you try to find a buyer should pay off. If your home's exterior doesn't look as good as it could, a fresh coat of paint will enhance your home's curb appeal and make it easier to sell.
How to Make Your Paint Finish Last Longer
When you have decided that your home needs to be repainted, there are some things you should do to increase the time until it needs to be done again.
Preparation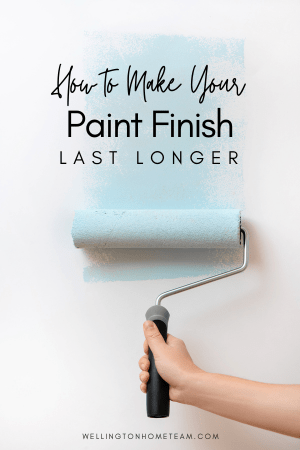 To give your new paint the best chance of lasting for as long as possible, preparation is important. Any issues need to be fixed before painting begins. So if there are cracks, mold, or any other repairs required, deal with them before other preparation.
Imperfections should be smoothed out. These can be sanded down, and you could pressure wash the surface to clean away debris. The surface shouldn't be so smooth that the paint doesn't have anything to bond to, however.
If you are hiring contractors, and to get the best results you probably should, they will use a thick primer that will offer a better finish and prevent cracks from developing. The primer should also make peeling less likely to happen in the future. This primer will need to dry before the final coat is applied.
Preserving the Finish
The fresh coat of paint should rejuvenate your home, perhaps returning it to the condition it was when you first moved in. But after it's been applied and the contractors have left, you'll have the job of doing things that will maintain the finish for years. Pressure washing the exterior once a year will clean away dirt, and remove mold and algae that could grow in damp areas.
If the outside of the home does have damp areas, you need to find the cause and fix the underlying issue. Then you can repair the damage that was caused, like peeling or cracking, and then touch up the affected areas. To make this easier, ask your contractors for some of the leftover paint so you can be sure you match the color.
If you stay ahead of these issues, you should prevent having to repaint the whole home sooner than expected.
Final Thoughts
While some homes will require painting more frequently due to their exterior construction, there are many things to consider. Though if there are any signs that it has deteriorated, repainting will be required to avoid extra bills and repairs to the home down the road.
Please consider spreading the word and sharing; How Often Should You Paint the Exterior of a Home?
Wondering how often should you paint? If so this article is for you! #homeimprovement
Popular Home Improvement Questions
How can I improve the curb appeal of my home? To improve the curb appeal of your home, there are several simple steps you can take. First, consider repainting the front door and trim to freshen up the appearance. Next, enhance your landscaping by planting colorful flowers, maintaining a well-groomed lawn, and trimming any overgrown bushes or trees.
Adding outdoor lighting along pathways and near the entrance can also make a significant difference. Additionally, upgrading your mailbox and house numbers with stylish and modern options can add a polished look. Finally, don't forget to clean and repair any visible exterior surfaces, such as the driveway, walkways, and siding. By focusing on these key areas, you can create an inviting and appealing first impression for your home.
How can I improve the durability of my deck or patio? To improve the durability of your deck or patio, there are several steps you can take. Regular cleaning is essential to prevent the buildup of dirt, debris, and mildew, as they can cause damage over time. Use a pressure washer and appropriate cleaning solutions to remove stains and keep the surface looking fresh.
Applying a weather-resistant sealant or stain can protect the wood or concrete from moisture, UV rays, and general wear. It's important to reapply the sealant or stain as recommended by the manufacturer to maintain its effectiveness. Additionally, consider using outdoor rugs or furniture pads to prevent scratches and damage. Finally, inspect your deck or patio regularly for any signs of deterioration, such as loose boards or cracks, and address them promptly to prevent further damage and ensure its longevity.
About the Author
Top Wellington Realtor, Michelle Gibson, wrote: "How Often Should You Paint the Exterior of a Home? "
Michelle has been specializing in residential real estate since 2001 throughout Wellington Florida and the surrounding area. Whether you're looking to buy, sell or rent she will guide you through the entire real estate transaction. If you're ready to put Michelle's knowledge and expertise to work for you call or e-mail her today.
Areas of service include Wellington, Lake Worth, Royal Palm Beach, Boynton Beach, West Palm Beach, Loxahatchee, Greenacres, and more.
How Often Should You Paint the Exterior of a Home?