What is a Sellers Disclosure in a Real Estate Transaction?
While making an offer on a home is exciting, very quickly you might be confronted with terms and paperwork you're unfamiliar with. A "sellers disclosure," sometimes called a "property disclosure statement," or "real estate disclosure form," is one of the first unfamiliar terms you will have to deal with.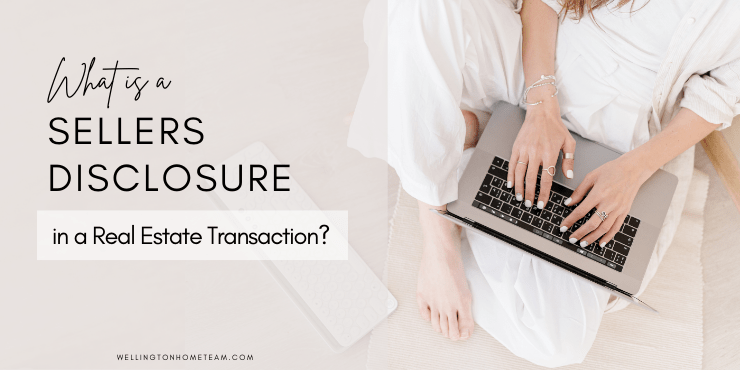 After you've made an offer on a home, you will get a sellers disclosure statement listing known problems. Requirements for this disclosure statement will vary depending on the rules in your state, but the idea is the same; to help buyers make a more informed decision on whether to buy the property.
What is a Sellers Disclosure?
This type of disclosure statement is a legal document requiring the seller to reveal information about the home that was previously undisclosed. While the seller might not want to disclose negative information about the property's condition, they have to if they want to avoid being sued later on.
Though details about the property's condition might sound unfavorable to the buyer, learning about any defects the home has will allow the buyer to purchase a home with more confidence.
If a sellers disclosure is required in the state where you're buying a home, you're likely to receive this once the seller has accepted your offer. If you're not aware of the situation where you're buying, your real estate agent can tell you what the disclosure laws are.
When a property is sold "as is," this isn't a way of avoiding disclosure laws if they are present in the state. Though an "as is" sale does mean that the seller probably isn't going to deal with any repairs, even if issues are discovered during the home inspection.
While some states don't have disclosure laws, there could be other reasons why a seller disclosure isn't provided to a buyer. Sometimes foreclosures or estate sales are not covered by the same rules as ordinary house sales. If these sales are being dealt with by a court or sheriff, the disclosure laws could be different.
What Issues is a Seller Required to Disclose?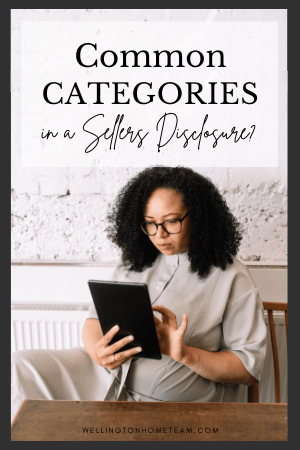 What is required to be disclosed by the seller is very dependent on the state the home is located in. While some states have no laws requiring the seller to fill out a seller's disclosure, other states have a very thorough disclosure requirement.
Even if you are in a state without the legal requirement for a seller's disclosure, a seller not voluntarily providing a disclosure statement could indicate they know there are problems with the home. Buying a home from a seller not willing to provide a seller's disclosure statement increases the need for a home inspection.
If there is a requirement for the seller to fill in a seller's disclosure, the state will likely have a standard form that covers the disclosure categories required by law.
Common Disclosure Categories
Roofing
Disclosures related to the roof of the home could include:
When it was last replaced
Is there a warranty, and will it transfer to the new owner
Has it ever leaked
Has it been repaired by the current owner
Some of these disclosures might be difficult for the seller to answer. They might not know how old the roof is, or even if it has been replaced by a previous owner. If this is an issue, the seller can try to contact the person they bought the home from, or try to find building permits that reveal this information.
Structural Issues
There are many things that can fall under the structural category, but required disclosures could include:
Alterations to the structure
Asbestos used in the property
Termites and other pests
Water damage
Fire damage
Any shifting in the foundations
Basements
If the basement of the home has suffered from flooding it could need to be disclosed. Even if it was only fairly minor flooding resulting in only a small amount of standing water, it will need to be revealed.
Any repairs that have been carried out to prevent flooding will need to be revealed. If a sump pump or other preventive measures have been installed, this could need to be disclosed as well.
A sellers disclosure is a legal document that requires home sellers to reveal information and known defects about the property they are selling. #homeselling #realestate #sellersdisclosure
Electrical and HVAC Systems
While there might only be a general question about whether the seller knows of issues with electrical or heating and cooling systems, in some states, the requirement is more in-depth. This might include questions about the source of power for heating systems, if there are any fuel tanks, and if there are parts of the home that are not heated.
Plumbing
Questions about the plumbing might be fairly limited, only asking if they have had to replace any plumbing systems. There could be more required in the disclosure, however, including the following plumbing-related concerns:
What material are the pipes made of
Have there been problems with the water heater
When was the last time the septic system was serviced
If the home isn't connected to the local public sewers, why not
What is the source of drinking water
Ground Issues
Sometimes the disclosure statement requires information from the seller on more general topics to do with the soil and the ground around the home. If the soil has been contaminated with chemicals or debris from construction work, that might need to be disclosed.
Location-Related Problems
In some states, there are local issues related to the ground the plot is located. In some parts of the country disused and collapsing, mine tunnels are a concern, with mine subsistence needing to be declared.
Sellers in Alaska need to declare if they are in an avalanche or mudslide area. Hawaiian home sellers need to state if they are in hazard zones for tsunamis, volcanoes, and geothermal areas.
More common types of location disclosures include:
Waste disposal sites
Sources of noise pollution
Agricultural zones
Designated wetlands
HOAs
If the property is in a neighborhood that's run by an HOA, this needs to be disclosed. The homeowners association or condominium association will have fees and rules that every buyer will need to know about. This might include :
Are there rules that prevent having tenants in the home
HOA fees and pending special assessments
If the home has shared walls with neighboring properties
What the monthly, quarterly, or annual fees cover
Some of these rules and additional expenses could deter potential buyers and so they need to be disclosed.
Death Disclosures
If someone has been murdered on the property, disclosing this might be required in some states. If someone has died from natural causes, most states do not require this to be revealed. Only a few states, like California, South Dakota, and Alaska require natural deaths to be revealed to the buyer.
Things to Check in a Sellers Disclosure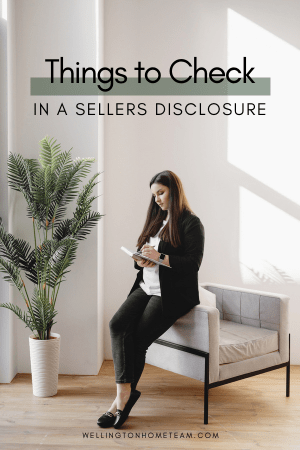 If the disclosure seems complicated and overwhelming, you can go through it with your real estate agent. They will help you identify anything you need to be worried about in the disclosure.
Problems like water or termite damage can be an indication of larger issues. Water could be leaking in and causing unseen damage and mold. And if the termite problem hasn't been properly treated, they could be attacking the structure of the home.
Lead paint is one problem that needs to be disclosed in any home that was built before 1978. This is a federal disclosure law that should prevent lead poisoning and other serious issues that are more likely to affect children.
Do You Still Need a Home Inspection If You Received a Sellers Disclosure?
Even if a very thorough sellers disclosure statement is required in the state the property is located, a home inspection is still advisable. The disclosure will only give details of known issues in the home, whereas the home inspection could uncover previously unknown things.
Though even when the seller is being entirely honest in their disclosure, there's still a chance they don't know about some of the problems the home has. For example, if the owner doesn't climb into the attic they might not notice the early signs of a leaking roof. This would then not be disclosed but is something that a home inspector would report.
What Happens If a Seller Doesn't Tell the Truth in Their Disclosure?
If you buy a home and you believe the seller didn't mention something they should have done in the property disclosure, your first step should be to talk to a real estate attorney.
This doesn't necessarily mean that you will end up in court, with the associated expenses. Sometimes mediation is the first option for dealing with these types of disputes. Though mediation can cost $500 per hour, it is considerably cheaper than the tens of thousands of dollars a court case could cost.
If you were to find yourself in this situation, you could find that the legal fees wind up being more than the cost of the problem. Mediation can offer a way to settle out of court without wasting thousands of dollars on attorney fees.
Final Thoughts
The sellers disclosure should give a buyer a good picture of the condition of the home. Though it might not be perfect or reveal absolutely every problem the home has, it will help the buyer decide if the home is right for them. More transparency in the home buying process can only be a good thing to make buying less of a risk.
Please consider spreading the word and sharing; What is a Sellers Disclosure in a Real Estate Transaction?
A sellers disclosure is a legal document that requires home sellers to reveal information and known defects about the property they are selling. #homeselling #realestate #sellersdisclosure
About the Author
Top Wellington Realtor, Michelle Gibson, wrote: "What is a Sellers Disclosure in Real Estate?"
Michelle has been specializing in residential real estate since 2001 throughout Wellington Florida and the surrounding area. Whether you're looking to buy, sell or rent she will guide you through the entire real estate transaction. If you're ready to put Michelle's knowledge and expertise to work for you call or e-mail her today.
Areas of service include Wellington, Lake Worth, Royal Palm Beach, Boynton Beach, West Palm Beach, Loxahatchee, Greenacres, and more.
What is a Sellers Disclosure in Real Estate?