Before you put your home in the market for sale, you should have it inspected. A home inspection is important because it enables you to know the condition of your home for valuation purposes. Home inspection reports can show you the kind of improvements you need to make in your home to increase its value in the property market. 
Typically, a home inspection process takes between two to four hours. Once done, home inspectors compile a home inspection report. Home inspection reports give homeowners an unbiased review of their properties.
The reports cover different aspects of a home including the roofing, plumbing, electrical systems, and heating systems. Often, home inspectors give a general assessment of each system in the home. They highlight issues that pose safety concerns or require basic repair. The reports are easy to read – they highlight several important things homeowners need to pay attention to.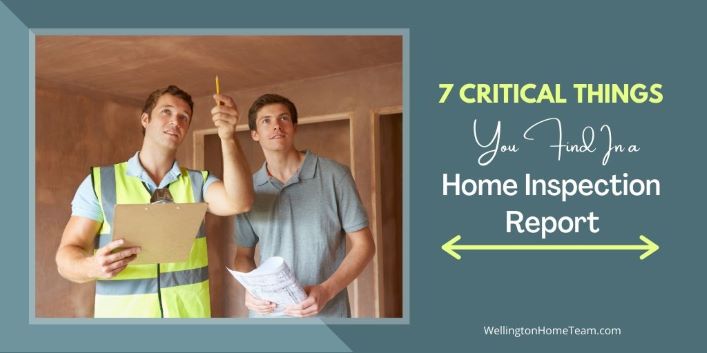 Here are 7 critical things that you'll find in a home inspection report:
1. Information About The Property 
A report from home inspectors will provide details about the home. These details give readers an idea about the kind of house being inspected. Home inspectors often indicate the style of a home, the kind of roofing material, the drainage system, and material that has been used to construct the home. 
While this is general information that seems obvious, it gives readers an indication of the investment that a homeowner has made on the property. For a person who is buying a home, this information is invaluable to have. It also helps insurance firms in appraising your home. 
2. Pest Assessment
Buying a home that has a pest infestation is the last thing any home buyer wants to do. Besides being a nuisance in a home, pests such as rodents or bugs can cause significant damage. Such as damage to a home's structure and result in costly repairs. 
A home inspection report not only gives details on the structural condition of the home, but it also features a pest infestation report. While home inspectors may not be licensed to conduct a pest inspection, they're able to identify active pest infestations by looking at the damages to the home's structure and material, such as wood. 
The inspection report can provide basic information about pest infestations that gives you a basis for hiring professional pest control services to address an infestation problem. 
3. Images of Problematic Areas
To enable readers of the report to assess problematic areas of the house, a home inspection report contains high definition images that clearly show where the issues are. The images come with annotations that point to actual damages. Damages like peeling paint or water stains that are likely to go unnoticed. 
By providing images, home inspectors make it easier for readers to see the damages in the home for themselves. The images help to determine whether the damages need to be fixed by an expert or it's something that can be fixed without professional help. 
4. Details About Defects
Besides providing images that show problematic areas, you'll find detailed descriptions of defects that home inspectors find in a home in the inspection report. In most instances, the report contains explanations of possible causes of the defects – which mostly include imperfect construction decisions or damages. 
Homeowners can find advice on how to repair the defects in the inspection report. Most defects carry simple repair suggestions such as fixing external trims. Or painting walls to avoid expensive damages in the future. Where homes have extensive damages, home inspectors may recommend major repairs to be done by professionals. 
5. Presence Of Water Leaks
If your home has a water leak problem, a home inspection report will highlight it. Often, home inspectors will look out for mold or mildew that's caused by water to establish the possibility of a water leakage problem either from an appliance or the roof. Most homes have mold in the attics and crawl spaces. Where the source of the mold cannot be established by just reading the report, homeowners need to get a plumbing expert to check out the source of the water leakage. 
6. Quality of Air In the Home
Homeowners consider air quality an important aspect of home inspection. As such, you'll find information about this in the home inspection report.  When doing the inspection, home inspectors will check whether there are any elements that compromise the quality of air in a home. 
Some common sources of poor air quality in homes are gas leakages or trappings in the foundation, carpet painting, or sheetrock. With a report that shows possible causes of air quality problems, homeowners can enlist expert quality testing services to unravel the problem. This includes establishing sources of volatile organic compounds, hidden mold, and formaldehyde. 
7. State of Electric and Heating Systems
Electric and heating systems are among the main aspects that home inspections check during a home inspection. As such, a home inspection report will provide information on the status of these systems. For instance, if the home being inspected has outdated electrical wiring or has low voltage levels, the home inspection report will highlight this and recommend upgrading of the electrical system. 
This is a costly undertaking that'll require the homeowner to hire a licensed wiring expert to fix it. In the same way, home inspectors will check the heating system in the house. If they detect gas leakage, they'll include the issue in the home inspection report. Then advise hiring a gas expert to fix the leakage. 
7 Critical Things You Find In A Home Inspection Report
Last Word
A home inspection report is a great tool to have. Whether you are selling a home or working towards buying one. For sellers, the report serves as a proof of the condition that your home is in and goes a long way in justifying the property's asking price. On the other hand, a home inspection report enables buyers to identify areas that require repairs. This information enables them to negotiate the price of the home before closing the deal. 
A home inspection report comes with a wide range of information about a property. However, whether you are the one buying or selling a home, the seven things discussed above are important to look at before you close the deal. 
Please consider spreading the word and sharing; 7 Critical Things You Find In A Home Inspection Report
About the Author
Roger Watson is a real estate agent who helps people find their perfect homes. Since buying a house is an important investment, Roger helps his clients narrow down their options, perform necessary inspections before buying a home, and file the necessary paperwork for their purchase. During his leisure time, Roger loves to write articles on real estate investments and properties.