Should a Seller Get a Home Inspection Before Listing Their Home?
Home inspections are one of the many steps in a real estate transaction. Almost every single home buyer will have a home inspection, so they know exactly what they're buying. However, it's not uncommon for sellers to get a home inspection too. The big question is, as a seller, do you really need to have a home inspection before listing it for sale? Let's explore the different reasons why a home inspection might be beneficial and why it may not be.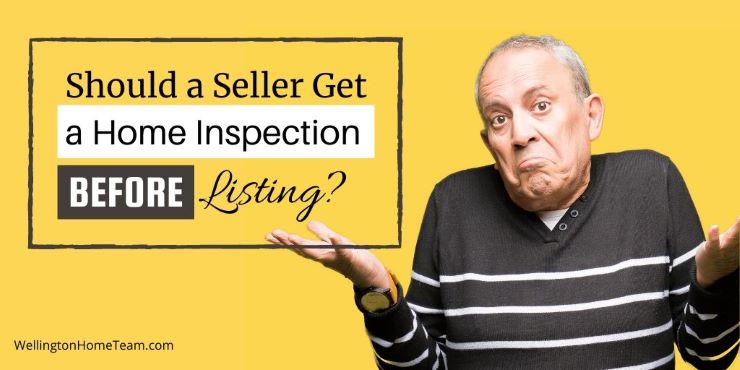 Reasons for Getting a Home Inspection Before Listing
There are some very good reasons why, as a seller, you might want to have a home inspection before listing. We take a look at the advantages of having an inspector check your home.
The Condition of Your Property
When a buyer has a home inspection there's always a chance something will be discovered. Something that may prevent them from purchasing your home. Now, it will all depend on the contract itself, but the most common contract used today will allow a buyer to cancel the contract within a certain period.
It is understandable, every seller wants to avoid a situation like this. If they don't it leaves them in a position where they have to put their home back on the market. That may be a red flag and deter future buyers. It also wastes valuable time being off the market. In addition, the issues will have to be disclosed and resolved otherwise they might lose the next buyer too.
Having a home inspection before listing gives you the chance of avoiding situations like this. It should establish the real condition of your home and uncover potential problems you may have not known about. As long as you hire a home inspector who is licensed and experienced in their profession, they should uncover most of the potential issues.
Repair Work
If things are uncovered in the inspection, you have the option to repair them before the property is listed. You could decide to take the chance that the buyer's inspection doesn't find the problem, or hope that they don't consider it serious enough to hold up the sale. But this isn't likely to be the case and it is better to fix the damage to the house when you have plenty of time before listing.
Chances are, these problems will be uncovered and the buyer will ask you to repair them before the sale can proceed. They could also renegotiate the price or abandon the purchase completely. Deciding to have the repair work done before any of this happens, means that you aren't under pressure to have the work completed in a certain timeframe.
Reducing Your Stress
Selling a home is one of the more stressful things a person does in their lives, anything that can reduce this, is clearly a good thing. Most people know if there are major problems with their home, but having a home inspection can confirm this and reduce your worries.
So when the buyer's inspection day rolls around you won't be so fearful of the home inspector's findings. So you can be confident that the chances of the sale falling through are lower, and the sales process should be quicker as a result. This is one of the many benefits of having a home inspection before listing.
Helping Buyers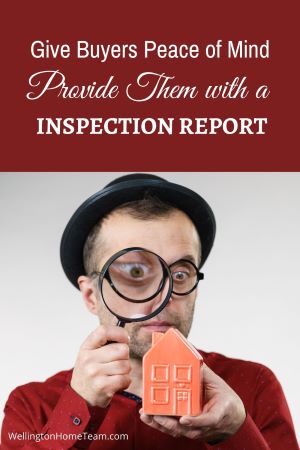 If the buyer looks at your home inspection report, they can quickly see what condition the home is in. While they are still likely to have their own home inspection, they will be more confident buying your home.
Just remember most purchasers will have some skepticism about the condition of the property, so getting an inspection will still probably happen. Buyers are spending perhaps the most money they have spent on anything, so this level of skepticism is understandable.
However, if the buyers have seen the inspection report they can offer accordingly. This means they'll have already factored in any problems they believe the home has into their initial price. The reduction of doubt about the home should show the buyer that it is more likely to be worth the amount you want for it.
Improving Negotiations
The results of a home inspection can frequently be a way for a buyer to start negotiations for them to get a better deal. If you have removed most or all of the potential issues with the home, there is less scope for concessions on the price.
Negotiations over repairs, that need to be carried out on the property, can also delay the sale. If you have been able to deal with these issues before the potential buyer ever sees the home, there is less reason to slow down the sale.
Buyers can sometimes demand repairs to the home which are rather minor. These are things that shouldn't cause any concerns to the buyer but could cause you stress should they decide to make it a bigger problem than it really is. Having already had an inspection on the home, you can deal with these things or show them to the buyer as minor issues, before they have their home inspection.
Having a home inspection before listing can help cut down the chances of having to enter into negotiations with the buyer again. It will reduce the likelihood that you will have to make concessions, which means that you stand more of a chance to get the price you expect from the sale.
Setting the Price
Deciding on how much your home is worth is a difficult part of the process. If the full condition of the home is known, this is made easier. Your real estate agent will be able to better assess the value of your home if they can examine the inspection report.
When the condition of the home is better understood, the price can be set. So it won't be too low, avoiding receiving less value than you should. It can also prevent setting the price too high, which will put off potential buyers and leave it on the market for longer than it needs to be.
Helping Your Realtor
A pre-listing inspection helps your real estate agent as well. Though you are already paying them for their expertise, the additional assistance that comes from a full understanding of the condition of the home can only benefit you. It will mean the home is priced more accurately and allows the agent to be more confident in their negotiations with buyers.
Though a home inspection is an additional cost that isn't essential, it could make for a smoother transaction.
Getting ready to list your home for sale and wondering if you should get a home inspection before listing? If so here's the answer! #realestate #homeselling
Reasons for Not Getting a Home Inspection
The decision to have a home inspection before listing your home for sale isn't completely one-sided, however. There are some drawbacks to having a home inspection, as well.
The Cost
The expense of bringing in a home inspector is not a minor consideration. The service can easily cost $500 to $1000 depending on your location and the size of your home. There could be additional expenses for extra tests as well, though you may choose to not have these carried out. Other tests can include mold, sewer, radon, lead-based paint and well water inspections.
These costs are going to be your responsibility. Moving homes is one of the most expensive things you can do, and putting extra pressure on your finances at this time is likely to be something you will want to avoid. The potential benefits to the sale price of your home could be significant, however, and completely surpass the expense of having a home inspection before listing.
Full Disclosure
If things are discovered that you don't address before listing the home, they could be disclosed to the buyer. The rules regarding this vary depending on the state you live in, but your realtor will be held to higher standards anyway. This means that they need to disclose problems with the home that they know about.
If your state requires that you provide all the information to the buyer, not doing so could put you in significant legal difficulty. If you don't know of any problems with your home, however, you can't, of course, be expected to reveal them to the buyer. The home inspection report shows any problems. With that, you will then need to provide the buyers with this information if required by the law in your area.
These potential problems with your home, are likely to be discovered anyway when they have their own home inspection carried out. Either way, problems with your home are highly likely to affect the price you receive from a buyer, whether you choose to have a home inspection or not.
More Inconvenience
Having your own inspection will likely mean the process needs to be carried out twice. Inspections can take an hour or more and you will have the inconvenience of doing it on two occasions. The buyer will usually still want an inspection, even if you present them with your inspection report.
Just because your home inspection didn't find any major issues, don't assume that the buyer's report won't show any problems. Different home inspectors will draw different conclusions about your home. This could still give you some of the problems your home inspection should have prevented.
Ideally, your real estate agent should be available to attend the inspections. This will make sure that your interests are best served by helping show any contradictions between the two reports. Sometimes inspection reports can overplay the problems the home has, depending on the home inspector used.
Final Thoughts
As we have shown, there are more reasons to get a home inspection before listing as a seller than downsides. While there are some issues, most of the time, you are better off with a pre-listing inspection.
Please consider spreading the word and sharing; Should a Seller Get a Home Inspection Before Listing Their Home?
Getting ready to list your home for sale and wondering if you should get a home inspection before listing? If so here's the answer! #realestate #homeselling
Popular Questions about Home Inspections
Does a house have to pass inspection to be sold? A house does not necessarily have to "pass" a home inspection in order to be sold. However, the results of a home inspection can have an impact on the sale of a home. So the answer will ultimately depend on the terms of the contract in addition to potential requirements a mortgage lender or homeowners insurance company may have.
What fixes are mandatory after a home inspection?  The fixes that could be mandatory after a home inspection will depend on the specific circumstances; ie the terms of the contract, homeowners insurance, and financing. Odds are safety hazards or code violations will most likely need to be addressed. However, cosmetic defects, like cracked floor tiles are not.
Does a house have to be inspected before buying? No, a house doesn't usually have to be inspected before buying but it's highly recommended. It's important homebuyers know what they're buying along with the possible "issues" that will come along with their purchase.
What are home inspectors not allowed to do? The top 3 things home inspectors are not allowed to do is damage any part of the home during the inspection, offer estimates for repairs, or provide an opinion on the value of the property.
Additional Home Selling Resources
Do you plan on taking out a home improvement loan to prepare you home for sale? If so you'll want to make the improvements pay off. The best way to do this is to consult with a top Realtor in your area. They'll be able to let you know what improvements should be made and which ones should be skipped.
Preparing your home to sell fast and for top dollar doesn't need to be costly. In fact, sometimes it boils down to making the right decisions. From pricing your home correctly to beefing up security. There are steps you can take, as a seller, to ensure your home will sell fast.
There are so many low budget ways to transform your home. Painting is by far one of the most cost-effective ways to transform your home. If you aren't an experienced painter you can always hire one or have a painting party. Invite family and friends who are experienced painters and can help you transform your home a low budget.
About the Author
Top Wellington Realtor, Michelle Gibson, wrote: "Should a Seller Get a Home Inspection Before Listing Their Home?"
Michelle has been specializing in residential real estate since 2001 throughout Wellington Florida and the surrounding area. Whether you're looking to buy, sell or rent she will guide you through the entire real estate transaction. If you're ready to put Michelle's knowledge and expertise to work for you call or e-mail her today.
Areas of service include Wellington, Lake Worth, Royal Palm Beach, Boynton Beach, West Palm Beach, Loxahatchee, Greenacres, and more.
Should a Seller Get a Home Inspection Before Listing Their Home?