Do Home Buyers Have to Get a Home Inspection?
The home inspection period is probably the number one buyer contingency in a real estate contract and for good reason. Purchasing a home is oftentimes the single biggest investment a person will make in their lifetime. So having an inspection to find out the condition of the home they're buying is something a majority of home buyers want to do.
However, not all buyers want to spend the money on a home inspection. Then there are some buyers who just feel an inspection isn't necessary because the home appears to be maintained and in good condition. With that being said are home inspections mandatory? Let's discuss it!
So Does a Buyer Have to Get a Home Inspection?
No, a home buyer is not required to get a home inspection, but top Realtors will always encourage buyers to do so regardless of the home's age or appearance for several reasons.
By having an inspection a buyer will have a better understanding of the home's overall condition. They'll also be able to find out what repairs or replacements need to be made. Plus, the cost associated with these items. Some home inspectors will even provide a list of items that may need to be replaced in the near future. Big ticketed items like the roof, A/C, or water heater, so the buyer can budget and plan accordingly.
Plus, depending on the real estate contract, a buyer may have the option to cancel the contract for any reason or renegotiate. This means if the buyer changes their mind about purchasing the contract they may have the ability to cancel the contract without penalty. Or if the buyer would like to still move forward they can try renegotiating with the seller by asking for a price reduction, a repair credit, or have the seller make repairs at their expense.
However, if an inspection is never performed any unforeseen issues or problems arise the buyer will never know. So the cost will ultimately fall on the buyer, which in some cases can easily cost more than the inspection itself.
The Pros of a Home Inspection
Having an inspection before buying a house offers several benefits. Here are the top 5 pros of having a home inspection.
Uncovering potential issues: A home inspection helps identify any hidden or underlying problems with the property that may not be evident during a regular walkthrough. This includes structural issues, plumbing or electrical problems, roof conditions, or pest infestations. Knowing these issues beforehand allows buyers to make an informed decision about the property.
Safety assurance: A thorough inspection ensures the safety of the property for you and your family. It identifies potential hazards such as mold, asbestos, or faulty wiring, which may pose health risks or require immediate attention.
Cost savings: Identifying issues through an inspection can save you money in the long run. It helps you avoid buying a property with significant hidden problems that could result in costly repairs or replacements down the road.
Negotiating power: Armed with the information from an inspection report, a buyer can try negotiating with the seller to address any necessary repairs or potentially lower the price of the property, or provide the buyer with a repair credit.
Peace of mind: An inspection provides peace of mind, giving buyers confidence in their purchase decision. It offers a comprehensive understanding of the property's overall condition, allowing the buyer to make an informed decision with their purchase.
The Cons of a Home Inspection
While in the big picture, there really aren't any cons of having a home inspection prior to buying a home. However, there are some things that may be viewed as cons, let's take a look.
Cost: Home inspections come with a price tag, and the cost can vary depending on the size, location, and complexity of the property. This additional expense may impact a buyer's overall budget for purchasing a home.
Time constraints: Scheduling and completing an inspection can add time to the home-buying process. It may delay the closing timeline or affect other time-sensitive matters related to the transaction.
False sense of security: An inspection is a visual assessment of a property. While inspectors are trained to identify potential problems, there may still be hidden issues that are not readily apparent. Plus, home inspectors are human and can make mistakes, missing potential issues. It's important to understand that an inspection does not guarantee the absence of all problems.
Potential conflicts: In some cases, the findings of an inspection can lead to conflicts between the buyer and seller. Disagreements may arise regarding the severity or urgency of repairs, the responsibility for addressing them, or negotiating the terms of the sale based on the inspection report.
Final Thoughts
Yes, an inspection costs money, but so do repairs, which can add up quickly. Over the years I've seen buyers save thousands of dollars on repairs because they had an inspection. They submitted the inspection report to the seller and asked them to make specific repairs, provide a repair credit at closing or reduce the sales price. Based on my experience a majority of sellers are willing to work with the buyer. Unless the repair(s) were something the buyer knew about prior to submitting an offer.
If you think this article, Do Home Buyers Have to Get a Home Inspection? was an interesting read please give it a share!
Not all home buyers think a home inspection is necessary and wonder if they have to get one, find out the answer to this popular question now! #realestate #homeinspection
Popular Home Inspection Questions
What are the top 6 reasons to get a home inspection? Having an inspection can uncover hidden issues with the property, ensure safety, assess the overall condition of the property, budget for future expenses, have potential negotiating power with the seller, and provide peace of mind.
How much does a home inspection cost? The cost of an inspection will depend on several factors, including the size and location of the property along with how complex the inspection may be. On average though, home inspections usually range between $300 to $700. However, it's important to note that these figures are approximate and can vary significantly.
Is a home inspection required for a mortgage? An inspection is typically not required for a mortgage, but it is highly recommended. While the inspection itself is not a requirement, the lender may require repairs or further evaluations if significant issues are identified during the home appraisal that could impact the property's value or the lender's risk.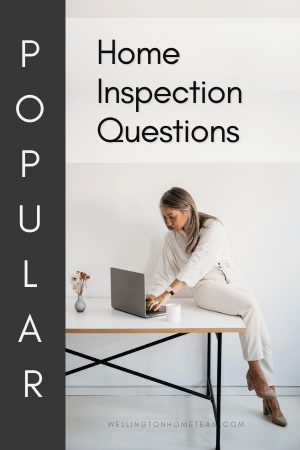 Does a house have to pass inspection to be sold? Generally speaking, no, a house does not have to pass an inspection to be sold. The decision to conduct an inspection typically falls on the buyer. However, if the buyer is obtaining a mortgage the condition of the home will have to meet certain criteria.
For example, if the roof is actively leaking it is viewed as a significant issue as it can lead to water damage, structural problems, and mold growth. In most cases, lenders will require repairs to be completed before approving a mortgage.
Can I get a home inspection after purchase? Yes, you can still get an inspection after purchasing a property, but it is not as common. Typically, home inspections are conducted during the buying process to assess the condition of the property before finalizing the purchase.
However, if you have concerns or suspect issues with the property after the purchase, you can hire a home inspector to conduct an inspection. This post-purchase inspection can help identify any hidden problems or provide peace of mind regarding the property's condition. It's important to note that any repairs or issues discovered during a post-purchase inspection will be the responsibility of the buyer, as the purchase agreement has already been completed.
How long does a home inspection take? The length of time an inspection takes will depend on the size, age, and complexity of the property. An old Victorian home may take significantly longer to inspect compared to a track home that was built a year ago. However, the average inspection time is usually 90 minutes to 3 hours.
What are 5 very important things that are inspected in a home inspection? The 5 most important items to be inspected are the structural integrity of the property, electrical systems, plumbing systems, HVAC, and roof. These items tend to be the most costly to repair or replace. However, the home inspector will also inspect items like appliances, windows, and doors, which can also be costly.
About the Author
Top Wellington Realtor, Michelle Gibson, wrote: "Do Home Buyers Have to Get a Home Inspection?"
Michelle has been specializing in residential real estate since 2001 throughout Wellington Florida and the surrounding area. Whether you're looking to buy, sell, or rent she will guide you through the entire real estate transaction. If you're ready to put Michelle's knowledge and expertise to work for you call or e-mail her today.
Areas of service include Wellington, Lake Worth, Royal Palm Beach, Boynton Beach, West Palm Beach, Loxahatchee, Greenacres, and more.
Do Home Buyers Have to Get a Home Inspection?