How Much are HOA Fees in Wellington Florida?
As a Wellington Florida REALTOR, one of the most common questions I receive from potential homebuyers is "How much are HOA fees in Wellington Florida?" While Wellington is a Village and does not have any HOA fees (Homeowners Association Fees) many communities within Wellington do.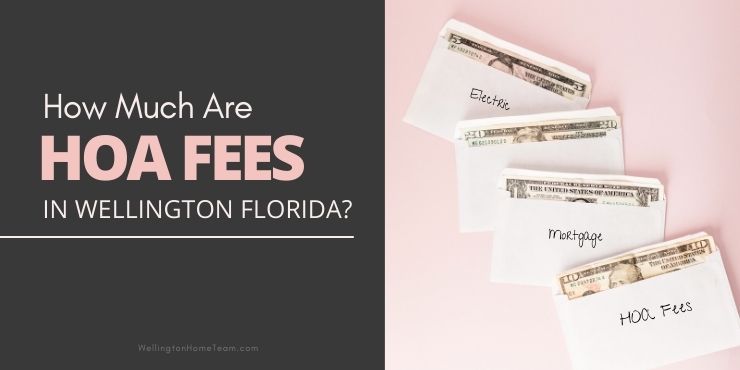 Homeowners Association Defined:
A Homeowners Association is a non-profit organization usually established by the developer of a community and they are responsible for enforcing rules, regulations, and the restrictions set in place. They are also responsible for collecting funds from homeowners within a community, commonly referred to as HOA fees or Homeowners Association fees. 
Wellington homebuyers interested in purchasing a home within a community that has a Homeowners Association in place can expect to pay a monthly, quarterly, bi-annual, or annual HOA fee. These fees will vary greatly, some HOA fees in Wellington will be under $100 a month while others will be well over $900 a month.
Not only do HOA fees vary by community, but sometimes the amount can vary within the community itself.  Communities like Olympia, Isles at Wellington, and Grand Isles have a master association, in which every resident is obligated to pay their HOA fee, but residents are also responsible for paying an additional HOA fee to the specific village/sub-development they reside in.
So what do community HOA fees in Wellington cover? Just like HOA fees the items covered vary. In my experience, HOA fees will always cover management fees, reserve funds, and common area maintenance. Although some HOA fees also include items like basic cable, lawn care, pest control, alarm monitoring, internet, and security.
Wellington homebuyers should not take HOA fees lightly especially if they are searching Wellington homes for sale on a budget. My recommendation for homebuyers is to contact a local lender and discuss how HOA fees will affect their mortgage approval.
I'm currently working with a Wellington homebuyer who can get approved for a $300,000 home loan with no HOA fee or a $240,000 home loan with a $300 monthly HOA fee. If they had not discussed HOA fees and the impact they have on their mortgage approval they might have wanted to look at $300,000 homes with a $300 monthly HOA fee and in the end, they would not have been able to purchase the property. So it's imperative to make sure HOA fees are factored into loan approval.
Below are a few of the communities in Wellington that have a homeowners association in place:
If you are looking to purchase a home in Wellington Florida within a Homeowners Association contact us today! You can also receive a list of homes for sale in Wellington Florida that belong to an HOA by filling out our Online Buyer Questionnaire below.
Please consider spreading the word and sharing; How Much are HOA Fees in Wellington Florida?
About the Author
Top Wellington Realtor, Michelle Gibson, wrote: "How Much are HOA Fees in Wellington Florida?"
Michelle has been specializing in residential real estate since 2001 throughout Wellington Florida and the surrounding area. Whether you're looking to buy, sell, or rent she will guide you through the entire real estate transaction. If you're ready to put Michelle's knowledge and expertise to work for you call or e-mail her today.
Areas of service include Wellington, Lake Worth, Royal Palm Beach, Boynton Beach, West Palm Beach, Loxahatchee, Greenacres, and more.
How Much are HOA Fees in Wellington Florida?