How To Declutter Your Home Using Self Storage | 3 Easy Steps
The longer you live in your home, the more clutter will accumulate. Unless you are ultra disciplined at sorting through things and throwing items away on a very regular basis, stuff will begin to build up. It might not be a job you are keen to start on, but decluttering is something we all have to do from time to time.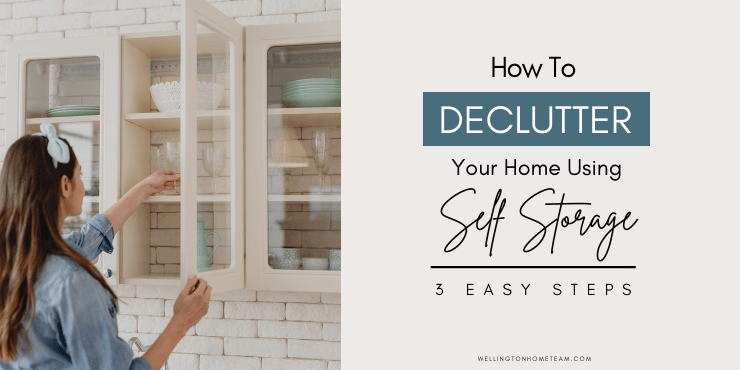 However, you can only go so far when decluttering your home, and the time will come when you simply need more space. Renting self-storage gives you the option to really get serious in your attempt to declutter your home.
A Guide to Decluttering and Using Self Storage
Let's look at the steps you need to take to make the most out of your self-storage unit and declutter your home.
Sorting Your Clutter
The first stage in decluttering your home is to sort through the things you own. If you have a lot of clutter, this could be something that you easily put off for another day.
To avoid this problem, break up the tasks and do it gradually, it doesn't need to be done all at once. You can choose one category of items to sort through each day, for example.
Go through your things, getting rid of items you no longer need. If things are in good enough condition, you can donate them to charitable organizations. But if things are damaged or stained, they may just have to be thrown away.
Furniture | If you have some unneeded large pieces of furniture, they could be taking a lot of space. Items of furniture that are no longer used can be donated, and many charities offer a pick-up service.
Clothes | Items that are worn, damaged, or stained, can be thrown away. If the items of clothing are still in good condition but you know you'll never wear them again, they can also be donated to charity or sold online.
Appliances, Tools, and Electronics | Consider getting rid of these types of items if you have more than one. Some things, particularly appliances, can take up a lot of room, so choose which one you like using the most and stick with that.
Paper | You might have documents, magazines, and even old photographs cluttering up your rooms. Many of these items can be thrown out. But any important documents, or photographs, should probably be held onto. Some items can even be uploaded online or saved to a memory stick.
What Should You Put Self Storage?
Once you have sorted your possessions, throwing out any items you no longer have use for, the next stage is to decide what to put into self storage. Obviously, you don't want to put things in a self storage unit that you want to use regularly, but this still leaves many things you can declutter from your home.
You need to check your remaining items for things you only use now and again, or seasonal items you might only use once a year. Moving these rarely used items to your self storage unit could free up a lot of space in your home.
Holiday Decorations | Decorations you only bring out during the holiday season can be packed away in storage until they're needed again.
Collectibles | If you own an enviable collection of baseball cards or comic books, they might be taking out more space in your home than your partner might like. While these items could be growing in value, it might be better to store them in a climate-controlled unit.
Sports Equipment | Items like sports equipment can sometimes be quite large but used infrequently. With many sports being more seasonal, putting them in storage is an easy choice.
Garden Equipment | If the winters are harsh in your area, items like yard furniture, grills, and gardening tools, could get damaged between summers. Putting them into storage frees up space without the need to leave them exposed to the elements.
Furniture | If you want to temporarily use part of your house for a different use, moving furniture into storage can really help.
Not everyone has a ton of storage space in their home, which can lead to clutter, but a self storage unit can be a great solution to eliminate it. #selfstorage #declutter #diy
What Size Storage Unit Do You Need?
Your local storage company might offer quite a few different choices of unit. They might have anything from the size of a locker, all the way up to units big enough to store a large vehicle. Some common self-storage sizes include:
5×5 storage unit | If you don't have too much stuff to store, perhaps a few boxes and some sports equipment, this will probably be the right size for you. Some small items of furniture, and things that can be disassembled, could also fit in this size of unit.
5×10 storage unit | If you need to store a bed and mattress along with a few other things, they should fit in this size unit. You shouldn't have any problems fitting in yard furniture and other outdoor equipment as well.
10×10 storage unit | If you need to store an entire room of furniture this may be the best storage option.
If you have a lot of things to store, there are even larger units that might suit your purposes. Typically though, larger size storage units are used when moving from home to home or for the long-term storage of large furniture. Though you might be able to fit more items into smaller storage units than you expect with careful packing.
Position the larger and heavier items on the bottom, with the more delicate and likely to be needed items near the top. Pack the unit so that you have space down the side so it's easy to access more of your items when you need them.
Staying on Top of Clutter
When you have gone through all the trouble of decluttering your home, you don't want to go back to your old ways. You should periodically go through your stuff again, sorting things out and getting rid of items you no longer need.
Once you have freed up space in your home, you can use the newly found room to rearrange your furniture, making the spaces work better for you. Perhaps you might want to create different areas in the home for different activities. You could have an area for exercising, and another for studying or working.
Whatever you do with the new space you've found in your home, you can use self-storage to keep the unnecessary stuff out of sight, making your home a nicer place to live in.
Final Thoughts
Unfortunately, not everyone has a basement, attic, or garage to store items like holiday decorations or sporting equipment. This is where a self storage unit can be beneficial especially if you're trying to declutter your home. It can take time to declutter your home and move items to a storage unit but it will be worth it in the end. Studies show people are more productive and less stressed when they have a clean and organized home.
Please consider spreading the word and sharing; How To Declutter Your Home Using Self Storage | 3 Easy Steps
Not everyone has a ton of storage space in their home, which can lead to clutter, but a self storage unit can be a great solution to eliminate it. #selfstorage #declutter #diy
About the Author
Top Wellington Realtor, Michelle Gibson, wrote: "How To Declutter Your Home Using Self Storage | 3 Easy Steps"
Michelle has been specializing in residential real estate since 2001 throughout Wellington Florida and the surrounding area. Whether you're looking to buy, sell, or rent she will guide you through the entire real estate transaction. If you're ready to put Michelle's knowledge and expertise to work for you call or e-mail her today.
Areas of service include Wellington, Lake Worth, Royal Palm Beach, Boynton Beach, West Palm Beach, Loxahatchee, Greenacres, and more.
How To Declutter Your Home Using Self Storage | 3 Easy Steps