How To Declutter and Save Money on Costs When Moving
Moving to a new house is expensive and, more often than not, physically, mentally, and financially, exhausting. Just the debate of whether to buy or rent your new house requires extensive thought. If you have a big move coming up you won't want to miss this article about how to declutter your current home and save money along the way.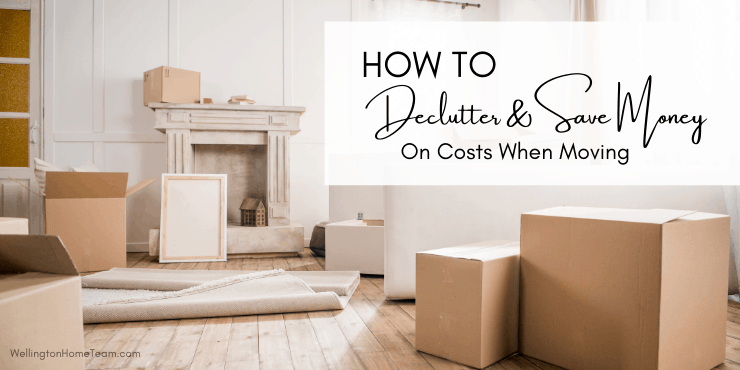 What Is Decluttering?
Decluttering is the process in which a person sorts out their belongings, identifying if each piece is actually considered as clutter or not. Upon coming to this decision, they decide whether they want to keep or dispose of each item. 
From its aesthetic implications to its effects on one's focus, mental health, sleeping habits, happiness, personal growth, and overall home or work life, there are quite a few benefits to decluttering. However, as mentioned above, people moving house also use decluttering to cut down their expenses. 
Tips for Saving Money While Moving
Less Money Spent On Packing Materials
When you declutter, you are cutting down the number of items you own and are therefore cutting down the number of items you'll be taking with you when you move. This, in effect, means you will need fewer boxes and packing materials like tape, bubble wrap, packing sheets, packing labels, and many more. 
The range of prices for such packing materials are as follows:
Cardboard Boxes –

$2.59

to

$12.94 (£2

to

£10)

depending on size and type

Bubble Wrap –

$0.39

to

$0.52

(

£0.30

to

£0.40)

per meter, depending on the width

Packing Tape –

$1.29

to

$1.93

(

£1

to

£2.50)

depending on tape type
While these costs do not seem expensive at first glance, these will add up when you have many belongings. However, with fewer items, you will not need as much of these materials. 
Think about it! If you get rid of items that would fit ten boxes, you could save up to $129.43 (£100)! 
Lower Removals or Man and Van Costs
When you are moving house, one of the best ways to save some time and money is by hiring a removals company or a man and van for a smaller-scale move. Both kinds of companies essentially provide their customers with affordable moving services that range from the disassembly, packing, loading, transportation, and unloading of their belongings. 
There are quite a few things that affect the cost of a removals company or a man and van. These factors include the number of people working on the move, the size of the job, length of the move, the difficulty of the job, and the size of the van used for the job. 
All these things will be directly affected by how much stuff you will be moving. Thus, with fewer items, you will be:
Eliminating the need for a bigger moving van or multiple moving van trips just to accommodate all your belongings.

Minimizing the number of people needed to complete the job.

Making the task of packing and hauling much easier for your service provider.

Spending less time packing, loading, and unloading your belongings.
That means you are effectively helping minimize your moving expenses, or the amount being charged to you by your man and van or removals service provider. 
Reduced Spending On Consumable Items
Decluttering is not limited to non-consumable items like clothing, novelty items, furniture, appliances, and the like. It would also be ideal for you to begin reducing the consumables you may find in your home. 
So, a couple of weeks before your move, it would be best for you to sort out your kitchen cupboards, as well as your fridge and freezer. Throw away everything that is no longer edible, and then plan out the meals you can make with whatever is left. From there, you may identify the items that you will really need, and only shop for those. You will also want to sort out your bathroom toiletries the same way. 
A tip for when you go shopping: DO NOT be tempted by deals at the store as it will only mean more stuff for you to move. Do the shopping after your move. This will also help you get the lay of the land.
Turn Your Clutter Into Cash
When you declutter, you will find that you can make some money by selling some of the items you have deemed unnecessary. Whatever extra cash you make, you may also use to fund any other moving expenses you have. You would be surprised at how much you can earn from a garage sale. 
You can even turn it into a fun event that ends with you saying goodbye to your neighbors. Hosting a farewell brunch after a successful garage sale would be the best way to get closure with your family and friends.
Moving to a new home is expensive and oftentimes physically, mentally, and financially, exhausting, but here's how to make your move easier. #moving #homebuying #homeselling Click to Tweet
Other Benefits of Decluttering Before Moving
Aside from its monetary benefits, decluttering before moving is also beneficial to you in the following ways:
Moving will be made quicker and much easier.

Without your junk and clutter in the way, staging your home for sale will be straightforward. Here are more tips on

how to prepare your house for selling

.

You will save a lot of time and energy that you would usually put into packing. 

Decorating

, cleaning, and organizing your home will be easy.
Decluttering Tips 
If you are seriously considering decluttering your stuff before you move, here are some tips you may want to keep in mind:
Start decluttering as soon as you can. List down the categories of items you need in order of importance. Schedule regular time slots for decluttering sessions to make sure you sort out through everything before moving day.

Have five piles for your stuff: Pack, sell, give away, donate, and dispose of.

You will want to get rid of as much paperwork as possible. If it's not anything you'll need again, shred or throw it out! If you want more information about when you should dispose of old paperwork,

check this out

.

Do not keep anything that is damaged, broken, or has considerable wear and tear. 

For sentimental items, you will want to get rid of, ask your friends or family if anyone would like to have them. If not, you may get rid of it.

It is best to get rid of anything you haven't used in more than half a year. Chances are, you will never use them again. 

Your basement or loft will take a while to sort through, especially if you have lived in your home for a long time. Do not put off this task until the last minute!

Make sure not to overvalue any items you want to sell. Appropriately pricing them based on their age and condition is your best bet at selling everything out.
Bottom Line
Whether you're trying to find out how to save money when moving into a new house or how to save money when moving into a new apartment these tips are sure to help! In addition to decluttering before you move you should also make sure to create a moving checklist, it will make the entire process go a lot smoother.
Please consider spreading the word and sharing; How To Declutter And Save Money On Costs When Moving
How To Declutter And Save Money On Costs When Moving #moving #homebuying #homeselling
About the Author
Top Wellington Realtor, Michelle Gibson, wrote: "How To Declutter And Save Money On Costs When Moving"
Michelle has been specializing in residential real estate since 2001 throughout Wellington Florida and the surrounding area. Whether you're looking to buy, sell, or rent she will guide you through the entire real estate transaction. If you're ready to put Michelle's knowledge and expertise to work for you call or e-mail her today.
Areas of service include Wellington, Lake Worth, Royal Palm Beach, Boynton Beach, West Palm Beach, Loxahatchee, Greenacres, and more.
How To Declutter and Save Money on Costs When Moving