6 Ways to Give Your Home a More Modern Vibe
When it's time to update your home decor, there are plenty of styles to choose from. From opulent classics to farmhouse shabby chic, there's an approach for every taste. But if you want something clean, bold and bright, choose options that give your home a fresh and modern look. From subtle touches to focal points that provide a major wow factor, here are six ways to give your home a modern vibe that's gorgeous and inviting.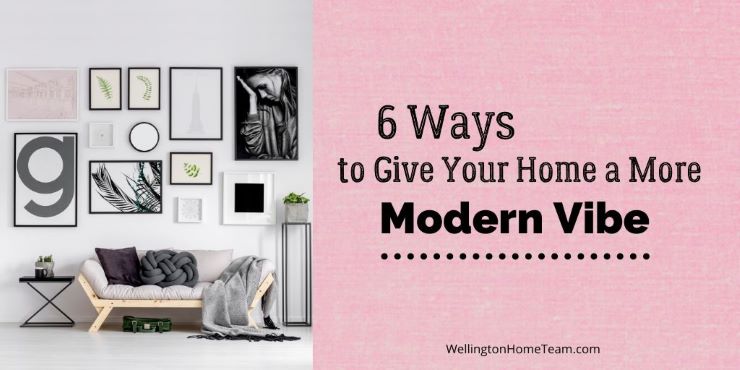 Choose a Bold Paint Color
Modern styles are all about intentional uses of bright, bold colors. A budget-friendly method of instantly upgrading any room is to simply choose a new wall color for the space. If you want to work your way in without committing to painting an entire room in jewel tones, primary colors or even deep black hues, consider an accent wall instead. You'll add depth and interest to your space without overwhelming the look of your home.
Swap Out-Dated Lighting
Light fixtures can age a home, but a simple swap for modern alternatives can create an instant update. Consider energy-efficient recessed lighting with dimmer switches to help you control the mood at any time of day. Choose accent lamps or pendant lights with careful intention, searching for pieces that add interest and beauty in addition to providing an extra light source. For a modern look that's also a bit retro, choose pieces that showcase bulbs of different sizes, shapes, and hues.
Six Ways to Give Your Home a More Modern Vibe
Upgrade Your Major Furniture Pieces
Modernize any space by upgrading to more contemporary-styled furniture pieces. While beds and tables can easily be transformed with new linens and accents, items like sofas and armchairs are much more difficult and expensive to update. One of the quickest ways to spruce up your home is by purchasing seating from companies that focus on modern design, like Joybird furniture. Browse for options in bold colors with clean lines for a truly up-to-date look.
Give Textured Wallpaper a Try
While the word "wallpaper" may conjure images of horribly outdated homes in the '70s, this highly-customizable wall covering has made a serious comeback in recent years. It's a great way to add an interesting mural, pattern, or design to your walls if you don't have the skills to paint it by hand. But if you really want stylish and state-of-the-art walls, choose textured wallpaper to add depth, dimension, and serious interest to any space. There are even temporary wallpaper tiles for those who don't want to deal with the hassle of application or removal, which is an ideal option for renters.
Get Rid of Carpet
While carpet can be comfy, it's also tough to partner with a modern home decor style. Hardwood floors are timeless, even painted hardwood floors can add instant value to your home and work with every home interior design.
They also make room for more accent pieces by providing a backdrop for colorful, patterned rugs. Bring back the comfort you crave by choosing lush padding for your area rugs and runners.
Stay Away From Matchy-Matchy Pieces
If you want your home to look truly modern, every element should speak for itself in its own unique way. Make sure every piece of Joybird furniture is different in color and shape. When choosing wall decor or photo frames, avoid packaged sets and opt for individual items that complement one another instead. Stay within your desired color palette, but select a different shade for every item to keep things interesting.
When it comes to modernizing your home's style, there are plenty of ways to give it the makeover it needs. Focus on clean lines, bold colors and individual pieces and you'll be well on your way towards a contemporary look that's made to last.
Please consider spreading the word and sharing; Six Ways to Give Your Home a More Modern Vibe