Many homeowners find themselves struggling to paint their wood floors. While a plain hardwood floor can be a great asset with a simple finish, painted floors are becoming more popular. They're also a great option for floors that may not be made from the best materials. Additionally, it's much simpler and less expensive to paint wood floors than to refinish them entirely.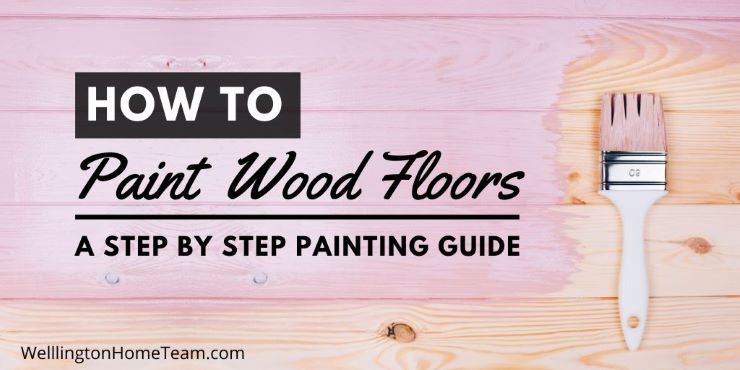 Regardless of your reasons, most people aren't familiar with painting floors. Even if you've painted before, painting wood floors is a much different process. So if you're not sure how to get the best results, use this step-by-step process to end up with wood floors you'll love.
1. Purchase Floor Paint
Since floors are walked on daily, you'll have to purchase a more durable paint. Latex enamel floor paint is a popular choice along with oil-based enamel floor paint. While oil-based will probably wear better it is not going to be as environmentally friendly. Both products will most likely have "floors, porches and decks" on the can.
It's usually more expensive than wall paint but is well worth the additional cost. Don't try to save money by purchasing the cheapest floor paint or incorrect type of paint, like most things in life you get what you pay for. A low-quality paint can produce low-quality results and who wants to redo their floors immediately or in the near future?
Once you've decided on the type of floor paint you'll be using the next step is to pick a color. Just like wall paint the color samples will look different in your home's lighting, so make sure to bring samples home before deciding on the exact color. Also, keep in mind lighter colors will show more imperfections in the wood than a darker color, but darker colors, like espresso, will show dust.
Multiple coats of floor paint will need to be applied, so measure the space to ensure you don't overbuy or underbuy paint. In addition to floor paint most will need a primer as well. Make sure to select a primer that will work well with the brand and type of floor paint selected. You might be able to save yourself an additional coat of floor paint by having your primer tinted.
2. Clean Floors Thoroughly
This is a simple step but one that you won't want to overlook or cut corners on. You'll want to do a deep clean in order to get everything off the floors before getting started. Vacuum and mop, using an anti-greasing agent. You don't have to purchase any particular type of products but your goal with this step is to remove any and all dirt before moving forward. Wait until the floor has dried before moving onto the next step.
3. Sand and Fill
If the floor already has paint, then you'll want to sand away any loose or peeling paint. Most floors have a few dens or cracks in them. Fill these in with paintable wood putty and allow it to dry.
Sand the floor lightly as this will help prepare the surface and allow the paint to be applied smoothly and evenly. After you've finished with this step, you should vacuum and wipe down the floors again with a damp cloth or microfiber cloth to remove any dust. If you leave dust behind you won't get a clean smooth finish.
4. Start with a Primer
Priming is a great way to make sure that the paint sticks and will also improve its durability. Start by applying primer around the edges of the room with a brush and then work your way through the rest of the room with a roller. You may want to use an extendable paint roller pole to keep your distance as needed.
After you've applied primer, allow it to dry for at least 12 hours before moving forward. You may have to reapply primer in some areas so inspect the floor thoroughly before moving on. As previously mentioned having the primer tinted might save you an additional coat of paint.
5. Paint the Room
Now that your floors are primed and ready to go, you can start to paint the floors. Just like priming the floors it's a good idea to start by painting the edges around the perimeter with a brush first. Make sure to use a good brush and wipe up any paint that gets on the walls or baseboard right away. It's much easier to do this when the paint is still wet than when it dries.
Once the perimeter is finished, use a paint roller to paint the rest of the floor. It's recommended to use long, even strokes and paint in a "W" pattern. This will help to keep paint globs from forming, providing an overall even appearance. You'll apply a single coat of paint and then allow it to dry. Apply one to two more coats for the best results, keeping at least 24 hours between coats.
When painting especially with oil-based paint you'll want to wear a respirator and air circulation. Opening windows in the room that's being painted isn't necessarily recommended because dust can get in, but it may be necessary with oil-based paint. If you decide to use a fan to help airflow make sure it's clean and doesn't have dust built up on the blades.
Floor Designs
Take your floors to the next level by using a stencil or masking tape to create a pattern on the floor. This is a step that will require perfection and a ruler especially if the designs involve lines. If the room is small you'll want to keep it simple, not busy and overwhelming.
How to Paint Wood Floors | A Step By Step Painting Guide
6. Allow the Paint to Harden
Floor paint can take up to 10 days to harden so you'll want to fence off the room that's been painted to ensure nobody accidentally walks on the freshly painted wood floors. Going into the room too early can create scuffs and other imperfections on the surface. If you're painting the entire floor, consider painting one room at a time to make it easier to avoid these newly painted areas.
7. Almost Done!
Once your floors are dry it's time to put everything back into the room and enjoy your freshly painted wood floors. Make sure to lift furniture and put it into place, don't drag it from one room to the next. While the paint should hold up if there are any sharp areas on the furniture it could easily damage the paint.
Final Thoughts
Painting a floor is fairly straightforward, but it does involve a specific process that's different from other painting projects so make sure to follow these steps. It can be an inexpensive upgrade but don't cut corners or try to save money by purchasing the cheapest or incorrect products for the job. While anyone can paint their floors nobody wants to have to repaint them in the near future. Good quality products will hold up significantly longer than inferior products.
Please consider spreading the word and sharing; How to Paint Wood Floors | A Step By Step Painting Guide
About the Author
Top Wellington Realtor, Michelle Gibson, wrote: "How to Paint Wood Floors | A Step By Step Painting Guide"
Michelle has been specializing in residential real estate since 2001 throughout Wellington Florida and the surrounding area. Whether you're looking to buy, sell or rent she will guide you through the entire real estate transaction. If you're ready to put Michelle's knowledge and expertise to work for you call or e-mail her today.
Areas of service include Wellington, Lake Worth, Royal Palm Beach, Boynton Beach, West Palm Beach, Loxahatchee, Greenacres and more.
Summary
Article Name
How to Paint Wood Floors | A Step By Step Painting Guide
Description
Painting wood floors is a cost-effective way to give new life to old flooring. Here's a step by step guide on how to paint wood floors.
Author