Top 10 Eco-Friendly Paints for a Non-Toxic Home
According to the Environmental Protection Agency, the air inside a home can be three times more toxic than the air outside. Your walls are one of the biggest culprits. So before you start the next DIY project inside your home you should explore non-toxic options!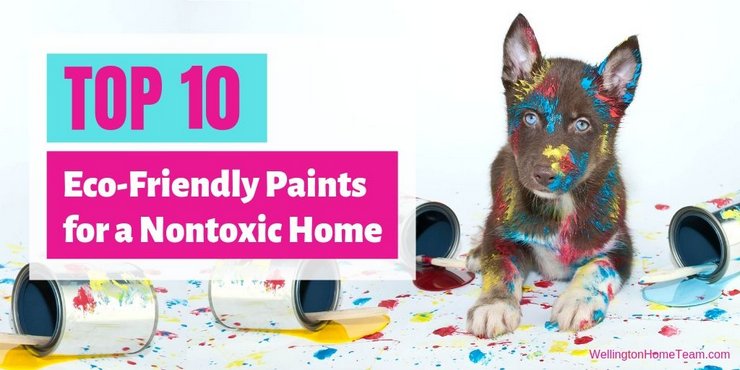 The Truth About Paint and Paint Thinners
Even though lead was banned from paints back in 1978, most paints and paint thinners still contain volatile organic compounds (also known as VOCs). These toxic products leech dangerous chemicals into your home – where the average person spends 50%-80% of their time.
Using paint products that contain VOCs can result in a wide array of health complications, for humans and pets alike. Headaches, dizziness, disorientation, irritation of the eyes and nose, damage to the kidney and liver, memory loss, and cancer are known side effects. While some people may not experience any symptoms using paint with VOC their body will definitely collect these toxins and can become problematic down the road.
Protect your family by choosing a healthier alternative. Opt for a low or zero-VOC paint product for your next DIY project.
Best Eco-Friendly Paint Products

There are many low and zero-VOC paint products to choose from, the following selections are known for their quality and pigmentation.
You'll likely pay a bit more for these premium paints, but the end result will be worth the added cost. Best of all, you'll be able to rest easy, knowing that you and your family are safe from harmful chemicals.
Go green with one of these top 10 eco-friendly paints to keep your home nontoxic! Being eco-friendly in your home doesn't have to be difficult. #eco-friendlypaint
Top 10 Eco-Friendly Paints for a Nontoxic Home
Bioshield Clay and Casein Products
Made from raw and natural ingredients, this paint is an easy-to-mix powder. Simply choose your color, add water, stir, and paint. Offered in a variety of colors, from neutral tones to pretty pastels, you're certain to find the perfect, healthy paint solution for your home.
Yolo Colorhouse
This water-based, Green Seal-certified paint product is VOC-free. Created in Portland Oregon, Yolo Colorhouse paints are offered in 40 different hues – all of which are meant to mirror nature's natural color palette. There's air, leaf, water, stone, and so much more!
Homestead House Paint Company
Organic, biodegradable, and with zero VOCs, Homestead House paints are a "milk paint". Said to be one of the oldest and most natural paints known to man, they are an easy choice for the environmentally-conscious homeowner. Mold resistant and able to absorb into porous surfaces to prevent chipping or peeling, it is ideal for use on nearly any wall surface.
Anna Sova Food Paint
Made with up to 99 percent food ingredients, Anna Sova's food paints smell like a milkshake and are considered safe enough for moms and babies to breathe! Definitely a healthy choice. Their imported German pigments are VOC-free and wonderfully vibrant.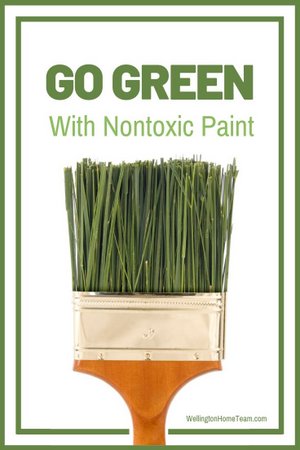 Green Plant Paints
Made from soy-based resists and clay, these pigmented eco-friendly paints are as organic and healthy as a trip to your local farmer's market. They're free from VOCs, preservatives, and biocides, meaning there's nothing scary hiding in these paint products. In fact, the company prints every ingredient, directly onto the can.
Wonder Pure Interior Latex, Odor-Free Paints
If milkshakes and mineral smells aren't really your thing, and you're looking for a zero-VOC paint product, then Wonder Pure interior latex paints may be the brand you're looking for. Available in a wide array of colors, this paint product is completely odor-free, making it a safe choice for everyone in your family.
Earth Pigments
This company goes one step further in producing its non-toxic, mineral-based paints. All of their ingredients are sustainably harvested, making them one of the most eco-friendly paint alternatives for your home. Earth Pigments are one of the pricier selections, but the vibrant colors are unmatched in the eco-paint market.
Benjamin Moore Natura
Asthma and allergy friendly, the Benjamin Moore Natura line is made by one of the top paint suppliers in the country. That makes it easily accessible, regardless of where you live. In fact, you'll likely find it at your local hardware store.
Behr's Premium Plus
Knock out your painting in half the time, without all the VOCs, using Behr's Premium Plus paints. They combine paint and primer, all into one can. Most noteworthy, Behr is one of the most affordable paints on the market too.
Earth Safe Finishes
Earth Safe Finishes is perhaps the most expensive eco-friendly, VOC-free paint, but they're proudly made in America. If you're all about American-made products, then this could be the perfect solution for your next project.
Final Thoughts
Choosing eco-friendly paint can protect the health of you and your family – and it doesn't have to be difficult! While awareness about toxic chemicals increases, so does the number of available eco-friendly alternatives. So before you pick up your next gallon of paint make sure it's VOC-free! While it may impact your wallet upfront it'll be worth every penny in the end.
Please consider spreading the word and sharing; Top 10 Eco-Friendly Paints for a Non-Toxic Home
Go green with one of these top 10 eco-friendly paints to keep your home nontoxic! Being eco-friendly in your home doesn't have to be difficult. #eco-friendlypaint
Additional Real Estate Advice from Top Professionals
Paint can be extremely toxic, but it's not the only toxic item people bring into their home. One of the biggest toxic culprits people use on a daily basis is an air freshener. Whether it's a plug-in, aerosol spray or a candle these items are also extremely toxic. So instead of "freshening" your home with toxic chemicals explore a natural solution, like essential oils. However, some essential oils contain toxic chemicals much like paint, so people need to do their homework.
In addition to lead-based paint, mold is also toxic and should never be ignored. Whether a person is buying or selling a home they should always do the proper testing and complete the most recent disclosures.
While using eco-friendly paint may not increase the value of a person's home there are several "green" improvements that will! From installing energy-smart windows to a solar water heater green choices should always be explored.
Countless "green energy guides" can be found online. Going green doesn't necessarily mean costly. By making simple little changes throughout the day people can reduce their carbon footprint.
Lead-based paint can cause serious health issues. This is one of the many reasons why home sellers need to complete the proper lead-based paint disclosures if their home was built prior to 1978. Even if the seller has no knowledge of lead-based paint they still need to disclose what they know.
About the Author
Top Wellington Realtor, Michelle Gibson, wrote: "Top 10 Eco-Friendly Paints for a Non-Toxic Home"
Michelle has been specializing in residential real estate since 2001 throughout Wellington Florida and the surrounding area. Whether you're looking to buy, sell or rent she will guide you through the entire real estate transaction. If you're ready to put Michelle's knowledge and expertise to work for you call or e-mail her today.
Areas of service include Wellington, Lake Worth, Royal Palm Beach, Boynton Beach, West Palm Beach, Loxahatchee, Greenacres, and more.
Top 10 Eco-Friendly Paints for a Non-Toxic Home