Natural Solutions for Your Home | Clean, Repel & Kill Naturally
Store-bought cleaners and pest repellants pose a health risk to you, your children, and your pets. They're also bad for the environment. Thankfully, you don't have to rely on toxic chemicals to clean or rid your home of pests. Try these natural solutions for your instead.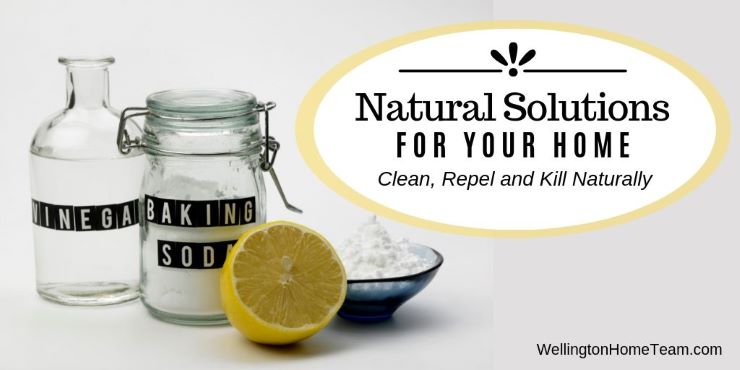 Natural Bug Repellant Solutions
Bugs may be an important part of our ecosystem, but many of them carry diseases. Get them out of your home with these natural bug-repellant solutions.
Flies – If you're dealing with a fly problem, try planting fresh basil near doorways and in your kitchen. Flies hate the smell of it! Alternatively, you can place dried basil in a muslin bag and hang it near doorways. Rub the bag occasionally to release the scent.
Fruit Flies – If your problem is fruit flies, try filling a cup or shallow bowl with vinegar (white distilled or apple cider). Add 6 to 8 drops of dish soap and then fill to the top with warm water. Leave the mixture to sit on the counter. The flies will be attracted to it and become trapped. The mixture will kill them.
Spiders – Though spiders are considered a beneficial species, some are poisonous. Keep them out of your home with a natural repellant made from either essential oils or citrus juice. Spray it in corners, under and behind furniture, and anywhere else you notice spiders. It won't kill them, but it will discourage them from taking up residence in your home. For the essential oil repellant, mix five to ten drops of peppermint, tea tree, or lavender oil with one cup of water and 1/2 teaspoon of liquid dish soap. To make the citrus repellant, mix either lemon or lime juice with water.
Ants – Few bugs are as persistent and hardy as the ant. Get them out of your house (and outside where they belong) by sprinkling cinnamon powder around their point of entry. For an added ounce of prevention, add a few drops of tea tree oil to the powder. Keep in mind that ants may attempt to find another form of entry. Use white distilled vinegar on surfaces where they're located. It erases their scent trail and deters them from trying to find a new way into your house.
Cockroaches – Roaches are some of the most resilient and disgusting bugs on the planet! Get rid of them using a multi-faceted approach. Kill them by chopping an onion and mixing it with baking soda. Place small amounts throughout your kitchen and in areas where roaches like to hide. Remove and replace the mixture daily until they're gone. Discourage them from hanging out in your kitchen by mixing 5 tbsp. of Tabasco sauce with 1/2 cup of water. Spray the mix along baseboards, under and behind your appliances, and in the corners of your cabinets. Be sure to wear a face mask and protect your eyes during the application process.
Repel Outdoor Bugs Naturally
Ticks, fleas, and mosquitos carry diseases that can compromise the health of you, your kids, and your pets. Repel them naturally using a mixture of bug-repelling plants and natural bug-repellent sprays. Catnip, citronella, mint, marigolds, chrysanthemums, basil, lavender, and chives are all effective at repelling bugs in your yard. You can also treat your yard with diatomaceous earth to rid it of fleas and ticks. Remember to reapply any time it rains, as this product is not effective once it becomes wet.
Cleaning your home or keeping bugs away doesn't have to be toxic. There are so many natural solutions to clean, repel & kill naturally. #howto #diy #nontoxic
Natural Weed Killers
Are weeds overtaking your garden, lawn, or flower beds? Mulch, newspaper, and other preventative barriers can stop weeds from sprouting in the first place. This method works best in flower beds and in the garden. Mowing your lawn regularly can stop weed growth in your yard.
You can also plant ground cover plants to reduce the presence of unwanted vegetation. Of course, weeds may still emerge, even if you take preventative measures. Get rid of them by boiling a pot of water. Add in a tablespoon of salt and then pour directly over unwanted weeds.
Naturally, Maintain a Greener Lawn
Commercial products for a green lawn contain hazardous chemicals that are bad for your pets and the environment. Abandon them for natural solutions and improve the quality of your soil for a greener, healthier lawn. Aerate the soil annually and water your lawn deeply, but less often. You can also leave behind your grass clippings, rather than picking them up, to help add nutrients back into the soil. If you compost, consider adding a thin layer at the end of each year for greener grass over the next season.
Cleaning Your Home with Natural Methods
Bug repellents aren't the only toxic substances in your home. Most store-bought house cleaners contain dangerous chemicals. Clean windows and disinfect surfaces by mixing white distilled vinegar with water.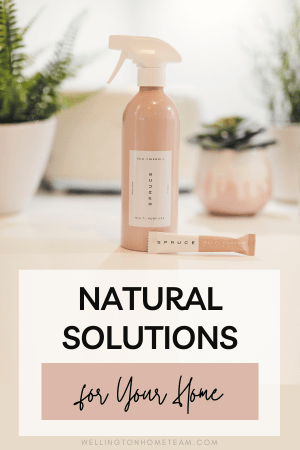 You can add essential oils to give the mixture a more desirable smell (use lavender for a calming effect, lemongrass for an uplifting smell, or citrus and bergamot for a lasting clean scent).
Windows and mirrors can be cleaned with plain water, or with a water-vinegar mixture. Clean tough stains and tile grout by mixing lemon juice, vinegar, and baking soda into a paste. Soap nuts are also a wonderful natural solution for cleaning – both for your home and your laundry.
Place five to six soap nuts in a muslin bag and toss them into your washer for laundry. Grind them down and use them to scrub your tub or grout. You can also boil them in water and then add the mixture to a spray bottle to clean surfaces in your home.
Natural Air Fresheners
Aerosol air fresheners and wax melts can irritate your sinuses and lungs. Those with asthma may be particularly affected. So, whether you have a funky smell from your latest meal or simply want your house to smell inviting, try using natural air freshener instead.
Mix a few drops of essential oil with coconut oil in wax warmers for a constant but gentle scent. Boil cinnamon and apples or orange peels over the stove for a quick burst of smell. You can also use baking soda to rid your house of unwanted smells. Sprinkle it on furniture or on carpets and then vacuum up after about 30 minutes.
Cleaning and caring for your home doesn't have to put the health of yourself, your family, or your pets at risk. These natural methods allow you to approach every aspect of owning or renting a home with less exposure to toxic chemicals.
Final Thoughts
There are many simple home remedies out there that are non-toxic and can treat an array of things. From cleaning to bug-repellant you don't need to use harsh toxic chemicals that can negatively impact your health, there are better options out there, like these natural solutions that actually work!
Please consider spreading the word and sharing; Natural Solutions for Your Home | Clean, Repel & Kill Naturally
Cleaning your home or keeping bugs away doesn't have to be toxic. There are so many natural solutions to clean, repel & kill naturally. #howto #diy #nontoxic
Additional Real Estate Advice from Top Professionals
Smelly homes don't sell! It's true if a home smells it can turn buyers away, nobody wants a smelly home. Whether the home smells like pets, smoke, or just doesn't smell good it's imperative sellers address the bad odor prior to listing. A deep clean, painting and even replacing flooring may be in order to remove the smell. While it may cost money to do so it could cost the seller a lot more if they don't.
Going green around the house doesn't have to be costly or difficult. It's fairly easy to perform an eco-friendly home audit and make simple adjustments. From only running the dishwasher when it's full to turning off lights when nobody is in the room. Making little changes throughout the day can not only reduce your carbon footprint it can save you money too.
Looking to make your older home more energy efficient? There are some costly and not-so-costly improvements homeowners can make to have a more energy-efficient home. One of the biggest bangs for the buck is sealing all windows and doors. This simple improvement can easily lower the energy bill. While one of the more costlier improvements is replacing windows and doors altogether. The best way to find out what improvements are going to be the most beneficial for an older home is to have an energy audit.
About the Author
Top Wellington Realtor, Michelle Gibson, wrote: "Natural Solutions for Your Home | Clean, Repel & Kill Naturally."
Michelle has been specializing in residential real estate since 2001 throughout Wellington Florida and the surrounding area. Whether you're looking to buy, sell or rent she will guide you through the entire real estate transaction. If you're ready to put Michelle's knowledge and expertise to work for you call or e-mail her today.
Areas of service include Wellington, Lake Worth, Royal Palm Beach, Boynton Beach, West Palm Beach, Loxahatchee, Greenacres, and more.
Natural Solutions for Your Home | Clean, Repel & Kill Naturally