Do Hurricane Impact Windows Add Value to Your Home?
Thinking about replacing your home's windows with impact-resistant windows, commonly referred to as hurricane impact windows? Well, if you are anything like me you probably have a lot of questions. There is no question that hurricane impact windows have a lot of great benefits, but are they worth the investment? Before you pull the trigger and commit to spending tens of thousands of dollars you'll want to take a deeper look into these benefits. You may be surprised to find out some of the benefits you've been told or read about impact-resistant windows are false.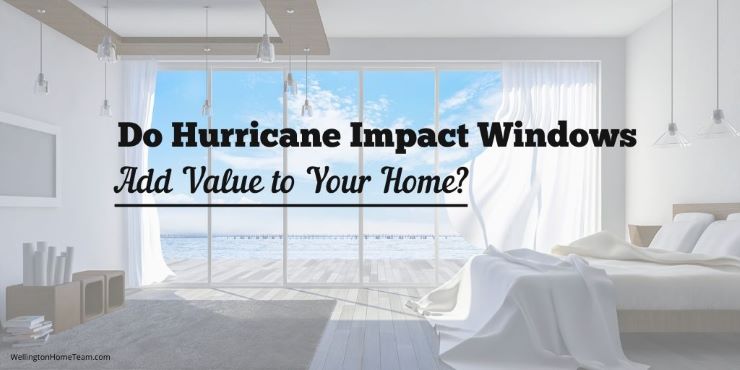 What are Hurricane Impact Windows?
Hurricane impact windows are designed to offer year-round protection from high winds, water intrusion and intruders. They are capable of withstanding wind speeds up to 200 miles per hour. To put it into perspective a category 5 hurricane has wind speeds of 157 mph and higher.
Much like auto safety glass, impact windows are made with laminated glass. When this type of glass breaks it produces spider web cracking instead of large shards of glass that can be sent flying. Impact windows are created with two panels of glass that are bonded with a clear ultra-strong interlayer of either polyvinyl butyral or ethylene-vinyl acetate. They are combined with a heavy-duty frame and have a special silicone glazing process to keep the glass from breaking away from its frame.
Benefits of Hurricane Impact Windows
Increased Protection
The most popular reason people take the plunge and have impact windows installed is for added protection. Whether it's flying debris during a hurricane or a burglar attempting to break in impact windows are difficult to penetrate. Therefore, they add an additional layer of protection that standard windows cannot provide.
Improved Energy Efficiency
Hurricane impact windows come with many different glass options. Based on the type of glass chosen will determine their energy efficiency and performance.
ENERGY STAR labels will tell you if a product is energy-efficient. While NFRC labels will help you compare energy-efficient windows by providing energy performance ratings.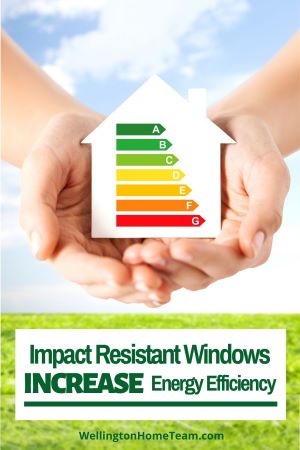 Energy performance is measured using four ratings; U-factor, Solar Heat Gain Coefficient, Visible Transmittance and Air Leakage. U-factor measures the rate of heat transfer and how well the window is insulated.
Solar Heat Gain Coefficient measures the fraction of solar energy transmitted and how effectively the window blocks heat from the sun. Visible Transmittance measures how well a product is designed to effectively light your home with natural daylight. Air Leakage measures how much air will enter a room through the window.
The lower the U-factor, Solar Heat Gain Coefficient and Air Leakage the more energy efficient a window is, which can produce savings in your electric bill. However, when it comes to Visible Transmittance you want to look for a rating with a high number.
Ultraviolet Protection
In addition to making your home more energy-efficient hurricane impact windows can block up to 99% of UV rays penetrating your home.  In turn, impact windows will protect your furniture, floors, walls and artwork from being affected by sunlight.
Peace of Mind
While hurricane impact windows offer an additional layer of protection they're also convenient. You will not longer have to install those heavy hurricane panels or close up accordion shutters, which need regular maintenance to ensure they stay in working order. Whether you're at home or across the country if you have impact-resistant windows you won't have to worry about your home if a hurricane is approaching.
Appearance
Hurricane impact windows are just that, windows, they are clean, sleek and streamline. So there is no need to have accordion shutters flanking your windows year-round or having to keep the ugly metal hurricane panels up for extended periods of time. Plus, the days of sitting in a pitch-black home while a hurricane approaches and you lose power will be long gone.
Noise Reduction
There is no such thing as noise-canceling windows, but hurricane impact windows can greatly decrease the level of noise from the outside. So if your home backs to a busy road, business or school you can reduce the amount of outside noise by having impact-resistant windows installed.
Myths About Hurricane Impact Windows
Impact Proof
Yes, hurricane impact windows are impact-resistant, but not impact proof. There isn't glass on the market that isn't break-proof. However, hurricane impact windows do have the advantage of breaking in a manner that won't send shards of glass flying across a room. Never let your guard down and assume your impact windows can't be penetrated because they can be.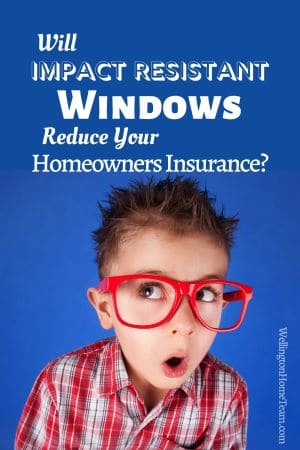 Insurance Premium Discounts
A big claim and selling point for a lot of impact-resistant window companies is that you'll save money on your homeowners insurance. In my area, you may not save a dime.
To an insurance carrier, impact windows are no different than hurricane panels. So if you currently have wind storm protection, hurricane panels or accordion shutters you're already getting a discount. This discount won't change if you decide to install hurricane impact windows.
Now, if the home doesn't have any wind storm protection, then yes you will receive a credit for having impact-resistant windows.
Increase a Homes Value
The BIG question, will hurricane impact windows increase home value? Well, odds are you've read or been told that hurricane windows will significantly increase the selling price of your home.
When homeowners hear this they feel installing hurricane impact windows will be a win-win because their home will be worth more money. However, this too is a myth in a lot of areas and price ranges.
Will impact windows be a selling point? Absolutely! With that being said, in my experience, most buyers aren't going to pay tens of thousands of dollars more for a home that has impact windows. A majority are fine with hurricane panels, accordion shutters, hurricane screens and in some cases with no wind storm protection at all.
Now, when it comes to certain price points and areas, like the luxury market, there are specific features that are expected, impact windows can be one of them. In my experience, when something is expected it won't add financial value, but it will be necessary if the owner wants to sell their home for market value.
Buyers are never going to pay market value for a home that is lacking in upgrades that the competition has. That is unless the home has something above the competition, like an incredible lot. Since homes can't be moved lot location can outweigh a majority of upgrades; windows, whole house generator, smart features, the list goes on and on, but only at the right price.
It's not uncommon for impact window companies to say their product will increase the selling price of any home. It sounds like a win-win, but is it? #hurricaneimpactwindows #hurricaneprotection
Are Hurricane Impact Windows Worth It?
This is an excellent question and the answer depends on what "worth it" means to you.
If the only reason you'd install hurricane windows is to add value to your home you'll want to consult with a Realtor. Never assume if you spend $30,000 on hurricane impact windows that the value of your home will automatically increase $30,000, $20,000 or even $5,000 because it may not increase at all. A top Realtor knows what improvements add value to your home and which ones don't. They sell real estate for a living and are the only ones who truly know how much value hurricane impact windows may or may not add.
If financial gain isn't the reason for installing hurricane impact windows then it may be worth it. If home security is a concern having hurricane impact windows can alleviate a lot of stress. They can also make your home more energy-efficient, which can provide savings in your electric bill. If you have custom furniture or one of a kind art pieces they won't be ruined by the sun.
Hurricane impact windows can be worth every penny for some and not worth it for others. It's important to know why you want hurricane impact windows and make sure the why is worth it to you.
My Experience with Hurricane Impact Windows
I myself have been contemplating installing hurricane impact windows and doors. However, as a Realtor, I'm having a tough time wrapping my head around the cost.
We don't have an issue with outside noise. We have storm protection, so security is covered in addition to all of the other precautions we've taken to keep our family safe. Our windows and doors have screens and are tinted, so we don't have any issues with UV rays. We don't have accordion shutters, so aesthetically our home won't look much different. We do have tiny hurricane bolts around the windows, which could be removed.
Our home could definitely be more energy-efficient, but how much money will we really save? We've always installed our hurricane panels, but even if we hired someone how much would we really save? Let's say we pay someone $300-$500 to put them up and take them down. How many times does this need to happen in order for impact windows to be financially worth it? Over the course of the 20 years we've lived in South Florida we've installed our hurricane panels no more than 10 times. Paying someone $3,000 to $5,000 to install shutters over the course of 20 years is a small amount compared to the cost of impact windows.
I've sold homes with impact windows and without, to date not a single buyer has paid more for a home with hurricane impact windows.
Final Thoughts
Hurricane impact windows have so many great benefits, but they are very costly. As a homeowner, it's important to make sound decisions when investing any amount of money into your home.
Hurricane impact windows will certainly add value to a home, but that value may not be monetary.
If you decide to take the plunge and install hurricane impact windows make sure to hire a reputable company. Hiring a fly by night company that is "cheap" compared to the competition can turn into a nightmare. If you're going to do it you want to make sure to do it right the first time.
Tips for Hiring a Hurricane Impact Window Company
Get everything in writing.
Find out the total cost. It's not uncommon for contractors to not include permit fees or the additional fees they charge to obtain permits.
View the proposed product in person and compare it to others. How does the quality and rating compare?
Understand who's providing a warranty, what it covers and for how long.
Know what can void any warranties.
Have the company overestimate how long the process will take, so you can set realistic expectations.
Read online company reviews and investigate their Better Business Bureau rating. If they have more negative reviews than positive reviews that should be a red flag.
Please consider spreading the word and sharing; Do Hurricane Impact Windows Add Value to Your Home?
It's not uncommon for impact window companies to say their product will increase the selling price of any home. It sounds like a win-win, but is it? #hurricaneimpactwindows #hurricaneprotection
Additional Hurricane Resources
Preparing for a hurricane or tropical storm shouldn't be taken lightly. Even if you have hurricane impact windows there are still many hurricane preparations you need to make. From coming up with an evacuation plan to stocking up on supplies. No matter who you are there are things you need to do in order to keep your family safe.
There are many ways to save money on homeowners insurance and one of the biggest discounts is wind storm protection. If your home has wind storm protection but you aren't receiving a discount you'll want to contact your insurance broker. They will be able to verify whether or not you're receiving all of the discounts you qualify for. Buying homeowners insurance can be confusing, so don't be afraid to ask questions.
How much do hurricane impact windows cost? The cost of hurricane impact windows will vary greatly. It depends on the number and size of windows and doors, such as sliding glass doors. It will also depend on the manufacturer of the windows themselves. Some companies will be more costly than others.
About the Author
Top Wellington Realtor, Michelle Gibson, wrote: "Do Hurricane Impact Windows Add Value to Your Home?"
Michelle has been specializing in residential real estate since 2001 throughout Wellington Florida and the surrounding area. Whether you're looking to buy, sell or rent she will guide you through the entire real estate transaction. If you're ready to put Michelle's knowledge and expertise to work for you call or e-mail her today.
Areas of service include Wellington, Lake Worth, Royal Palm Beach, Boynton Beach, West Palm Beach, Loxahatchee, Greenacres and more.
Do Hurricane Impact Windows Add Value to Your Home?