5 Tips to Help You Prepare for Hurricane Season
Forecasters predicted fewer storms during the hurricane season set to officially commence on the 1st of June, 2019. But whether the season becomes less severe as expected or not, it is important to take steps to ensure you and your family are protected. Ready.gov suggests following these five steps before the hurricane kicks in.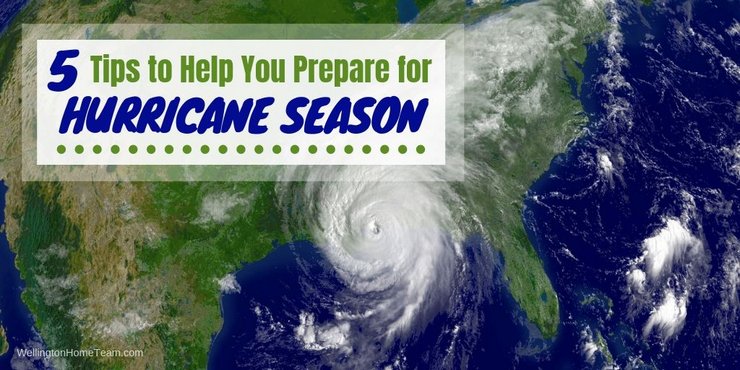 1. Plan for Evacuation on Time
When a storm is imminent, a mandatory evacuation may be called for. But even before the storms roll around, you should know whether your area may become evacuated or not. If so, plan your evacuation route well ahead of time. This information can easily be found on your local government's website. It will contain useful maps of zones that may be evacuated all over the country.
Even if your area is not listed, it may still be susceptible to damage from the effects of flood, rain and wind. You can perform a quick Google search to ascertain for sure whether your area has had any previous hits by storms in the past. If there is any risk that your area may be affected, be alert. Continue to look for updates from the TV, radio stations, social media and local government website.
In case you decide to leave your home for the duration of the storm, here are some steps you should take. First, unplug any connected electric device in your home. Second, have a plan for your pets, if you have any. Third- and this is extremely important- take a photograph of your home's interior. So if push comes to shove, you can have evidence to show the insurance company what your home actually looked like before the damage.
In addition, if your area is prone to floods, make sure to elevate your precious items so that they sit a few meters off the ground, or move them all together to the second floor. Lastly, make sure you take cash with you along with any important papers, such as an identification card, insurance and financial documents, and important medical prescriptions.
2. Stock up on Necessary Supplies
A storm can quickly cripple infrastructure and power supply in an area. So, whether your home is inside or outside of the hurricane's path, you should have enough supplies just in case. The website Ready.gov outlines everything you need to buy. However, keep in mind that you should stock up on supplies that can sufficiently cater to the needs of your family for at least five days. Here is a list of what you'll need:
-Canned food
-Water to last 3 days
-First aid kit
-A portable weather radio
-A flashlight
-Extra set of batteries
-Candles and lamps
-Prescription drugs
-Home repair tools- hammer, plywood, wrench etc.
If the storm actually cuts off your power, and there are floods, do not try going out into floodwater, unless absolutely necessary.
3. Remain Sheltered
If you plan to actually stay put with your supplies, you should take steps to reinforce your home before the storm starts. Start by clearing out your gutters and reinforcing them so that they can withstand the effects of strong rains.
Winds can also cause irreparable damage so make sure to trim damaged tree branches well before-hand, and also collect any light objects, such as toys, cans and other airborne items that may be in the yard.
To ensure your windows remain protected, you can line them up with plywood. Even better, you can install storm proof shutters. If you have not done any of this and the storm is near, keep a distance from the windows and any other glass areas once the hurricane kicks in.
4. Verify Your Insurance Coverage
It is important to review your insurance policy to verify whether you are fully covered for any imminent damage. Usually, homeowners insurance covers such things as temporary repairs after a hurricane, in addition to extra living expenses that may come as a result of relocating to a new place and incurring expenses such as additional transport.
However, homeowners insurance policy does not cover flood-related damages. As such, it is in your best interests to ensure you get flood insurance cover especially if you live along the coastline. You may also want to look into wind and wind-blown damage insurance cover. Contact your insurance provider for more information on this.
5. Further Steps to Protect Your Home
While it is quite expensive to retrofit your home against every possibility, you can reinforce it in stages as follows:
-Replace gravel and rock on your front yard with solid materials
-Ensure the external doors are reinforced with at least 3 hinges and 1 deadbolt
-Any sliding glass doors or windows should be made of high-quality tempered glass
-Seal any vents, electrical outlets, garden horse openings and where cables and pipes pass through the walls
-Replace old garage doors with a door that is hurricane proof
The best way to get prepared is to write down a hurricane plan for you and your family way ahead of time. Also, keep an eye out for any advice from local authorities. Otherwise, stay safe and be prepared.
Please consider spreading the word and sharing; 5 Tips to Help You Prepare for Hurricane Season
Hurricane Season is just around the corner, so it's time to start making preparations for this hurricane season. Here are 5 tips to help you! #hurricaneseason
About the Author
Top Wellington Realtor, Michelle Gibson, wrote: "5 Tips to Help You Prepare for Hurricane Season."
Michelle has been specializing in residential real estate since 2001 throughout Wellington Florida and the surrounding area. Whether you're looking to buy, sell or rent she will guide you through the entire real estate transaction. If you're ready to put Michelle's knowledge and expertise to work for you call or e-mail her today.
Areas of service include Wellington, Lake Worth, Royal Palm Beach, Boynton Beach, West Palm Beach, Loxahatchee, Greenacres and more.