5 Tips to Help You Prepare for Hurricane Season
Forecasters predicted fewer storms during the hurricane season set to officially commence on the 1st of June. But whether the season becomes less severe than expected or not, it is important to take steps to ensure you and your family are protected. So how do you prepare for a hurricane? Ready.gov suggests following these five steps before the hurricane kicks in.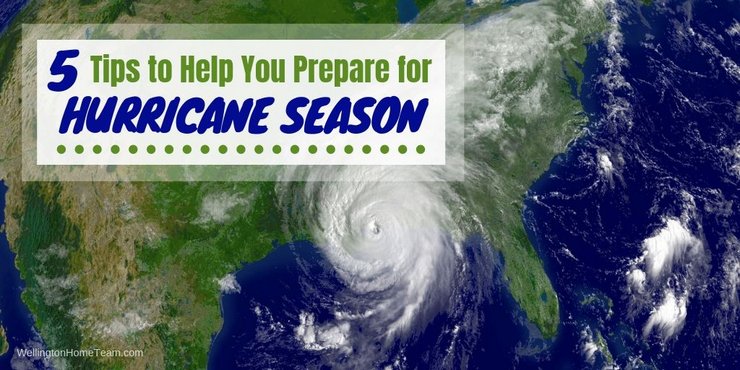 Top 5 Ways to Prepare for a Hurricane
1. Plan for Evacuation on Time
When a storm is imminent, a mandatory evacuation may be called for. But even before the storms roll around, you should know whether your area may become evacuated or not. If so, plan your evacuation route well ahead of time. This information can easily be found on your local government's website. It will contain useful maps of zones that may be evacuated all over the country.
Even if your area is not listed, it may still be susceptible to damage from the effects of flood, rain, and wind. You can perform a quick Google search to ascertain for sure whether your area has had any previous hits by storms in the past. If there is any risk that your area may be affected, be alert. Continue to look for updates from the TV, radio stations, social media, and local government website.
In case you decide to leave your home for the duration of the storm, here are some steps you should take. First, unplug any connected electric device in your home. Second, have a plan for your pets, if you have any. Third- and this is extremely important- take a photograph of your home's interior. So if push comes to shove, you can have evidence to show the insurance company what your home actually looked like before the damage.
In addition, if your area is prone to floods, make sure to elevate your precious items so that they sit a few meters off the ground, or move them all together to the second floor. Lastly, make sure you take cash with you along with any important papers, such as an identification card, insurance and financial documents, and important medical prescriptions.
Hurricane Season is just around the corner, so it's time to start making preparations for this hurricane season. Here are 5 tips to help you! #hurricaneseason
2. Stock up on Necessary Supplies
A storm can quickly cripple infrastructure and power supply in an area. So, whether your home is inside or outside of the hurricane's path, you should have enough supplies just in case. The website Ready.gov outlines everything you need to buy. However, keep in mind that you should stock up on supplies that can sufficiently cater to the needs of your family for at least five days. Here's a hurricane preparation checklist of what you'll need:
Canned food
Water to last 3 days
First aid kit
A portable weather radio
A flashlight
Extra set of batteries
Candles and lamps
Prescription drugs
Home repair tools- hammer, plywood, wrench, etc
If the storm actually cuts off your power, and there are floods, do not try going out into floodwater, unless absolutely necessary.
3. Remain Sheltered
If you plan to actually stay put with your supplies, you should take steps to reinforce your home before the storm starts. Start by clearing out your gutters and reinforcing them so that they can withstand the effects of strong rains.
Winds can also cause irreparable damage so make sure to trim damaged tree branches well beforehand, and also collect any light objects, such as toys, cans, and other airborne items that may be in the yard.
To ensure your windows remain protected, you can line them up with plywood. Even better, you can install stormproof shutters. If you have not done any of this and the storm is near, keep a distance from the windows and any other glass areas once the hurricane kicks in.
4. Verify Your Insurance Coverage
Prior to hurricane season, it is important to review your insurance policy to verify whether you are fully covered for any imminent damage. Usually, homeowners insurance covers such things as temporary repairs after a hurricane, in addition to extra living expenses that may come as a result of relocating to a new place and incurring expenses such as additional transport.
However, homeowners insurance policy does not cover flood-related damages. As such, it is in your best interests to ensure you get flood insurance cover especially if you live along the coastline. You may also want to look into the wind and wind-blown damage insurance coverage. Contact your insurance provider for more information on this.
5. Further Steps to Protect Your Home
While it is quite expensive to retrofit your home against every possibility, you can reinforce it in stages as follows:
Replace gravel and rock in your front yard with solid materials
Ensure the external doors are reinforced with at least 3 hinges and 1 deadbolt
Any sliding glass doors or windows should be made of high-quality tempered glass
Seal any vents, electrical outlets, garden horse openings, and where cables and pipes pass through the walls
Replace old garage doors with a door that is hurricane-proof
The best way to get prepared is to write down a hurricane plan for you and your family way ahead of time so you're never wondering what should you do during a hurricane. Also, keep an eye out for any advice from local authorities. Otherwise, stay safe and be prepared!
Please consider spreading the word and sharing; 5 Tips to Help You Prepare for Hurricane Season
Hurricane Season is just around the corner, so it's time to start making preparations for this hurricane season. Here are 5 tips to help you! #hurricaneseason
Popular Hurrican Preparation Questions
How many hurricanes are there each year? The number of hurricanes that occur each year can vary. The Atlantic hurricane season officially runs from June 1st to November 30th, while the Pacific hurricane season typically spans from May 15th to November 30th.
On average, the Atlantic basin experiences about 12 named storms, with 6 of them becoming hurricanes and 3 becoming major hurricanes (Category 3 or higher). However, it's important to note that these numbers are averages, and actual hurricane activity can be influenced by various factors, including climate patterns like El Niño or La Niña. Some years may see higher or lower hurricane activity, and it's important to stay updated with the latest forecasts during hurricane season.
How do you mentally prepare for a hurricane? Mentally preparing for a hurricane during hurricane season involves several key steps. First, stay informed by closely monitoring official weather updates and following the guidance of local authorities. Educate yourself about hurricane safety protocols and evacuation plans specific to your area. It's essential to have a well-stocked emergency kit with essential supplies like food, water, medications, and batteries.
Develop a family communication plan, ensuring everyone knows how to contact each other and where to meet in case of separation. Prepare your home by securing loose objects, reinforcing windows, and clearing debris from the surroundings. Additionally, mentally prepare by staying calm and focused, practicing relaxation techniques, and maintaining a positive outlook. By being proactive, staying informed, and taking necessary precautions, you can better manage the mental stress associated with hurricanes and ensure the safety of yourself and your loved ones.
How do you prepare for a hurricane if you don't evacuate? If you decide not to evacuate during a hurricane, it's crucial to take several steps to prepare for the potential impact. First, stock up on essential supplies, including non-perishable food, drinking water, medications, flashlights, batteries, and a battery-powered radio. Secure your home by boarding up windows, reinforcing doors, and securing outdoor furniture or equipment.
Fill bathtubs and containers with water for sanitation purposes. Have a generator or alternative power source ready, along with extra fuel. Create a safe room in your home, preferably an interior room on the lowest floor, and gather the necessary supplies within it. Stay informed by monitoring weather updates and official communications. Have a plan for communication with family and friends in case of power outages or loss of cell service. Lastly, remain vigilant, follow safety guidelines, and be prepared to take immediate action if conditions worsen.
About the Author
Top Wellington Realtor, Michelle Gibson, wrote: "5 Tips to Help You Prepare for Hurricane Season."
Michelle has been specializing in residential real estate since 2001 throughout Wellington Florida and the surrounding area. Whether you're looking to buy, sell or rent she will guide you through the entire real estate transaction. If you're ready to put Michelle's knowledge and expertise to work for you call or e-mail her today.
Areas of service include Wellington, Lake Worth, Royal Palm Beach, Boynton Beach, West Palm Beach, Loxahatchee, Greenacres, and more.
5 Tips to Help You Prepare for Hurricane Season