5 Phenomenal Tips for Picking the Best Neighborhood
They say: Home is where the heart is, but to find the perfect home, you need to find the best neighborhood. From a great education system to near-zero crime rates, there are several things to look at when identifying that perfect place you want to call home. To help you with this crucial decision, we've provided five tips to help you pick the best neighborhood.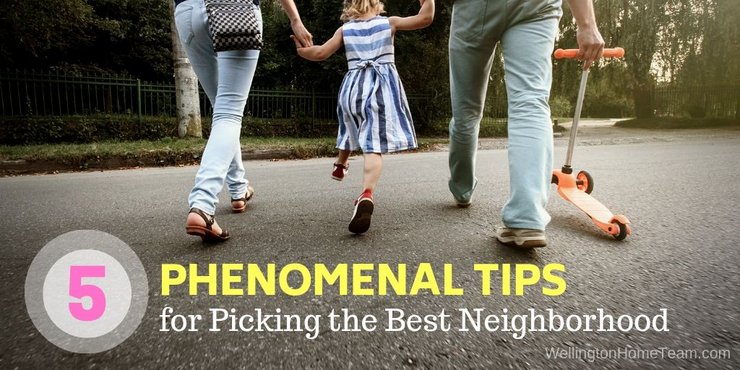 How to Choose the Best Neighborhood

1: Picture Your Perfect Neighborhood
Before you begin dissecting neighborhoods, turn the microscopic lens on yourself first.
Ask yourself what you really want your ideal neighborhood to look like. How would you want to live? Picture yourself in the area. Keep in mind that you may have to compromise one or two things. Still unsure of what to look for in a neighborhood when buying a home?
Here are some questions to ask:
Do you have kids?
What type of house do you want?
How far would you want to commute?
How far is the drive to the airport?
Is public transport available?
How close are you to basic amenities?
Do you prefer a new neighborhood or a long-standing one?
Would you like to be able to walk to nearby amenities?
2: Narrow Down to a Specific Town
If you are aware of the neighborhoods in the city you want to move to, you can narrow down to the ones you prefer most. If you have no idea about the neighborhoods in the city you're relocating to, you'll need to do a lot more homework. For one, you can start by picking a specific town to begin your search. If your job is on the northern side of the city, narrow down from there. If you need to be close to an international airport look within a 10-15 mile radius. This will make your work a lot easier.
Picking the best neighborhood for you and your family might be an easy decision, but for those who are uncertain here are 5 tips to help. #homebuying #realestate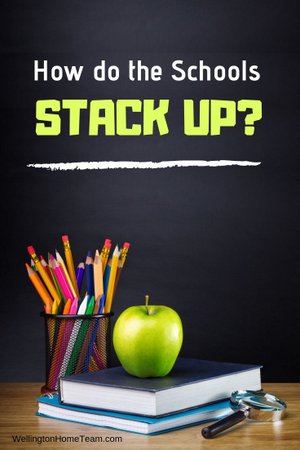 3: Uncover all the Nitty-Gritty
Now that you have narrowed down to a particular area, you can begin digging up more information about the neighborhoods. This can be done through a quick Google search or by asking local real estate agents. A majority of top Realtors will be able to provide you with a Relocation Guide or specific Community Guide for the area.
Compile all the information in the following format:
Schools: Are there any local, private, and public elementary schools? How about junior and high schools? Are any daycare programs available? What's the school's grade or rating? Good schools are a sign of a great neighborhood.
Crime Rates: You can easily find crime statistics from real estate sites online to find out how the neighborhood's crime rates measure up to national statistics. You can also talk to the police department for more in-depth information.
Parks and Recreational Facilities: Is there any park or recreation facility nearby? Do they have programs for adults and children?
Neighborhood Associations: Is there a neighborhood association in the area you identified? If yes, are there any limitations? Do they charge a monthly HOA fee? If so what does this fee include? Sometimes these fees can be $500 a month. However, they may include guard-gated security, extended cable, internet, alarm monitoring, lawn service, and/or resort-style amenities.
4: Make a Preliminary Visit
Once you're done with research, you should make a point of visiting the neighborhoods in person. What better way to learn about a place and get the real picture of it? Observe every little detail and make a complete picture of what life will be like living there. Here are some tips for how to evaluate a neighborhood: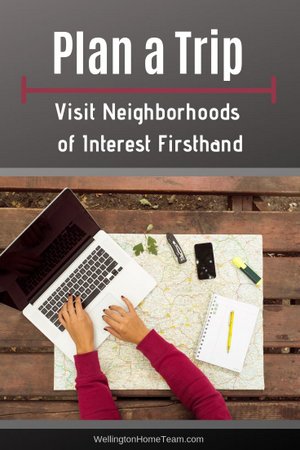 Don't forget your first impression: What is your first impression of the neighborhood? Does it have a charming curb appeal? Are the houses maintained? Does it have community amenities? Will you feel good calling this place home? It will be easier to fit in if your first impression is good.
Picture yourself living in the neighborhood: Which part would you like to live in? Did you find your favorite coffee shop nearby? Where will you be jogging? Find out about every little detail you would like to have.
Observe the neighborhood both early in the morning and late in the evening: Do people use decks or grills late in the evening? Do people look social? Are there enough street lights? Are kids playing outside? The answers to the questions will help you decide if it is a place you want to live in. And don't be afraid to ask questions or residents who reside there. Sometimes the homeowners are the best source for information.
Identify any warning signs: Keep an eye out for crime in the neighborhood. Do you see any signs of vandalism? Did you come across too many 'For Sale'' signs? If you feel that something is amiss with the neighborhood, it may not be the right fit for you.
5: Start Living the Dream
Now that you've likely chosen the best neighborhood, your next task is to find a house you'll love. However, unless you're paying cash you'll have to be pre-approved first. A local lender will not only be able to go over your different loan options, but they'll be able to factor in local living expenses too. These items will include the estimated cost of property taxes, homeowners insurance, and HOA fees.
It's not uncommon for people relocating from other parts of the country to be sticker shocked by the cost of these additional expenses. So it's imperative to have a clear picture of how much your monthly expenses will be. If you're not in a position to purchase immediately upon relocating it's still wise to rent in your area of interest. Once you know where your finances stand then you'll be ready to start looking at homes with your Realtor.
Finally, form a picture of your perfect home in your mind. It worked well when you were looking for a neighborhood- think about the kind of home you'd like to own. Write down your vision and follow through with it when you'll be looking for a house.
Final Thoughts
Relocating can be stressful especially if you're relocating to a brand-new area. So it's important to be informed, do your homework, and ask questions. You will find the majority of the information you're looking for is at your fingertips. The internet is a powerful resource.
However, don't solely rely on the information found online, especially in forums. Visit community websites, local police departments, schools, and real estate websites. Also keep in mind, what makes a good neighborhood to you might not be the same for others. So when you've found the neighborhood you think is the best hire the best Realtor and Lender to guide you through the home-buying process.
Please consider spreading the word and sharing; 5 Phenomenal Tips for Picking the Best Neighborhood
Picking the best neighborhood for you and your family might be an easy decision, but for those who are uncertain here are 5 tips to help. #homebuying #realestate
Additional Real Estate Advice 
If you're buying a home and need to secure financing you may be wondering if you should use a mortgage broker or bank. Well, there are pros and cons to both options. So it's imperative to analyze your situation and select the best option for you.
When it's time to start looking at homes odds are your Realtor will request a copy of your pre-approval

. While this piece of paper may not seem necessary, it's a vital step in the home-buying process. For starters, serious home buyers will be approved so they know what loan program they qualify for along with the amount. In order to submit an offer this information is needed. So don't be offended if your agent requests pre-approval prior to looking at homes for sale.

Do you plan on buying an investment property

? If so these tips still apply! Even though you won't be residing in the property a tenant will and these things matter. Not only will you be able to rent your investment faster and for top dollar, but you'll also start building equity faster.

There are many steps to the home-buying process and if you're not paying cash obtaining a mortgage is one of them. A lender will require several documents for mortgage pre-approval

. The type of documents will depend on the type of mortgage, but a majority of these documents should be easy to obtain.
About the Author
Top Wellington Realtor, Michelle Gibson, wrote: "5 Phenomenal Tips for Picking the Best Neighborhood."
Michelle has been specializing in residential real estate since 2001 throughout Wellington Florida and the surrounding area. Whether you're looking to buy, sell or rent she will guide you through the entire real estate transaction. If you're ready to put Michelle's knowledge and expertise to work for you call or e-mail her today.
Areas of service include Wellington, Lake Worth, Royal Palm Beach, Boynton Beach, West Palm Beach, Loxahatchee, Greenacres, and more.
5 Phenomenal Tips for Picking the Best Neighborhood