Are you frustrated because you want to look at homes, but every real estate agent wants a copy of your pre-approval letter first? Well, you're not alone! Almost every single real estate agent is going to request a copy of a prospective buyer's pre-approval letter prior to scheduling an appointment to look at homes. However, oftentimes buyers don't understand why and feel providing this information isn't necessary. Well, being pre-approved prior to looking at homes is a must, and here are the top 5 reasons why.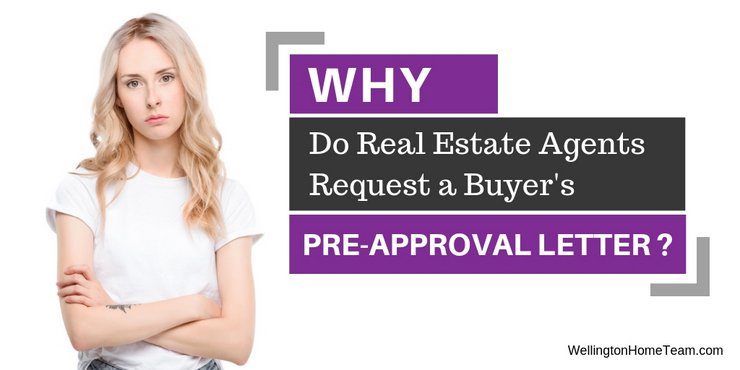 1. Qualified
Not all homebuyers who apply for a mortgage will be approved for one. Yes, you read that correctly, not every buyer is approved for a mortgage. Then there are some buyers who are approved, but for an amount less than anticipated.
Long gone are the days where every buyer is approved for a loan whether they're qualified or not. Lending guidelines have drastically changed and to say prospective buyers have to jump through hoops to be approved might be an understatement. The amount of documentation is significantly different than 15 years ago where almost zero documentation was required. Prospective buyers are now put through the wringer.
However, there is a bright side, now when a buyer is approved for a mortgage it's unlikely they will be denied once the underwriting process is complete. So a buyer can confidently spend time and money on items like a home inspection, survey and appraisal knowing they will be approved for a mortgage unless something catastrophic happens.
2. Affordability
Just because a buyer gets approved for a million-dollar loan doesn't mean they can afford it. When getting pre-approved for a mortgage a lender will go over every loan program the buyer qualifies for. They will review the pros and cons of each program and help them determine the best loan program for them.
In addition to providing the estimated monthly principal and interest payment, they will also review additional monthly expenses. Some of these expenses include property taxes, homeowners insurance along with HOA fees and/or assessments if they apply. Sometimes these additional monthly expenses can be more than the principal and interest payment itself. So for those buyers who are using a mortgage calculator that only factors the mortgage amount they may be shocked to find out that the estimated monthly payment is above what they can afford. Once a buyer has all of the numbers they'll be able to determine if they can truly afford a million-dollar home.
3. Terms
In order to submit an offer buyers need to know the terms they'll be offering. If they're not paying cash they'll need to know what type of loan they'll be obtaining. How much money they'll be putting down. Whether or not they need seller concessions. Plus, how quickly the lender can clear contingencies and close.
Without being pre-approved for a mortgage a buyer can't make a realistic offer based on these facts. However, let's play devil's advocate for a second. Say a buyer makes a million dollars a year, has no debt, and will be putting 50% down on a $300,000  home. Odds are they'll easily get approved for a $150,000 mortgage, but do they know the terms and will they be acceptable? Once again these things need to be known upfront.
4. Sellers
A majority of home sellers have to go through great lengths to get their home prepared for showings. Whether it's making beds, scrubbing floors, or removing kids and pets it takes time and effort. So sellers, like agents, don't want to waste their time with looky lou's walking through their home.
Occasionally some sellers will even require agents provide a copy of the buyer's pre-approval letter before they'll even schedule an appointment. While a buyer might be extremely qualified and be able to obtain a mortgage without question, a seller doesn't know this. Therefore, sellers want all offers to be accompanied by a pre-approval. And in a competitive real estate market, a buyer could lose out if they don't have one.
5. Loyalty
Unless a buyer is purchasing a FSBO (For Sale By Owner) the only way they'll be able to view homes is through a Real Estate Agent. Some buyers are committed to working with one agent while others will work with multiple agents. Since real estate agents only get paid when they successfully sell a home they want to make sure they are working with a ready, willing, and able buyer. The way most agents determine this is through a pre-approval letter.
Most pre-approval letters include the lender's contact information. Along with the buyer's name, current address, the loan program, and the amount they are approved for. While this isn't extremely private information, like a person's social security number, it is private enough where buyers aren't going to hand it to just anyone.
Typically when a buyer has good intentions and plans on using the agent assisting them they'll happily provide their pre-approval letter upfront. However, if a buyer is hiding something or has bad intentions they probably won't. It's not uncommon for homebuyers to request a showing on a $400,000 home when they're only approved for $300,000.
It's also not uncommon for buyers to contact other agents even though they already have one. The buyer's unwillingness to provide a pre-approval letter doesn't necessarily mean they have bad intentions. Although not providing one is certainly a red flag for most agents. Historically when a buyer is committed to working with one agent they will provide that agent with any information requested.
Final Thoughts
Looking at homes for sale prior to getting pre-approved for a mortgage is like putting "the cart before the horse." Homebuyers don't have to hire a lender and then a Realtor.
Although they need to get pre-approved before they even think about looking at homes for sale. In fact, they probably shouldn't even search for homes online until they know what price point they are approved for and can afford. Looking at beautiful homes online can easily set buyers up for disappointment if they're pre-approved for less. There are several steps to the home buying process, which is why a buyer needs to hire a top Realtor and Lender to guide them through the process.
Please consider spreading the word and sharing; Why Do Real Estate Agents Request a Buyer's Pre-Approval Letter?
Are you frustrated because you want to look at homes, but every agent wants a copy of your pre-approval letter first? Here are the 5 reasons why. #homebuying #realestate
Additional Real Estate Advice from Top Professionals
Unless you've previously had an outstanding experience with a Realtor odds are you'll be referred to one or land with the one who's will to show you homes. However, that's not the best way to find a top Realtor in your area. Glenn Shelhamer shares 5 tips for how to pick the best real estate agent.
If you're a millennial ready to invest in the American dream and become a homeowner you need to know the do's and don'ts. It isn't uncommon for buyers to make mistakes regardless of age. However, Petra Norris discusses what mistakes millennials should avoid when buying their first home.
You found the perfect home, that was until you had the home inspection. So what's a buyer to do when the home fails an inspection? Bill Gassett discusses the different options home buyers have when the inspection didn't go well.
If you and your significant other want to purchase a home, but aren't sure if you should do so before marriage. Well, Sharon Paxson does an excellent job tackling this topic and goes into detail about whether couples should buy a home before or after marriage.
About the Author
Top Wellington Realtor, Michelle Gibson, wrote: "Why Do Real Estate Agents Request a Buyer's Pre-Approval Letter?."
Michelle has been specializing in residential real estate since 2001 throughout Wellington Florida and the surrounding area. Whether you're looking to buy, sell or rent she will guide you through the entire real estate transaction. If you're ready to put Michelle's knowledge and expertise to work for you call or e-mail her today.
Areas of service include Wellington, Lake Worth, Royal Palm Beach, Boynton Beach, West Palm Beach, Loxahatchee, Greenacres and more.