If you are buying or selling a home you might be wondering what seller concessions are and how they work. First, it's important to know a seller concession, seller contribution, seller credit and closing cost credit are the same thing. So if you're buying a home and your lender suggests asking the seller for a closing credit it's the exact same thing as a seller concession. Or if you're selling a home and the buyer is asking for a seller contribution towards their closing costs it to is the same as a seller concession.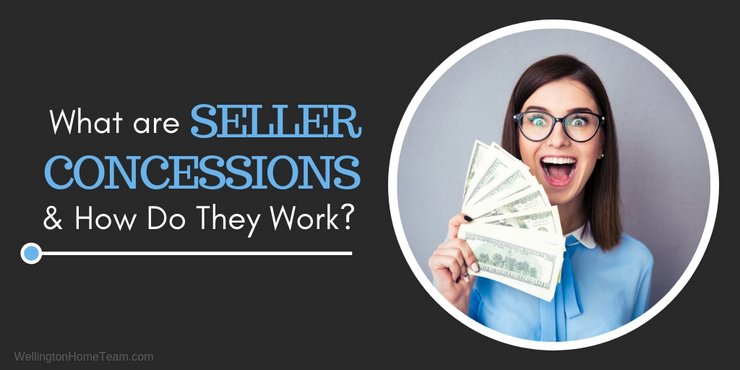 What are Seller Concessions and How Do They Work?
A seller concession is when a buyer asks the seller for a monetary contribution towards their closing costs, escrows and/or pre-paids. This amount of money will be deducted from the seller's proceeds. Unless the seller owes more than their home is worth then they'd have to bring the funds to closing. Now buyers need to understand not all sellers will agree to a seller concession. Plus, not all loan programs will allow them and if they do there will most likely be restrictions. This is one of the many reasons it's important to get approved for a loan prior to looking at homes.
8 Things to Know About Seller Concessions
Sellers Net
If a buyer submits a full price offer with a $10,000 seller concession technically they are offering full price. However, the seller isn't receiving full price, they are netting $10,000 below their list price.
Buyer Financing
When a buyer receives a seller concession they are basically financing their closing costs. Sometimes it's hard for a buyer to understand this, but if a seller is willing to net less giving a concession odds are they'll also be willing to net less without concessions.
Paying Market Value
A majority of sellers want at least market value for their home. So it's unlikely they will accept an offer that is below market value that is also asking for seller concessions.
Knowing the Exact Amount
A buyer should never "shoot for the stars" and ask for the maximum amount of seller concessions allowed. They should only ask for the amount needed because if they ask for $10,000 and only use $8,000 the seller will pocket the $2,000. So the buyer will be financing $2,000 more than they needed to, a win for the seller, but not the buyer.
The buyer's lender should be able to provide a good-faith estimate with their estimated closing costs and help them determine how much to ask for.
Appraisal Issues
Appraisal issues aren't uncommon with or without seller concessions. So if a buyer is willing to pay above market value in order to receive seller concessions the property may not appraise. In fact, even if a buyer is paying market value with a seller concession the property may not appraise. If the home appraises below the contracted price there are a few possible outcomes that both parties will need to agree to, which are listed below.
The buyer can remove the seller concession and pay their own closing costs.
The buyer and seller can renegotiate the seller concession and possibly meet in the middle.
The seller can reduce the purchase price to the appraised value and still contribute towards the buyers closing costs, netting the seller even less
Multiple Offers
As mentioned above, if a buyer submits a full price offer the seller will not be netting full price if there's a request for seller concessions. This is important for buyers to understand in a multiple offer situation because a sellers net can play a big roll in their decision. Plus, the seller may be under the impression the buyer can't afford their home if they ask for seller concessions, which may make them reject the offer altogether.
Percentage vs Dollar Amount
Some home buyers will ask for an exact dollar amount of seller concessions. While others will ask for a percentage of the purchase price. Either way, it doesn't make a difference as long as the amount requested falls within the lender approved amount.
Paying Closing Costs on Seller Concessions
Both parties will be paying closing costs on the purchase price, not the purchase price minus seller concessions.
Final Thoughts
Oftentimes seller concessions have a negative connotation associated with them. Although they can be a win-win for both buyer and seller. If a buyer wants to do repairs/improvements to the home it may be worth financing their closing costs. And if a seller is able to net top dollar giving a seller concession it can be a win for them too.
Now, there may be a few drawbacks to seller concessions, like a low appraisal. However, if both parties go into the situation knowing this is a possibility it could become a non-factor. Not all home buyers need seller concessions, so sellers should never dismiss an offer asking for seller concessions.
Please consider spreading the word and sharing; What are Seller Concessions and How Do They Work?
If you are buying or selling a home you might be wondering what seller concessions are. Here are 8 things you should know about seller concessions. #homebuying #homeselling #realestate
Additional Resources

About the Author
The above real estate article "What are Seller Concessions and How Do They Work?" was written by Michelle Gibson of Wellington Florida Real Estate. Specializing in residential real estate since 2001 Michelle Gibson is experienced in assisting buyers, sellers, landlords and tenants. She would love to share her knowledge and expertise and guide you through the entire real estate process.
We service the following areas; Wellington, Lake Worth, Royal Palm Beach, Boynton Beach, West Palm Beach, Loxahatchee, Greenacres and more. If you are considering selling your home, we welcome the opportunity to work with you and list your home with a top Wellington Florida Realtor