Rent vs Buy: The Definitive Guide for Choosing a New Home
Purchasing a home is a significant decision; however, are you ready for it? As you would expect, there is no single correct answer without considering the advantages and disadvantages of both renting and purchasing. As a major life decision, buying a home all comes down to your current or expected finances, which makes renting an affordable option.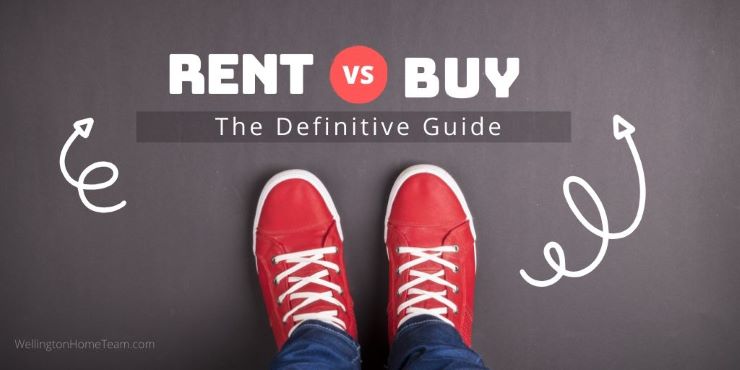 Renting a home requires taking into consideration your lifestyle choices, flexibility, as well as your career goals. If you are on the fence on whether to rent or buy, read this definitive guide and find out what you should consider before you make the final decision. 
Intended Length of Stay
In short, do you plan to stay in the neighborhood, or are you looking for something that offers flexibility? If you intend to stay in a property for a minimum of five years, purchasing a home is a great decision. This is because it offers you the right mix of emotional and financial benefits, and you can personalize your home to become really yours.
On the other hand, renting is a far better option for the individual that prefers a change of scenery. For instance, if you are hoping to get a job that will take you across the nation or out of the country altogether the last thing you want to deal with is the pains that come with selling your home in a hurry. While renting out your home is always an option, not everyone is cut out to be a landlord.
While buying a home and selling it within a couple of years sounds good, the overall costs may not justify the decision. Apart from the closing and moving costs, you must pay more on closing costs in addition to added expenses like renovations and repairs if you want to earn top dollar from the sale. So unless your property value substantially increased under your ownership you may be upside down on your home. Meaning you owe more than your home is worth and in order to sell you'd have to come up with the shortfall or see if you qualify for an alternative option, like a short sale.
Deciding whether you should rent or buy a home can be challenging, but our rent vs buy guide will help you make this decision a lot easier. #realestate
The Costs
Renting is a cheaper option in many cases when compared to a home purchase, especially when you consider the upfront costs. These upfront costs include moving, closing, renovations, home maintenance, and down payments. Affording a mortgage payment doesn't mean you should buy a home; the expenses eventually add up. 
Apart from the principal and interest monthly payments, you have to deal with homeowners' insurance, and property taxes — factor in other costs such as mortgage insurance and homeowners' association fees. 
Conversely, purchasing a home may become cheaper in the future as it offers an excellent opportunity to build on equity. Besides, there are tax benefits to owning a home, especially in the amount you pay for local property taxes and mortgage interest.
Permanency
It is hard to predict the future, and you may want to stay in one place and have the financial prowess to do so. However, you must examine your current life position and see whether it will change in a couple of years from now. If it will, you should expect your housing requirements to change too – which may mean holding off purchasing a home. 
Renting an apartment affords you time to figure out what you would your future holds and where exactly you want to reside. It also offers you a chance to evaluate your budgeting requirements as well as the kind of home that augers well with your lifestyle. Plus, it gives you time to get your finances in order and if you don't have savings or qualify for a mortgage this gives you time to work save money and figure out the steps you need to take to qualify for a mortgage.
Weigh the Risks
Renting or buying a home comes with unique risks. While homebuying helps build equity, it comes with a couple of financial risks. For instance, you may lose money in case of a local real estate market downturn. 
Do not forget the maintenance costs that are required to keep your home in good condition. Think of fire alarms testing, inspecting air filters, fixing plumbing problems, landscaping, among many others. If your career requires traveling or you have multiple young kids, home maintenance costs may not be a welcome item. 
On the other side, renting does not offer an opportunity for building equity, and your rent may go up at any moment. Further, you are at the landlord's mercy, like being asked to move or having your maintenance requests deferred. 
Final Thoughts
There is no right or wrong answer to whether you should buy or rent a home. The decision depends on your current finances and life situation, something that may change in the future. No matter the choice you make, it is critical that make an informed decision, one based on your individual requirements and needs.
What is good for someone else may not be the right decision for you. While homeownership has many benefits, it's not always the right decision for some people. 
Please consider spreading the word and sharing; Rent vs Buy: The Definitive Guide for Choosing a New Home
Deciding whether you should rent or buy a home can be challenging, but our rent vs buy guide will help you make this decision a lot easier. #realestate
About the Author
Top Wellington Realtor, Michelle Gibson, wrote: "Rent vs Buy: The Definitive Guide for Choosing a New Home"
Michelle has been specializing in residential real estate since 2001 throughout Wellington Florida and the surrounding area. Whether you're looking to buy, sell or rent she will guide you through the entire real estate transaction. If you're ready to put Michelle's knowledge and expertise to work for you call or e-mail her today.
Areas of service include Wellington, Lake Worth, Royal Palm Beach, Boynton Beach, West Palm Beach, Loxahatchee, Greenacres, and more.
Rent vs Buy: The Definitive Guide for Choosing a New Home