Buying vs Renting | Examining the Pros and Cons
Buy or rent; it's an argument as old as time. Experts from nearly every industry have their own opinion on the matter, but the truth is that the decision comes down to personal preference. Before you take the plunge and apply for a mortgage, consider these pros and cons of buying versus renting to determine which option may be best for you.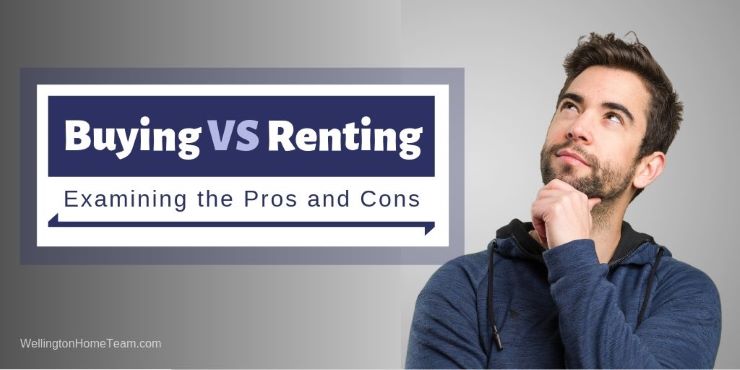 The Pros and Cons of Buying a Home
Buying a home is the American dream – but it can be an outright nightmare if you're not ready for the responsibility. For a clearer, more in-depth understanding, take a look at the overall pros and cons of buying a home.
Pros of Home Ownership
Owning your home comes with numerous benefits – some of which you may not have considered or realized, including:
Personal Pride and Sense of Community: There is a sense of pride that comes from owning your own home. This can give you a deeper sense of community. When combined, these two aspects of homeownership can improve your overall quality of life and sense of self-accomplishment.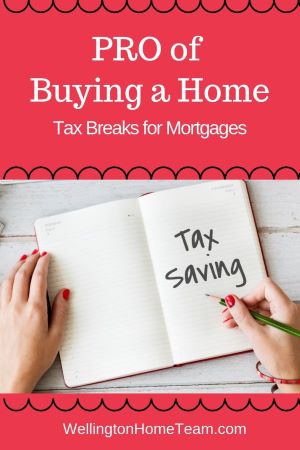 Tax Breaks for Mortgages: During the early years of a mortgage, homeowners pay mostly interest. Every penny of that is considered tax-deductible by the Internal Revenue Service (IRS). This could save you thousands of dollars each year. Over time, that deduction can really add up.
Personalization to Suit Your Needs: When you own your own home, you can make modifications to the property, as you see fit. Want an open floor plan? Knockdown a few walls and make it happen! Kitchen outdated? Invest some money and turn it into the cooking space of your dreams. The same goes for an outdated bathroom! These are things you simply cannot do when you're renting.
An Asset for Your Future: Odds are, the home you purchase today won't be the same home you want or need 30, 40, or 50 years from now. By that time, you could own the home, free and clear, giving you an asset to sell when life changes. Alternatively, if you stay in the home until you pass away, it's an asset that your heirs can sell for profit.
Predictable Housing Costs: Mortgages are generally offered at a fixed rate, making your cost of housing more predictable than renting.
Greater Privacy: Owning your own home offers more privacy for your family. There aren't any landlords coming in and out of your place. And you can add additional privacy features like a fence or landscaping, if you so choose.
Cons of Home Ownership
Homeownership isn't all easy sailing. In fact, there are some distinct disadvantages of homeownership, especially when compared to renting. These cons include:
Lack of Flexibility: Once you've entered a mortgage, you're committed. That means you can't simply pick up and move if your job asks you to relocate or if you decide that the town or city doesn't quite fit your vibe. In short, it's important that you think long and hard about where you want to live before putting money down on that gorgeous dream home.
So Much Maintenance: From broken door handles and busted windows to HVAC units and hot water heaters, when you own your own home, you're responsible for every ounce of maintenance. Depending on the house and the condition it's in, the cost can add up quickly. You'll also have to take care of the lawn and landscaping on your own. If you don't have the means or the ability to maintain the upkeep, then homeownership may not be the right option for you.
Housing Market Fluctuations: Homes are typically appreciating assets, but dips in the housing market could mean either waiting to sell your home or taking a massive loss when you're ready for a change of scenery.
Mortgage May Cost More Than Rent: Availability can sometimes drive up the cost of renting, making it more expensive than homeownership, this is not generally the case. Instead, homeowners typically pay more than renters – especially when you configure in the added amenities that may be included in your rental price.
Tempting Home Equity Loans: Home equity loans can be taken out against the value of your property, allowing you to make repairs or fund a child's college tuition. Be wary about this option, however, as it can leave you upside down in your mortgage. This could mean you may not see a profit if you ever try to sell.
Money and Credit Requirements: Banks have some pretty strict regulations regarding who they can lend money to. So if your credit is poor, you may be declined a line of credit. Even if you qualify, low credit scores generally increase your interest rate, making your monthly mortgage even higher. You also have to come up with a down payment, which can generally be 3%-10% of the home's total sale price.
The Pros and Cons of Renting a Home
Renting can seem like a major burden, especially if you find yourself around nosey or obnoxious neighbors or have a particularly difficult landlord. However, there are some advantages to renting versus buying. Of course, as you may already know, there are also some distinct drawbacks to this housing option. Let's take a closer look at both the pros and cons of renting a home:
Pros of Renting a Home
If you're currently renting, it may be difficult to see the positives, but they are definitely worth considering. The most notable advantages include: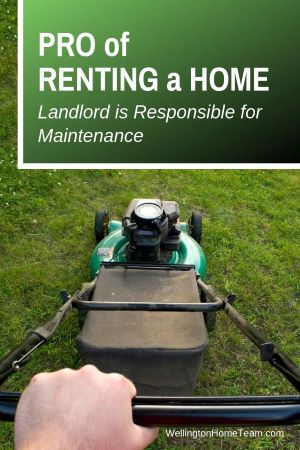 Greater Housing Flexibility: If you have a job that requires you to relocate on a regular basis, or you aren't really sure where you want to live, renting could be the best option for now. Leases typically run for 12 months, so every year, you can pick up and move, if you so choose.
Your Landlord is Responsible for the Maintenance: On rental properties, the landlord is generally responsible for the maintenance and upkeep of the home. They may even include landscaping and lawn care in your rental price.
Additional Amenities: Landlords often lump in extra amenities for their tenants. Some of the most popular include community features, like parks and sparkling swimming pools. The cost of water or trash service, and even things like cable and internet service might be included too. All of these become your responsibility (or completely disappear) when you own your own home.
Lower Out-of-Pocket Cost: When you consider that rental prices are often lower than mortgage costs and then lump in the lack of maintenance it could be a win-win.
Cons of Renting a Home
As you likely know, there are some distinct (and sometimes extremely difficult to handle) disadvantages to renting, including:
Paying for Someone Else's Asset: When renting, the money you spend on housing goes directly to the landlord. You'll never own the asset. Instead, you're financing their investment and improving their financial situation.
Noise, Neighbors, and Lack of Privacy: Renting sometimes means putting up with excessive noise, annoying neighbors, and a distinct lack of privacy. Once in a lease, you're stuck with the issues for a whole year.
No Tax Breaks: On top of the fact that you're paying for someone else's asset. You don't receive a tax break on the cost of renting. That could mean less money for you at the end of the year.
Final Thoughts
Whether you rent or buy, it's important to take a moment to consider where you're at in life and what your current needs are. Hold an honest and open discussion with your spouse, partner, and/or children to gain their insight on the matter. Talking to a financial expert about your options is a great choice. If it turns out that renting is your best option for now, don't be discouraged. Work on your credit, keep saving, and wait it out. Eventually, you'll make the transition to homeownership – just be sure the timing is right for you.
Please consider spreading the word and sharing; Buying vs Renting | Examining the Pros and Cons
About the Author
Top Wellington Realtor, Michelle Gibson, wrote: "Buying vs Renting | Examining the Pros and Cons"
Michelle has been specializing in residential real estate since 2001 throughout Wellington Florida and the surrounding area. Whether you're looking to buy, sell or rent she will guide you through the entire real estate transaction. If you're ready to put Michelle's knowledge and expertise to work for you call or e-mail her today.
Areas of service include Wellington, Lake Worth, Royal Palm Beach, Boynton Beach, West Palm Beach, Loxahatchee, Greenacres and more.