Selling During the Holidays | Should You Decorate Your Home?
If you enjoy decorating your home for the holidays, should you still go through the trouble when you're selling your home?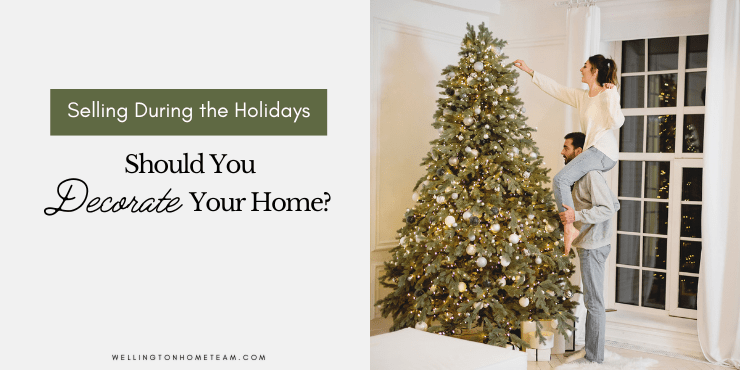 While going through the effort of celebrating the season by making your home festive is going to be more difficult if you are preparing to move, you still should. It might mean that you have to pack up your decorations earlier than you would normally expect, but celebrating the holiday season like this will help to sell your home.
Let's look at the reasons why decorating your home when selling during the holidays can help it sell.
Why You Should Decorate when Selling During the Holidays
Decorated Homes are More Appealing
If your home is well decorated when selling during the holidays, without going too far, it will be more appealing to home buyers. There is something magical about festive decorations for children, and sometimes for adults as well.
A home that is decorated will be more inviting and will make buyers more likely to want to look around. Since the home is more appealing, there should be a greater chance that you receive offers.
Imagining Living in Your Home
Homebuyers want to imagine themselves living in your home, and a beautifully decorated home for the holidays looks very inviting. It will be cozier and seem like a nicer place to live. They should also be able to easily imagine their family and friends enjoying festivities in the home.
Decorating when selling during the holidays, isn't going to be as easy as most other years. But if you keep it simpler than you usually would, it should be less difficult. Try to coordinate the decorations with the look of the home without doing too much.
You should also make sure your home is decluttered when decorating for the holidays. This will further make it easier for buyers to see themselves living in the home.
Decluttering is something you should do at whatever time of the year you are selling your home. It will make the home look better when it's photographed for the property listings, and look tidier for showings. Since you are going to have to pack everything up for your move, you will need to deal with all the stuff in your home anyway. Decluttering your home and getting rid of things you no longer need, will make packing easier as well.
Decorations are Expected
If you don't bother with decorations because you are preparing to move, it could give a negative impression to potential buyers.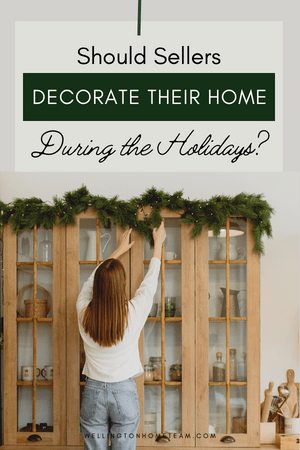 Buyers will expect homes they tour during the holidays to have decorations, and other properties they see will have them. If your home isn't decorated, buyers may not like your home as much compared to the other homes they have seen.
And if every other home on the street is decorated, your home will not only look out of place, it may appear strange to buyers. You never want your home to look dull compared to your neighbors when selling.
If you don't have a tradition of decorating your house in your family, either for religious or other reasons, check with your Realtor for their advice on what you should do.
Finding a Connection
Though you might not realize it, buyers actually want to find a connection to your home. Of course, they will look at the rooms and the features in the home, but they'll also check out the furniture and the decor. This may help them understand how well maintained and cared for the home is.
If your festive decorations enhance your home, a buyer could find a personal connection to your home. This will increase the chances of them making an offer. Emotional connections can actually be as important as the features or the layout of the home to help you find a buyer.
If you plan on selling during the holidays you might be wondering if you should decorate your home and here is the answer. #homeselling #realestate
Decorating Tips for Selling Your Home During the Holidays 
When selling during the holidays it's very important to decorate your home accordingly and here are the top tips for staging your home during the holidays.
Before you begin putting up your decorations, take the opportunity to complete a deep clean of your home. Your decorations also need to be clean and dust free, both as you are putting them up and when they are in place.
Don't allow your decorations to make your home look cluttered. If it looks like it's too much, or if they are getting in the way of other things in the home, you should reduce the number of decoration items. Don't buy a tree that takes up too much space, it will make the room look smaller.
Use your decorations to enhance your home. Make any special features in your home more prominent with the placement of decorations, such as your fireplace.
The decorations should be simple so they appeal to more people. If you personalize your holiday decor too much, there is a risk you will put people off. Decorations your kids have made do, unfortunately, fall into this category as well.
Try to avoid decorations that are too focused on a particular religion or religious theme. It could put off followers of other faiths.
Follow safety guidelines when placing decorations. Avoid placing the tree or other decorations near the fire or other sources of heat. Don't use Christmas lights with damaged cables, or connect too many strings of lights to the same extension cord.
Final Thoughts
Not wanting to do any type of holiday home staging when you are going to be moving out soon, is understandable. But taking the time to put up your festive decorations could help you sell your home sooner.
Decorations can make buyers more attracted to the idea of living in your home, making buying the home a more appealing prospect. If you don't have festive decor, your home will look out of place compared to your neighbors and the other homes buyers have been looking at. So make sure to keep this in mind when selling a home during the holidays.
Decorating your home when you are selling during the holidays will ultimately improve how easy your home is to sell. There are top ways staging your home can attract buyers, make a connection, and it might even cheer you up at the same time.
Please consider spreading the word and sharing; Selling During the Holidays | Should You Decorate Your Home?
If you plan on selling during the holidays you might be wondering if you should decorate your home and here is the answer. #homeselling #realestate
About the Author
Top Wellington Realtor, Michelle Gibson, wrote: "Selling During the Holidays | Should You Decorate Your Home?"
Michelle has been specializing in residential real estate since 2001 throughout Wellington Florida and the surrounding area. Whether you're looking to buy, sell or rent she will guide you through the entire real estate transaction. If you're ready to put Michelle's knowledge and expertise to work for you call or e-mail her today.
Areas of service include Wellington, Lake Worth, Royal Palm Beach, Boynton Beach, West Palm Beach, Loxahatchee, Greenacres, and more.
Selling During the Holidays | Should You Decorate Your Home?