How to Replace an Old AC System (Quickly and Easily)
Do you have an old AC system? Sometimes, replacing makes more sense than repairing it. You should replace an old AC if it is over ten years old. Replacement also makes sense when your AC constantly needs repairs or you need to put more effort into maintenance.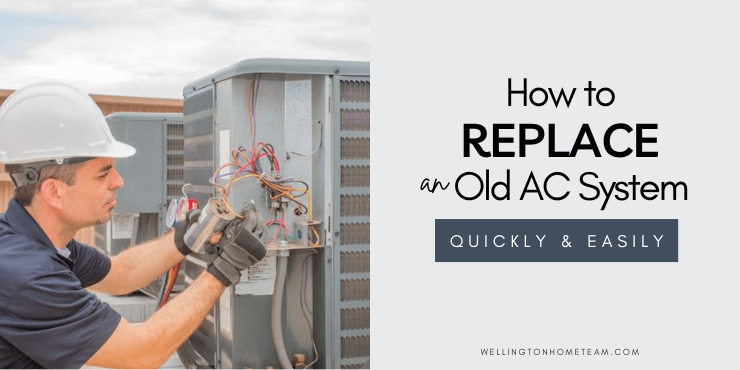 Replacing Your Old AC System
Replacing your air conditioner should take an average of four to eight hours. If you need to replace your furnace and AC, it could take up to 14 hours. The length of time varies depending on your home and unit size.
Only attempt to replace an old AC system with professional help. Even if you have the technical skills to do it, the electrical components introduce a risk that must be handled professionally.
Picking the right AC size for your home also takes some professional experience. When the installation process is complete, your unit requires delicate attention to ensure peak efficiency. 
The most important things to do include:
Ensuring that you have the right smart thermostat for maximum energy savings

Balancing your ductwork properly

Retrofitting your new unit to the ductwork
Another reason to refrain from doing the job yourself is that installation is only part of the process. It would be best if you also worried about removing and disposing of your old AC unit. This can be difficult and strenuous, especially when chemicals are involved.
Professionals know how to handle and dispose of chemicals like Freon. They also have creative and eco-friendly ways to dispose of your old unit.
Are you looking to replace an old AC system? If so this article will help guide you through the processing and provide helpful tips as well. #hvacsystem #acreplacement
How to Save Money When Replacing Your Old AC Unit
Looking for the cheapest way to replace hvac system? Getting a new AC unit is already a way to save money. Modern units are designed to be more energy efficient than older models. However, there are other ways to save money when replacing your old AC unit. 
Here are a few of them: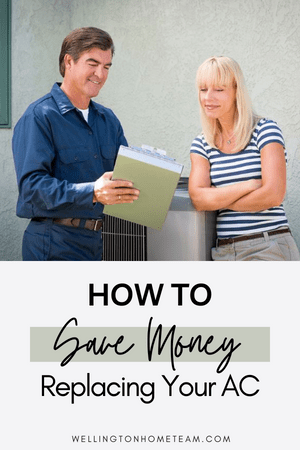 Replacing Air Conditioner & Furnace at the Same Time
If your AC is getting close to the 10-15 year range, you need to consider replacing it. You would be wise to also replace your furnace, even if it is still fairly young.
Handling both jobs at the same time is a lot cheaper than installing each unit separately. It could also give you the chance to make sure your new thermostat compliments your new furnace.

Financing Programs
Plenty of financing programs can help install your new AC unit. They can also help you make other upgrades to promote energy efficiency. Such programs help you invest in smart thermostats, energy-efficient windows, and better insulation. Usually, you don't need to make a down payment, and you can easily qualify for the programs.
Hire AC Experts to Install Your New AC System
While doing the job yourself might seem like a great idea, it is actually more expensive. You can save some money by hiring experts to install your new system. They will take a look at your space, consider your needs, and offer immediate AC installation.
They will help you choose the ideal unit based on the size of your home hence saving money on energy costs. They will work with you to take advantage of the latest energy-efficiency upgrades and may help you identify financing programs.
Signs It's Time to Replace Your AC
The average lifespan of an AC unit is 10-15 years. However, proper maintenance could help it last longer. If the air ducts and system filters are cleaned regularly, your unit may last longer.
There is no right time to replace an old AC unit. It all depends on when you start to notice signs of poor performance. If your energy bill is higher than usual or your AC doesn't seem to be cooling as it usually would, it may be time to get a new one.
Here are a few critical signs to look out for:
Your home isn't getting enough cool air

There is moisture or signs of leakage around your unit

You don't have sufficient airflow

Your AC seems to be making weird sounds

The unit needs frequent repairs

You have had it for ten to fifteen years

Some zones don't seem to be working
How Often Should You Replace Your AC Unit?
Wondering should I replace my 20-year-old air conditioner? Some air conditioning units last longer than others. However, you should generally replace your unit every ten to 15 years. You may need to do it sooner if you are experiencing issues.
The best way to prolong the lifespan of your unit is by keeping up with maintenance. In addition, you need to store your unit properly. Keep it in a cool, dry place away from traffic.
When your unit needs repairs, don't attempt to handle them yourself. Instead, you should always seek professional help. Get expert advice if you have any questions regarding your unit.
Final Thoughts
Are you trying to replace an old AC system quickly and easily? While doing it yourself might seem like the cheapest and fastest way isn't. You should bring in a professional, no matter how simple the task may seem.
The right technician will also help you with routine maintenance and repairs. They will advise you if you are curious about whether to repair or replace your unit.
Please consider spreading the word and sharing; How to Replace an Old AC System (Quickly and Easily)
Are you looking to replace an old AC system? If so this article will help guide you through the processing and provide helpful tips as well. #hvacsystem #acreplacement
About the Author
Top Wellington Realtor, Michelle Gibson, wrote: "How to Replace an Old AC System (Quickly and Easily)"
Michelle has been specializing in residential real estate since 2001 throughout Wellington Florida and the surrounding area. Whether you're looking to buy, sell or rent she will guide you through the entire real estate transaction. If you're ready to put Michelle's knowledge and expertise to work for you call or e-mail her today.
Areas of service include Wellington, Lake Worth, Royal Palm Beach, Boynton Beach, West Palm Beach, Loxahatchee, Greenacres, and more.
How to Replace an Old AC System (Quickly and Easily)