Staging Your Home | An Incredible Room by Room Guide
When you are preparing to sell your home, you'll want to do everything you can to improve the price a buyer will pay. Home staging is a relatively straightforward way of making sure your home achieves the best price and finds a buyer quickly.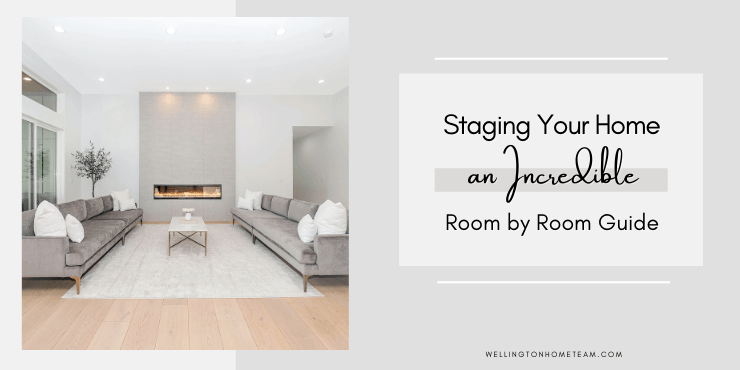 But what things do you need to do to stage your home, and where do you start? First, let's look at things you can do when staging your home, room by room.
How to Stage the Rooms in Your Home
Exterior
The first thing a potential buyer will see when they visit is the outside of your home. There are many things you can do to improve your home's curb appeal so that the first impression they get is good. And if they start with a good impression, there is a better chance of that feeling continuing.
Things that you could consider to improve the exterior of your home include:
Cutting the grass
Trimming bushes
Power washing paths
Adding new planters
Installing solar lights
Repainting the front door and adding a new door mat
Replacing house numbers and mailbox
While these are only relatively small changes, they can have a disproportional effect on the curb appeal of your home.
Entrance
After the outside of your home, the next thing potential buyers will see is the entryway. Their first step inside your house needs to continue the good impression created by the exterior and provide cohesion with the outside space.
Adding a plant or flowers links the inside with the outside. The entryway needs to be inviting and not cluttered or filled with too much furniture. If there isn't a clear entry space in your home, a rug can help create this distinction.
Living Room
People are looking for open living spaces where they can imagine themselves relaxing. It needs to be comfortable but without packing in overly large items of furniture, while at the same time, it shouldn't be too minimalist.
You can use cushions to inject some color to draw attention and make the room more interesting. A few plants can add a lot to the living space, making it a nicer room to be in.
Kitchen
The kitchen is a very important room and one in which people will spend a lot of their time. Even without remodeling the kitchen, there are smaller things that can make a big difference.
Clear away any clutter on the countertops, making sure that everything is put away in cupboards or drawers. A cookbook or two, and some fresh flowers are all you really need to create the right feel in the kitchen.
If you need to go further, consider painting cabinets and renewing appliances to make the kitchen look new. Paint the walls as well to help rejuvenate the space without sinking a lot of money into a full remodeling project.
Dining Room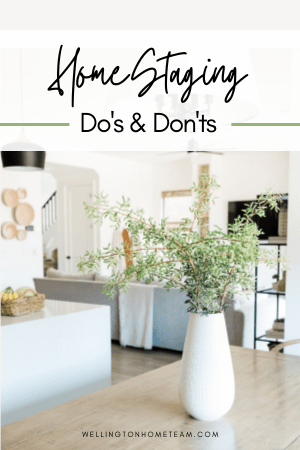 If you have a formal dining room, you should make sure this is clear. The table doesn't need to be set with your finest plates, cutlery, glassware, and table linen, but it should be defined as a dining room. That means removing items that don't fit in an ideal dining room. While you might use this area in your home for things other than dining, you want the buyer to imagine themselves using the space to entertain.
The table and chairs should match the size of the dining room, not too large in a smaller room, or too small in a grander space. A dining room can make the home seem more luxurious and add to this by accessorizing. Artwork on the walls can add interest to the room and help create the right impression.
Bedrooms
Staging every bedroom in the home isn't really a realistic option, but the master should get some attention. Consider using neutral softer colors, like blues, taupes, and whites, to make the room more relaxing.
Accessories shouldn't overwhelm the room, but throw blankets can be used to draw the eye and add extra color. A nightstand on either side of the bed with lamps, and a small table and chair as a reading corner can also help.
A queen-size bed is a better option so that the bedroom appears more spacious. It is better to not have the bed positioned in front of a window, instead, it will be better opposite the door with some artwork above. The bed should look comfy with quality bedding, so it looks inviting.
Bathrooms
The smaller rooms in the house need to be clean, with new towels, and a new bar of soap in a clean dish. It should look like a decent hotel bathroom after the maid has visited.
If your bathroom is showing its age, reapplying caulking, and cleaning or renewing the grouting is an option. Replacing the tiles and changing the showerhead can rejuvenate the shower if it is bringing down the rest of the bathroom. Repainting the walls and cabinets will also help to refresh the room.
If you only work on improving one of your bathrooms, you have the problem of it making the others look worse. If this is the case, you'll need to do some bathroom updates on all of them. A thorough clean should be a minimum in all bathrooms, then doing whatever else is needed to increase the overall standard of bathrooms in the house.
Thinking about staging your home? If so it doesn't have to be complicated. Here is an incredible room by room home staging guide. #homestaging #stagingtips
Home Staging Basics
Aside from these room-based tips, there are things that you can do in general to prepare your home for potential buyers.
The basic idea of staging is to allow the buyer to easily imagine themselves living in the property. That is why less is better when it comes to clutter and furniture. With more space, it is easier for them to envisage positioning their furniture.
Home sellers can get professional help with staging, but some simple things can be done without too much effort or experience. Let's look at some of the basic things you can do to stage your home.
Cleaning
A dirty home isn't going to help achieve the best sales price possible. You want the buyers to not be distracted by the home not being clean, and instead, help them imagine living there. They won't want to imagine living in a dirty home, so a deep clean is recommended.
A deep clean will remove a lot of bad odors, but you may need a deodorizer to deal with pet smells. Scented oils and candles can also help to freshen the air in the home.
If you have carpets in your home, professional cleaning might be required to help remove odors. This could help with pet odors, and could make a noticeable difference to a room if the carpets haven't been cleaned in a long time.
When you are cleaning, there are some things you might not realize need attention. Doors and door frames will gradually become dirty, but since you see these things all the time, it's easy to not notice they are slowly accumulating grime. Don't forget about the handles, since these are touched frequently they will be dirty.
You can use a degreaser or simply dish soap in warm water to clean many surfaces. If that doesn't work, walls or doors may need repainting to completely remove any sign of stains and other marks.
Decluttering
The longer you have lived in your home, the greater the amount of clutter there is likely to be. Unless you have stayed on top of this over the years, it will be an important job when staging your home.
The more clutter in a home, the smaller it looks and the more difficult it is for buyers to imagine themselves living there.
If you can rid your home of a lot of unneeded stuff, it will make moving home simpler. With less clutter, you will have fewer boxes to pack, and it will also reduce your moving costs.
Along with clearing out the obvious things in your living areas, go through junk drawers, closets, the attic, and the basement to make your home more presentable to buyers. You could consider a garage sale to make some money to help with your move. If you decide to donate items to charitable organizations, you could get a tax deduction.
Personal Items
To make it easier for someone else to imagine living in your home, you should remove personal items from view. This will include:
Family photos
Collectables
Clothes
Toothbrushes
Anything that could potentially put off a buyer should be hidden. This includes religious items and anything that signifies support for a political party or sports team. If you have an unusual color on your walls, this is going to need to be painted over. Now, if staging your home to live in then personal items are obviously allowed.
Highlighting the Best Features
Many of the rooms in your home will have unique and interesting features that should be highlighted. Perhaps you have an impressive fireplace in your living room, then you can make it the focal point of the room. This can be done by positioning furniture, possibly placing chairs on either side.
If your home doesn't have many of these, you can always add some yourself. Fitting crown molding or paneling could be a DIY project that won't break the bank and could be something that helps your room stand out.
Why You Should Stage Your Home

Staging has benefits from the time the home is listed, creating better photos, videos, and virtual walkthroughs. This should create more interest and push more potential buyers to take the next step. Professional photographs can really increase the benefits of a staged home as well.
Most buyers look for their next home online, and the photos of your home could be the most important factor to attract them. Staging will give you the best chance at getting offers for your home at the price you think it's worth. Competition from buyers could drive up the bids for your property, making staging a great return on investment.
Final Thoughts
Staging your home, especially to sell, doesn't have to be overly complicated. By following these simple home staging tips your home is sure to show in its best light. In addition to reading helpful home staging articles like this, there are many online resources that will provide home staging ideas before and after along with home staging ideas pictures. Wondering what should you not do when staging a house? There are articles about that too! Check out one of my most popular articles "UGLY Home Staging that Does Not Work | Mistakes to Avoid when Selling."
Please consider spreading the word and sharing; Staging Your Home | An Incredible Room by Room Guide
Need to stage your home to sell? If so it doesn't have to be complicated. Here is an incredible room by room home staging guide. #homestaging #stagingtips
About the Author
Top Wellington Realtor, Michelle Gibson, wrote: "Staging Your Home | An Incredible Room by Room Guide"
Michelle has been specializing in residential real estate since 2001 throughout Wellington Florida and the surrounding area. Whether you're looking to buy, sell or rent she will guide you through the entire real estate transaction. If you're ready to put Michelle's knowledge and expertise to work for you call or e-mail her today.
Areas of service include Wellington, Lake Worth, Royal Palm Beach, Boynton Beach, West Palm Beach, Loxahatchee, Greenacres, and more.
Staging Your Home | An Incredible Room by Room Guide