Paying Off Your Mortgage Early | 9 Popular Pros and Cons
The idea of paying off your mortgage early might seem like a good plan, but it isn't going to be an option that is right for everyone.
Without mortgage payments each month, you will have more disposable cash. And paying off your mortgage early will have saved you a lot of money that would have been wasted paying interest to the lender. However, there are also some downsides to consider, like being able to use your money better by investing it instead of paying the mortgage off.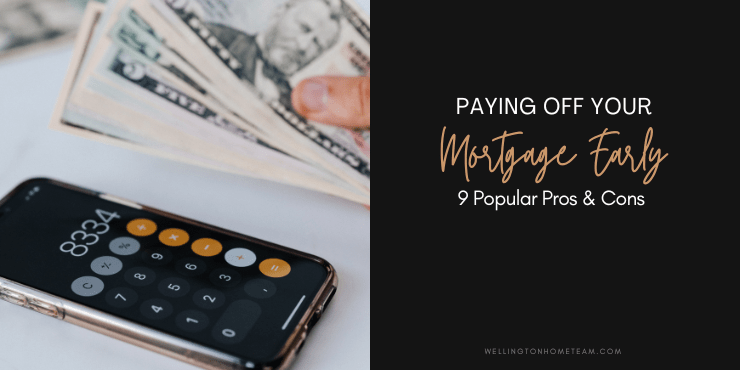 Let's take a look at the pros and cons you need to consider before you pay off your mortgage early.
The Pros and Cons of Paying Off Your Mortgage Early
Everyone's situation is different, and while getting rid of a home loan might be the best choice for a lot of people, it might not be right for you. It is important to consider both the pros and cons of this choice before you decide.
The Pros of Paying Off Your Mortgage Early
No Monthly Mortgage Payments
Without the need to pay the mortgage each month, you will have money for other things. You could invest, potentially earning more than the cost of your mortgage. To do this, you could buy stocks or stock index funds, but there is a chance that you will not see such good returns.
A safer option when investing is Treasury bonds or certificates of deposit. However, these don't offer a very exciting rate of return, and will certainly be less than the interest rate on your mortgage.
Paying Less Interest
Some of the money you pay each month to your lender is interest on the loan. If you pay off your mortgage faster, you will pay less interest.
This could save you many thousands of dollars, just as long as you are paying down the principal with any extra payments. You may need to check this with your lender before you decide to pay extra, or you might not be reducing your loan as quickly as you expect.
Owning Your Home
While you might already consider yourself a homeowner, the truth is your lender owns a lot of your home.
If you completely own the property, you don't have to worry so much about a job loss that might cause you financial difficulties. This could make monthly payments to your lender very difficult, and lead to foreclosure. But without a lender involved in the ownership of the property, there isn't any chance of you losing your home.
Becoming Debt-Free
Being free of a large debt, like a mortgage, is a nice feeling. It means you don't have so many things to worry about, and it gives you more freedom.
If you are nearing retirement, paying off your mortgage could be a more attractive option, lowering your outgoings when your income reduces.
There are many pros and cons to paying off your mortgage early and here are the top 9 to consider before making a final decision. #realestate #homemortgage
The Cons of Paying Off Your Mortgage Early
Reduced Liquidity
With less money in savings accounts or other investments, it could be more difficult to access cash when you need it. If most of your money is tied up in your home, gaining access won't be quick.
To solve this, you could open a home equity line of credit. This will make sure there is money available to you should something unexpected happen.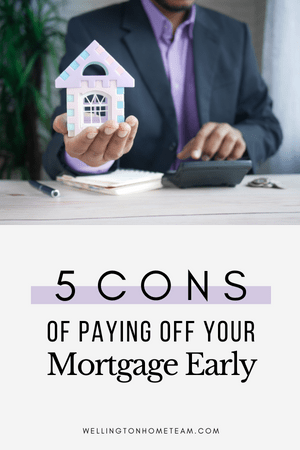 Investing Could Earn You More
Investing your money in the stock market should give better returns. With average returns of around 9% over 10 years from the stock market, it would be better than saving the 3% on mortgage interest payments.
If you just look at what's the better investment for your cash, the potential profits from stocks should be higher than the money saved on interest payments. Though this does assume no stock market crashes during that time.
Investing in real estate, such as a vacation rental is another possible way to earn more money.
Mortgage Fees
If you decide to pay off your mortgage ahead of schedule, your lender might charge you a penalty. A mortgage prepayment penalty could be charged when you pay it off early, refinance, or even sell your home.
This can happen within a certain amount of time after the home was purchased, usually 3 or 5 years. So if you have owned the home for more than 5 years, it's unlikely to be an issue. Also, not all lenders charge these penalties, but if you are unsure, check with your lender.
Credit scores
Many things contribute to your credit score, and a mixture of credit is part of that. If you have credit cards and a mortgage, getting rid of one of these will mean you don't have a mix of credit types. This will negatively affect your credit score, but only slightly, and could still be a factor worth considering.
Tax Deductions
Since you can claim mortgage interest as a tax deduction, it could be a consideration. You will lose this when you pay off your mortgage, and it won't help you lower your taxable income anymore.
What is Your Retirement Plan?
If you aren't retired already, knowing what you plan to do in your retirement will help your decision. When you expect to continue living in the home, and you are near retirement, paying off the mortgage early will be attractive. It will remove the monthly payments that you would otherwise have to cover when you have retired.
If you are a decade or more away from retiring, investing might be better. If you haven't already started investing for your retirement, putting your available funds into the stock market should be more profitable.
What About Other Debts?
If you have debts that you are paying off, it will probably be better to take care of them first. With other loans that charge more interest than your mortgage, you will be better paying them off before you consider doing the same with your home loan.
Should I Pay Off My Mortgage Early?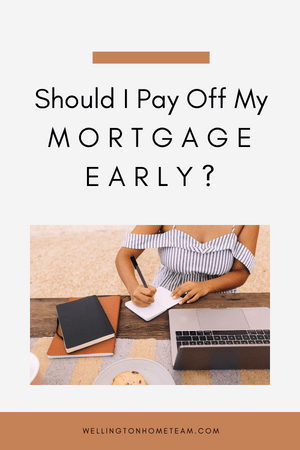 The decision of paying off your mortgage early will be different depending on your situation.
For retirees, most of the time it is better to pay off the mortgage.
The only situation where this is less beneficial is when the person is willing to invest the same amount of the loan, or more, into the stock market. But for the majority of retirees, clearing the mortgage if they have the funds available, will work out better.
Choosing to pay off your mortgage isn't necessarily a straightforward one. The right answer will be different depending on your circumstances and what your goals are.
Please consider spreading the word and sharing; Paying Off Your Mortgage Early | 9 Popular Pros and Cons
There are many pros and cons to paying off your mortgage early and here are the top 9 to consider before making a final decision. #realestate #homemortgage
About the Author
Top Wellington Realtor, Michelle Gibson, wrote: "Paying Off Your Mortgage Early | 9 Popular Pros and Cons"
Michelle has been specializing in residential real estate since 2001 throughout Wellington Florida and the surrounding area. Whether you're looking to buy, sell or rent she will guide you through the entire real estate transaction. If you're ready to put Michelle's knowledge and expertise to work for you call or e-mail her today.
Areas of service include Wellington, Lake Worth, Royal Palm Beach, Boynton Beach, West Palm Beach, Loxahatchee, Greenacres, and more.
Paying Off Your Mortgage Early | 9 Popular Pros and Cons