6 Easy Ways to Pay Off Your Mortgage Faster
Buying a home is normally the biggest investment you'll ever make, and it is also the biggest debt you will ever take on. And 25 or 30 years is a very long time to be paying interest to a lender before you become debt-free. But there are things you can do to pay off your mortgage faster and stop wasting so much of your money on interest payments.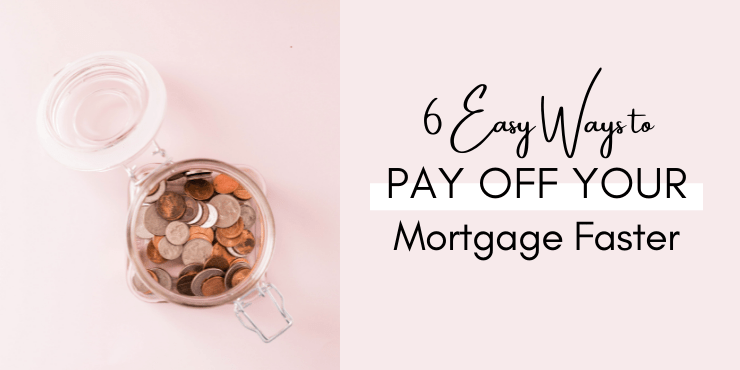 If you want to reduce your mortgage payoff timeline, there are many options. Let's look at 6 ways to pay off your mortgage faster and become debt-free!
1. Make Biweekly Payments
Paying more towards your mortgage reduces the principal loan amount and cuts down the amount of time it will take you to fully own the home. An easy way to budget for increased mortgage payments is to pay biweekly, which would be considered partial payments. When you divide the year up into two-week sections instead of monthly sections, you'll find that you will pay one more monthly payment per year.
For example; If your mortgage payment is $2,000 a month you'll have paid $24,000 a year toward your mortgage. However, if you make $1,000 bi-weekly payments, $1,000 payments 26 times a year, you'll have paid $26,000 towards your mortgage.
Typically, you can't just decide to make this change and start paying every 2 weeks. It could be a problem depending on the terms of your mortgage and your loan servicer might have a problem with it as well. You'll need to contact them about it before you begin to make payments this way. If they allow biweekly payments this is probably one of the ways to pay off your mortgage faster once you're in the habit of making biweekly payments.
2. Budget for an Extra Payment Each Year
If you can afford to pay an extra payment every year, you're going to reduce the amount of interest and pay off the principal faster. While you might not be able to increase your payment frequency to every two weeks, you could use your tax rebate to make an extra payment, for example.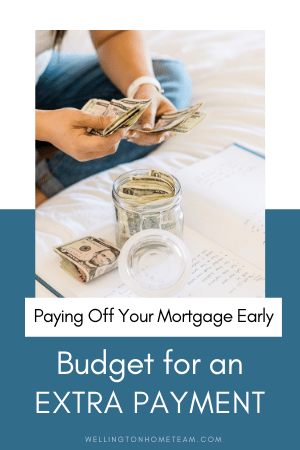 Making 13 monthly payments instead of 12 will cut down your mortgage repayment period more than you might imagine. You could shave four years or more on the time it takes to repay your home loan with just one extra monthly payment every year.
This is very similar to paying biweekly, as in both situations, you end up paying one more monthly payment annually. You could, of course, do both of these things to make 14 payments a year, if your situation allows it.
One thing you shouldn't do is drain your bank account in order to make that extra payment. However, if you have plenty in your bank account it is well worth making that extra payment at least once a year to pay off your mortgage early.
3. Send Extra Money Each Month
If you have the money to make extra payments, it is a great way to reduce the overall cost of the mortgage. If your mortgage was issued in 2014 or later, you probably won't have any repayment penalty fees when you pay more money towards your mortgage.
If you are not able to regularly increase your mortgage payments by a set amount, you can just pay as much as you want extra each month. This flexible approach lets you use any extra money you have to speed up your mortgage payoff and can produce significant results. This is probably one of the best ways to pay off your mortgage faster if your income and bills greatly vary each month.
Want to pay off your mortgage early? If so here are 6 easy ways to pay off your mortgage faster. However, you'll want to ask yourself these 4 questions first. #mortgagepayoff #refinance
4. Recast Your Mortgage
Recasting your mortgage is a great option if your interest rate is already low. When you recast your mortgage, you will continue with your existing loan but pay off a large amount of it. If you can pay a lump sum towards the principal loan, you can reduce the mortgage term and your interest payments.
This can be better than refinancing your mortgage because the fees are lower. It might only cost a few hundred dollars to recast your mortgage, while refinancing could cost a few thousand. If the terms of your current mortgage are better than you might expect with refinancing, recasting your mortgage is probably going to work out and be one of the better ways to pay off your mortgage faster.
5. Refinance Your Mortgage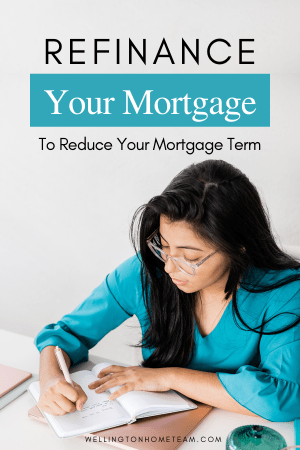 Despite the extra fees, refinancing your mortgage could be an option to reduce your interest payments and loan term. Though typically you can expect higher monthly payments because of the shorter term, refinancing might still be a better option. Refinancing could cut your interest rate and repayment term when compared to recasting, which means you'll pay less interest overall.
If your goal is to reduce the time it takes to repay your mortgage, refinancing can allow you to change the terms. A 30-year home loan is popular because it offers low monthly repayments, but you could choose to switch to 10, 15, 20, or 25-year loans instead.
If you originally chose a 30-year home loan, a few years later you might find you can afford higher monthly payments. Refinancing will let you switch your mortgage to a shorter term with higher repayments, and you might also be able to get a lower interest rate at the same time. A lower interest rate will somewhat offset the increased monthly payments of a shorter term as well.
6. Remove Your PMI
Private mortgage insurance is an additional fee you'll have to pay on your mortgage each month to protect the lender should you default on the loan. Getting rid of the requirement to pay PMI will save you money that you can instead use to pay down the principal.
If you are putting down less than 20% when you buy a home, your lender will normally require you to pay PMI with a conventional loan. PMI can cost you between 0.5 and 1% of the loan value each year, and while this is spread out across the monthly payments, it is still going to be a considerable amount.
But there are a few ways you can get rid of this extra expense.
PMI will be canceled automatically when you have 22% equity in the home, but you can request to have it canceled when you have 20% equity. As you are paying your mortgage monthly, your equity in the home will grow. Also, when the market conditions improve in your area, property values will increase, and so will your equity.
If you have made improvements to your home that have increased its value, you will have increased your equity too. If this has pushed the amount of equity you have in the property above 20%, or in the case of Fannie Mae home loans 25%, you can request the private mortgage insurance to be removed.
Using the methods we have previously discussed is also a way to increase your equity and get rid of mortgage insurance faster. The sooner you can hit the 20% equity mark, the better, to allow you to reduce your monthly payments and concentrate on paying down the principal.
Before your lender will agree to remove the requirement for PMI, you will need an appraisal carried out on the home to find the fair market value. You also have to be up to date with your mortgage payments for it to be approved.
When the PMI is removed, you can use the money you would have saved to instead reduce the principal. This will reduce the amount of money you owe on the mortgage and the time needed to repay it further. This is by far one of the easiest ways to pay off your mortgage faster once you have enough equity in your home.
Want to pay off your mortgage early? If so here are 6 easy ways to pay off your mortgage faster. However, you'll want to ask yourself these 4 questions first. #mortgagepayoff #refinance
Deciding Whether You Should Pay Off Your Home Loan Early
To work out if you should pay off your mortgage early is right for your situation, here are a few questions to ask yourself:
How long do you intend to remain living in the home?
While plans can easily change due to unforeseen circumstances, like job loss, when a person purchases a property they typically know how long they plan on living in the home.
Some know it will be their forever home and have no intention of ever moving. While others know it will be a temporary place they'll be residing for the next 3-5 years.
If you expect to sell the house in a couple of years, refinancing or increasing the amount of money you pay back is less likely to be financially better. Now if you're paying extra towards principal every month you'll get that money back at closing. However, investing your money elsewhere would likely be more profitable.
Can you get a better interest rate on your mortgage?
Even though mortgage rates are currently fairly low, your financial situation might not allow you to refinance with an interest rate low enough to make it worthwhile. If your credit score isn't high enough, or your debt-to-income ratio doesn't meet lenders' requirements, you might not be able to qualify for lower interest rates.
How much money do you have to spare?
Do you have enough money left over after all the bills are paid to put towards reducing your mortgage faster? On top of this, can you also make other investments to meet your long-term financial plans? If you can do both and still leave room for some discretionary spending, paying down your mortgage is an easy decision.
Is it better to invest your money?
If you don't have enough cash to both invest and pay down your mortgage, you'll have to choose one of them. Owning stocks might give you a bigger return on paper, but the market doesn't always go your way. Saving for your retirement by investing in an IRA could work out better in the long run.
Careful consideration and consultation with a personal finance professional is advisable to help you make the right choices in your situation.
Should You Refinance?
If you can get a lower interest rate, it may be better to refinance instead of increasing your payments on the mortgage. If on the other hand, you are happy with the interest rate you have and the mortgage terms, it will probably be better to avoid the closing fees when you refinance.
If you have a competitive interest rate already, it might be a good option to pay more toward the home loan. But you should also consider if investing the money would earn more, which could then be used to pay off your mortgage faster.
So, Should You Pay Off Your Mortgage Early?
As you can see, there are many ways you can pay off your mortgage faster, but should you? While you might think the answer to this is obvious, and reduced interest payments will save you a lot, it might not be the right option in your case.
Reducing your monthly bills by cutting your interest payments is a good idea, but could you do more with your money, like investing in securities, for example? Careful consideration needs to be given so that you make the best use of your money to meet your long-term goals.
Please consider spreading the word and sharing; 6 Easy Ways to Pay Off Your Mortgage Faster
Want to pay off your mortgage early? If so here are 6 easy ways to pay off your mortgage faster. However, you'll want to ask yourself these 4 questions first. #mortgagepayoff #refinance
About the Author
Top Wellington Realtor, Michelle Gibson, wrote: "6 Easy Ways to Pay Off Your Mortgage Faster"
Michelle has been specializing in residential real estate since 2001 throughout Wellington Florida and the surrounding area. Whether you're looking to buy, sell, or rent she will guide you through the entire real estate transaction. If you're ready to put Michelle's knowledge and expertise to work for you call or e-mail her today.
Areas of service include Wellington, Lake Worth, Royal Palm Beach, Boynton Beach, West Palm Beach, Loxahatchee, Greenacres, and more.
6 Easy Ways to Pay Off Your Mortgage Faster