Helpful Home Tour Checklist | Top 15 Things to Investigate
Committing to buying a home is a serious decision, and you'll want to make sure you aren't making a mistake. The home tour allows you to check if buying the property is the right choice for you. But how do you get the most out of a home tour?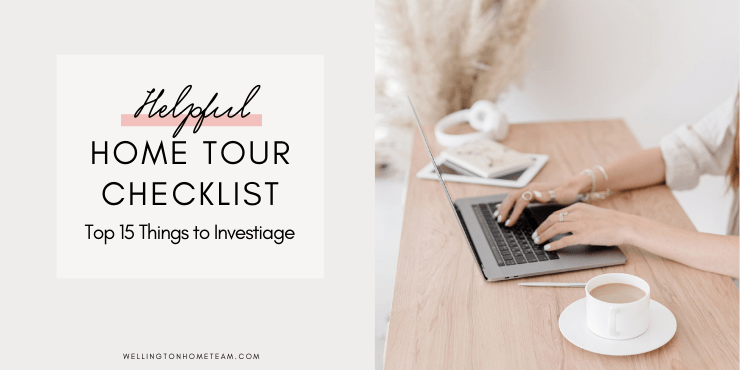 Helpful Home Tour Checklist
Here's a helpful home tour checklist of things you should be looking at when viewing homes for sale.
Make Notes
When you are viewing multiple homes on the same day, it is very easy to confuse features between them. Write down notes and take photos and video if allowed, so that you don't mistake something you like with the wrong home.
Make comments on things you both like and dislike, using images to help your recollection. You can also use this information to help your agent narrow down their understanding of what you are looking for.
When you tour a home, consider making notes and taking pictures of the following 15 things:
The number and size of bedrooms and bathrooms
Storage space
General layout and number of floors
Damage to walls and floors
The age and condition of appliances
Type and condition of heating and cooling systems
The age of the electrical box
Exterior features and architectural style
Garage and parking spaces
Damage to foundations and pathways
Distance to neighboring homes
Decking and porches
Roof and gutters
Overgrowing trees
Any other potential problems you find
When you go over your notes and images later, you might find you're better able to judge the home. When touring multiple homes, your notes and photos could be invaluable in helping you compare properties. Reviewing a home a few days later with fresh eyes could provide a new perspective to help you find the right home for you.
Visual Checks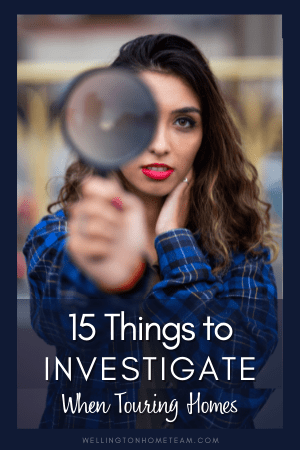 Many things could be wrong with the home that you'll be able to see. While you will want to avoid being rude to the seller by prying too much, you shouldn't avoid checking inside closets. Also, keep your eyes open for things like mold. Now, you don't want to start flushing toilets and looking under sinks for leaks, leave that to the home inspector. However, there are many things, like mold you'll visually be able to see, which could rule the home out for you.
Look for any signs that indicate water leaks. If there is a stain on the ceiling due to water, the repair could be costly. If you find problems, you can draw the inspector's attention to them so they can be checked during the home inspection.
Sounds
Noise can make living in your home very unpleasant. Listen to the noise level coming from surrounding homes. Is there a busy road nearby or railway that you can hear?
There could be sounds within the home, like a loud HVAC system that could mean repairs are needed. But even if that system is working efficiently, you won't want the unnecessary noise disturbing you. Squeaks from the floor when you walk around could become annoying, so don't ignore them if you hear them.
Smells
Any smells in the home could be revealing. If there are strong fragrances throughout the home or in individual rooms, is it being used to hide an odor? Perhaps there is mildew, or are they hiding pet odors?
The smell of paint might not be a problem, being the result of the seller preparing their property. Though, if they have only repainted one wall, they could be hiding a problem like water damage or something else. If something smells wrong, don't ignore it, try to find the reason.
Windows
If neighboring homes are very close, can you see into other people's rooms? Do neighbors overlook your home, allowing them to see inside?
Are the rooms too dark, without enough natural light? Check behind window dressings to make sure they aren't there to hide problems.
As a homebuyer there are several things you should pay attention to when touring homes for sale and here's a helpful home tour checklist to follow. #realestate #hometourchecklist
Helpful Home Tour Checklist Continued
Take the Stairs
If the home has stairways, there are some things to pay particular attention to. Do you find it difficult to walk up and down them? Is there a handrail to make getting upstairs more comfortable? While you might not have any difficulty with stairs right now, it might not always be the case, and you could have house guests that don't find stairs easy.
Does the stairway seem solid, or do they move more than they should? Perhaps they squeak and creak when you walk up them, a possible sign of problems.
Are the stairs too narrow? If they are not wide enough, it will be difficult to move furniture into the home. Any turns in the staircase could add to the problems of moving larger pieces of furniture upstairs.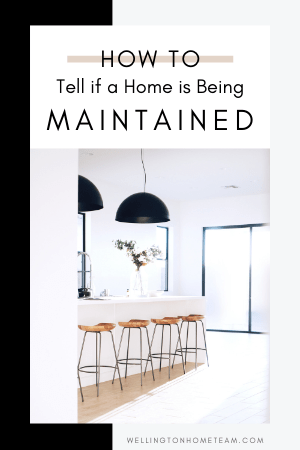 Maintenance
During your home tour, you should be looking for things that suggest the home hasn't been well maintained. If the seller hasn't kept up with home maintenance requirements, when you buy the home these costs will be passed on to you.
Look for dripping faucets, and burnt-out light bulbs, and exterior wood rot as an indication that the seller hasn't been maintaining the home as they should. If the seller hasn't fixed a simple faucet leak, what larger issues have they avoided repairing?
Look for Foundation Problems
If there are problems with the foundations of the home, it will be costly to fix. Look for cracks around doors or windows or any signs that something like this has been covered up.
Do the doors and windows open and close without problems? If they don't, it could be a sign of foundation problems. Is the ceiling sagging? If it is, there could be significant structural issues with the property that you will want to avoid dealing with.
Are the floors level? While it might not be immediately obvious if the floors aren't level, this kind of issue could mean serious structural problems with the home.
Exterior
Be sure to walk all the way around the home, so that you can see any issues with the exterior. Does the roof look like it's near the end of its lifespan? What is the condition of the siding? While a home inspector will be able to give you a better idea of the life expectancy of these items somethings you'll be able to tell if they're at the end of their life.
Does the yard fit with your lifestyle? If there is landscaping that will need a lot of upkeep, will you be hiring a gardener, or are you happy to do the work?
The home tour allows you to check the home is what you are looking for, and that there aren't any problems. Having a checklist of things to look at will make sure you don't miss the chance to spot something that could be important to your decision.
Final Thoughts
While touring multiple homes can be overwhelming if you have a home tour checklist it'll make things a lot easier. You'll be able to keep track of the pros and cons of each home you view, which should make the decision on whether or not submitting an offer on a particular home is right for you.
If you're not quite ready to buy a home yet this home tour checklist can be used for renting too! While you as a tenant won't have to work about replacing an appliance, it can be one of the many questions to ask when touring a house to rent. Knowing whether or not a landlor is going to take care of minor or major issues will help make a decision. So this checklist will help you know what to look for when touring a rental house.
Please consider spreading the word and sharing; Helpful Home Tour Checklist | Top 15 Things to Investigate
As a homebuyer there are several things you should pay attention to when touring homes for sale and here's a helpful home tour checklist to follow. #realestate #hometourchecklist
Top Wellington Realtor, Michelle Gibson, wrote: "Helpful Home Tour Checklist | Top 15 Things to Investigate"
Michelle has been specializing in residential real estate since 2001 throughout Wellington Florida and the surrounding area. Whether you're looking to buy, sell or rent she will guide you through the entire real estate transaction. If you're ready to put Michelle's knowledge and expertise to work for you call or e-mail her today.
Areas of service include Wellington, Lake Worth, Royal Palm Beach, Boynton Beach, West Palm Beach, Loxahatchee, Greenacres, and more.
Helpful Home Tour Checklist | Top 15 Things to Investigate