4 DIY Home Repairs Everyone Should Know How To Do
While there are certainly more complex home repair tasks that don't fall under the DIY category, you'd be surprised to learn how many of these tasks you keep delaying are, in fact, quite easy to take care of.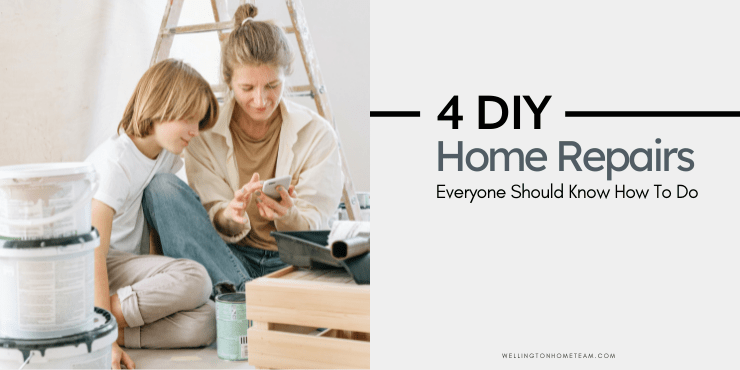 In case the satisfaction of solving a problem in your household isn't motivating enough, you may want to grab a calculator and see just how much money you could save annually by mastering at least 4 DIY home repairs and not hiring a handyman.
Here are the 4 DIY home repairs everyone should know how to do, and everyone will be able to master!
Top 4 DIY Home Repairs
Painting
If you're already used to painting your own home, you may feel like this information is quite redundant. However, we advise you to stick with us as there are a few tips and tricks that you may not know even after years of painting.
One of the most important aspects of a perfect paint job is the prep – which is something many people tend to skip or forget, when it is, in fact, game-changing.
The first step would be to remove any objects that may be in the way, including furniture and hardware. You want to make sure you have easy access to the walls, and you certainly don't want to deal with removing paint splatter after you are done.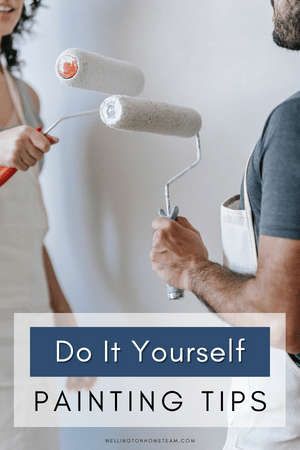 Anything that can't be removed shouldn't be left uncovered. If you don't have plastic wrap to cover your furniture and any other objects, old blankets, sheets, and curtains you don't care about will do the trick.
Once you've cleared the path and you have a clean surface to work with, go ahead and prep the walls by cleaning them thoroughly with a damp sponge. This method will remove any accumulated dirt and grim that has built up over the months (or years) that you haven't painted the room.
Another important factor when it comes to a perfectly painted wall is filling any cracks, gaps, and nail holes with spackle. It is also recommended to sand any rough and uneven areas for a flawless finished look.
Another game-changer that many people don't include in their painting routine is the primer. However, if the paint you select already includes primer in the formula, there's no need to prime with a product beforehand.
Use the painter's tape to protect any baseboards and similar areas so you don't have to worry about scrubbing the paint later. Also, lay drop cloths all over the floor surface to avoid a mess.
The preparation phase may seem like a huge hassle, but it will save you a lot of time and effort.
While there are complex home repairs that should be left to the professionals there are a few DIY home repairs homeowners can tackle, here are 4 possible DIY repairs. #homerepair #realestate
Fix a Clogged Toilet
This is a DIY home repair everyone should know how to do. While this may seem like one of those problems that will have you dialing an expert in no time, you may be underestimating yourself. This isn't always as complex of an issue as your local plumber would like you to think, and you may be able to solve it all on your own.
Yes, it can get quite messy, but it doesn't mean that it can't be categorized as a DIY task, as long as you follow all the necessary steps.
The initial step would be to inspect the toilet and look for any signs of physical blockage. Perhaps you've dropped an object that is blocking the toilet bowl, which can easily be solved by removing the object manually.
If there is no visible physical blockage that you could remove manually, you could try flushing it out. Once the water in the bowl is at a normal level, pour a bucket of water into the bowl, which should help the blockage dissolve and/or move into the discharge siphon.
If this trick doesn't work, the next step would be to grab a flanged plunger, which will create just enough pressure to send the blockage into the siphon. Make sure that the suction cup is submerged in water, and if there isn't enough, just add a bucket of water over it.
You may also use a plumbing snake, which is extremely effective in pushing the blockage through the siphon and also helping it dissolve. This is a rather inexpensive, yet reliable method of dealing with a clogged toilet.
Finally, if none of the above-mentioned methods seem to work, you may be dealing with a bigger clog that may require uninstalling the toilet, which is something we wouldn't recommend for your first DIY unclogging attempt.
Repair Your Air Conditioner
Why wait for a professional to solve a minor issue with your air conditioner if you can do it by yourself in a few simple steps (and save some cash)?
If the thermostat clicks but nothing happens, you may want to check the batteries of the thermostat if it is battery-operated. Oftentimes, all you need is a set of fresh batteries, and the AC issue will be solved in a matter of seconds.
Speaking of the thermostat, ensure that the temperature is set below room temperature, otherwise, the AC won't be able to start.
You also want to check the breaker, especially if several appliances in your household are on the same one. In case it is overworked, you just need to remove the unnecessary appliances.
In case the AC filter is clogged with accumulated dirt and gunk, this may be the reason the unit isn't working properly. Make sure to wash and change the air filters regularly. If not the drain line can back up, which draining the line is something most homeowners are capable of.
Fix a Dripping Faucet
The last DIY home repair is a basic home maintenance skill everyone should know is how to fix a leaky faucet. Shut off the water supply to the sink, then block the drain using a rag so that no essential elements are lost in the process.
Remove the decorative cap and the handle off the washerless faucet, then pull out the cartridge, as well as the old O-rings, and replace them with new ones.
A compression faucet, on the other hand, will need a replacement rubber washer which will seal the valve in place.
Final Thoughts
While there are a lot of home improvement projects or repairs that should be left to the professionals there are quite a few DIY home repairs homeowners can tackle themselves. Not only will the issue be fixed faster it will ultimately save money in the long run. Oftentimes labor costs more than the cost of materials to repair the issue. So the next time a repair pops up in your home consider fixing it yourself, but only if you're confident you can do so and don't run the risk of creating a bigger issue. There are plenty of DIY home repair hacks online that are sure to help with any repair.
Please consider spreading the word and sharing; 4 DIY Home Repairs Everyone Should Know How To Do
While there are complex home repairs that should be left to the professionals there are a few DIY home repairs homeowners can tackle, here are 4 possible DIY home repairs. #homerepair #realestate
About the Author
Top Wellington Realtor, Michelle Gibson, wrote: "4 DIY Home Repairs Everyone Should Know How To Do"
Michelle has been specializing in residential real estate since 2001 throughout Wellington Florida and the surrounding area. Whether you're looking to buy, sell or rent she will guide you through the entire real estate transaction. If you're ready to put Michelle's knowledge and expertise to work for you call or e-mail her today.
Areas of service include Wellington, Lake Worth, Royal Palm Beach, Boynton Beach, West Palm Beach, Loxahatchee, Greenacres, and more.
4 DIY Home Repairs Everyone Should Know How To Do