Pros & Cons | Renovating Vs Buying a New Home
Homeowners typically have three options when it comes to changing their residences. They can either build, buy a new house or renovate their current space. Choosing between these alternatives can prove challenging, especially as it depends on the project deadlines, schedule, and budget. If you are wondering is it cheaper to buy a new house or remodel an old one, this article highlights the pros and cons of both options. Read through to make an informed decision.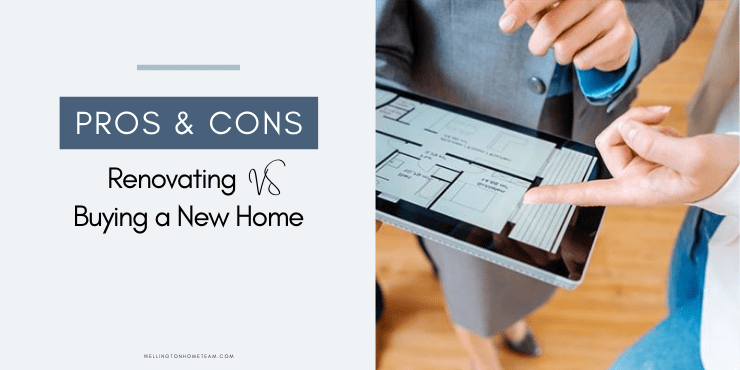 Renovating Vs Buying a New Home: Which is the Most Cost Effective?
Renovating vs buying a new home | Cost is undoubtedly the most important factor that affects both renovation and relocation. Like most homeowners, you definitely want to get the most value from what you spend. However, when choosing between renovating and relocation, you should choose an option that makes financial sense.

The Cost of Buying a Home
Buying a new home isn't a simple process. There are other costs involved beyond the most feared mortgage costs. For starters, you should sell your home before buying a new house. Unfortunately, selling your old home costs approximately 15% of its value. Selling costs include major and minor repairs involved in home staging, title insurance, agent commissions, and capital gains tax (if your home appreciated).
On the other hand, the costs of buying include remodeling and buying new household appliances, home appraisals, and closing costs (3 to 6% of the mortgage). You should also consider the costs of hiring a moving company, depending on whether you are moving locally or across the state.
Remember that you'll most likely spend more if you are upsizing or moving to a more valuable home. New expenses include high property taxes, high utility usage, and high costs associated with living in an expensive neighborhood. Moving to an expensive property also comes with increased mortgage values. You will have to place a bigger down payment and high-interest rates.
The Costs of Remodeling

According to Home Advisor statistics, renovation projects cost between $18,372 and $77,016. However, you can reduce the total costs by inviting multiple bids and quotes and researching carefully. Important remodeling costs include:
Permits – most renovation projects' permit costs range from $50 to $500. 

Architectural planning – between $2000 and $8,500.

Labor – if you aren't a DIY enthusiast or don't have time, you can spend $20 to $150 hourly hiring a contractor.

Materials – the costs vary depending on the renovation projects.
Generally, bathroom and kitchen renovations cost between $4,000 and $60,000. Expect to spend more than $30,000 on extensive projects, such as basement remodeling and home addition.
Verdict: Renovation costs are generally less expensive than buying a new home. However, buying a new home is prudent if your current house is very old.
Renovating vs buying a new home, wondering what's best for you? If so here are 11 pros and cons to consider, which will help you make a decision. #realestate #renovating #homebuying
Pros of Relocating
You should consider buying a new home for the following reasons:
Easy financing options – the paperwork involved in a new property purchase is easier. Your real estate agent handles all the important documentation, such as property insurance, taxes, looking for a lender, and property title.

A new beginning – changing your environment allows you to enjoy a new neighborhood, street, and city. You make new friends, enjoy a different home design, and have a fresh start.

An opportunity to modernize – relocating to a new home presents endless opportunities for modernizing your home. Apart from new household appliances, you can create an energy-efficient home that meets modern expectations.
Cons of Relocating
Interim budget – you should have an interim budget for relocation. You can't rely on proceeds from your old house to purchase the new house. These are additional costs that most homeowners can't afford.

Hectic process – moving to a new place is not exciting. Packing, decluttering, moving with fragile goods, unpacking, and rearranging your new home can increase stress levels. 
Pros of Renovation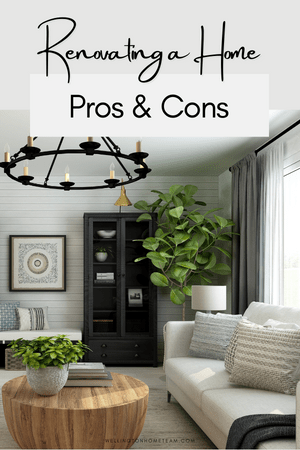 Choosing to renovate has the following benefits:
Saves on costs – renovating is cheaper than buying and moving to a new home. You can also reduce renovation costs in many ways.

Personalized home – renovation allows homeowners to make changes that suit their family demands and lifestyle. Hiring professional remodeling companies allows you to add a personalized touch and create a comfortable space where you can live for years.

Improves property value – renovating your home significantly increases its market value. Installing energy-efficient appliances, bathroom and kitchen upgrades, landscaping, and garage conversions are a few renovation projects that increase property value.
Cons of Renovation
Not good for major projects – you should renovate with limits. Remodeling isn't a prudent idea if the whole house has defects.

Difficult to renovate while living in the house – renovations create a mess for days, weeks, or months. As such, you might incur the costs of renting a hotel.

Financing problems – unlike buying a home, there are a lot of challenges in sourcing financing for renovation projects unless you are paying for it from your savings.
The Bottom Line
Deciding whether renovating vs buying a new home is right for you? It isn't always easy to decide. You should start considering renovating or relocating if you have growing families, new work models requiring home offices, aging parents have moved in, or are bored with the current neighborhood. Hopefully, this guide to renovating vs buying a new home will help make your decision a little easier. However, if you need additional resources there are several helpful move or remodel quizzes along with move or stay calculators and remodel vs. move calculators.
Please consider spreading the word and sharing; Pros & Cons | Renovating Vs Buying a New Home
Renovating vs buying a new home, wondering what's best for you? If so here are 11 pros and cons to consider, which will help you make a decision. #realestate #renovating #homebuying
About the Author
Top Wellington Realtor, Michelle Gibson, wrote: "Pros & Cons | Renovating Vs Buying a New Home"
Michelle has been specializing in residential real estate since 2001 throughout Wellington Florida and the surrounding area. Whether you're looking to buy, sell or rent she will guide you through the entire real estate transaction. If you're ready to put Michelle's knowledge and expertise to work for you call or e-mail her today.
Areas of service include Wellington, Lake Worth, Royal Palm Beach, Boynton Beach, West Palm Beach, Loxahatchee, Greenacres, and more.
Pros & Cons | Renovating Vs Buying a New Home