How to Create the Perfect Home Office
Working from home offers many advantages, but it can also present more challenges than you might expect. Whether you have a dedicated office, or you are using a corner of your living room, your office at home needs to be a place where you can be productive. There are many things you need to think about to create the perfect working environment in your home, let's take a look at how to set up a home office.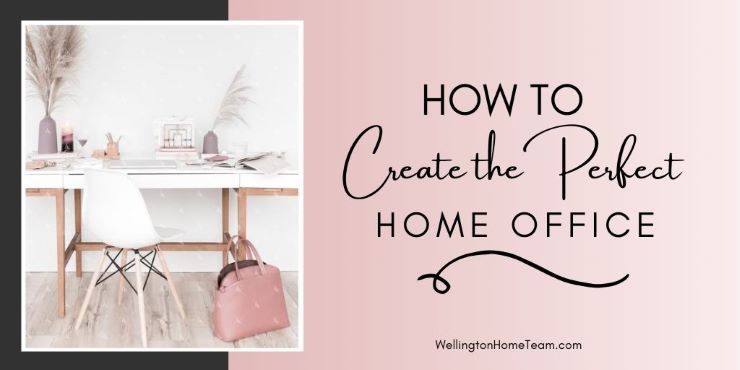 Creating a Space
You need to set aside a part of your home for your office space if you don't already have somewhere. A dedicated area that is only used for your office will make sure you can divide your home and work-life. When you enter this room or area, it acts as if you've arrived at your job and will make it easier to get work done. So keep this in mind when setting up a home office.
Choosing a Desk
When you are looking to buy a desk, consider how you are going to be using it. What items will need room on the desk, and where is it going to fit in your room? You need sufficient space on the desk so that everything you need fits comfortably without feeling crammed in, but it shouldn't be too large for the room either.
Choose a desk that has drawers or a storage cabinet attached, if you have a lot of things you need during your workday. If you have the budget, you could consider a desk that adjusts in height, allowing you to stand up when you work. This is better for you than being seated the whole day.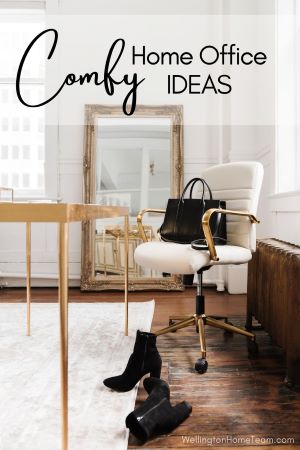 A Comfortable Chair
You are going to be spending hours sitting at your office desk, so a good home-office chair is essential. It should support your back and be comfy at the same time.
The chair should be ergonomic so that you have the ideal posture when sitting at your desk. There should be lumber support to prevent you from slouching, and straining your back.
The height of the seat should be adjustable so that your feet will be flat on the floor. All this should help you to avoid doing damage to your spine during your time in your home office.

Remove the Clutter
You want to be productive during your workday, and clutter doesn't help this. It will get in your way, and leave you searching for that piece of paper you know you just put down somewhere. Declutter your workspace to be more efficient.
Having a clean working area should promote clear thinking and concentration. It will reduce the chances of you being distracted when you are trying to concentrate on your work.

Additional Home Office Designs and Tips
Hide Cables
Along with clutter making your home workspace look chaotic, untidy cables add to the disorganized appearance of the room. Hiding the cords and using cable management products, will make the area look a lot clearer, adding to your ability to concentrate.
Products are available that blend cable tunnels into the top of the baseboard, or hide multi-outlet extension cords. Your desk may provide cable management to help the situation as well.

File it Away
If you deal with a lot of paperwork, you need to have some efficient way to deal with the paper. This could just mean a desk organizer or a simple filing box. If you have more documents to deal with, it might be better to invest in a file cabinet.
Whatever option you go for, you need a system to stay organized. This will reduce your stress and increase your productivity, removing the chances of losing important paperwork.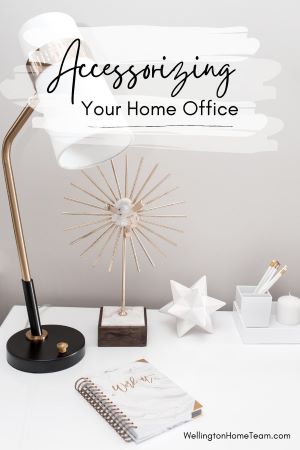 Create a Calming Place
Work can be stressful, so your office at home should be painted in calming colors. Avoid strong colors and, instead, opt for light colors more likely to reduce anxiety. Sky blue tends to have a more soothing effect over other shades, but colors like pink, violet, and green can also work well. You should stick to soft neutral tones, avoiding anything that could stimulate the mind.
Adding a plant can be relaxing and promote happiness, providing a link to nature that you could otherwise be missing at your desk. An aquarium with a few fish swimming around can also calm you down during a stressful day at work. It really doesn't matter if the space is big or small, there are plenty of small home office ideas just make sure to keep the space calming.

Lighting
If you are able to situate your desk near a window, it should make you more productive and alert. Natural light is great if it is available in the room you selected for your office, but if not, you should get a lamp that offers brightness adjustment. A light therapy lamp can also offer a similar effect if you want to simulate natural light.
Whatever your office at home ends up looking like, it should suit your needs and be a comfortable place where you can focus all your attention on your work without distractions.
Final Thoughts
Creating the perfect home office doesn't have to be difficult or costly. In fact, it will be simple if you follow this step-by-step guide. Shopping online and at second-hand stores is a great way to find everything you need at a fraction of the cost for your home office decorating needs. Just remember to keep it simple and clean, so you can stay productive.
Please consider spreading the word and sharing; How to Create the Perfect Home Office | A Step by Step Guide
Working from home offers many advantages, but it can present some challenges too. Here's a how-to guide on creating the perfect office at home. #homeoffice #howto #diy
Popular Home Office Questions
How do you make a home office? A home office doesn't have to be isolated to a single room. It can be part of your living room, den, or even your garage.
What goes in a home office? At minimum a workstation such as a desk along with a chair. If there is space adding storage is highly recommended, such as shelving units and/or filing cabinets.
About the Author
Top Wellington Realtor, Michelle Gibson, wrote: "How to Create the Perfect Office at Home | A Step by Step Guide"
Michelle has been specializing in residential real estate since 2001 throughout Wellington Florida and the surrounding area. Whether you're looking to buy, sell, or rent she will guide you through the entire real estate transaction. If you're ready to put Michelle's knowledge and expertise to work for you call or e-mail her today.
Areas of service include Wellington, Lake Worth, Royal Palm Beach, Boynton Beach, West Palm Beach, Loxahatchee, Greenacres, and more.
How to Create the Perfect Home Office | A Step-by-Step Guide