How To Buy A House In Florida | A Helpful Guide for Homebuyers
If you've decided that purchasing a house in Florida is the right decision for you and your family, then finding a buyer can be a bit of a challenge. In the state of Florida, you'll find a great variety of real estate agents who offer their services to buyers looking to purchase a home. However, you'll need to do your homework before choosing your agent so that you know which one will best suit your needs. Moreover, keep in mind that closing costs in Florida will vary greatly on the location of the home, and who's working with you during the process.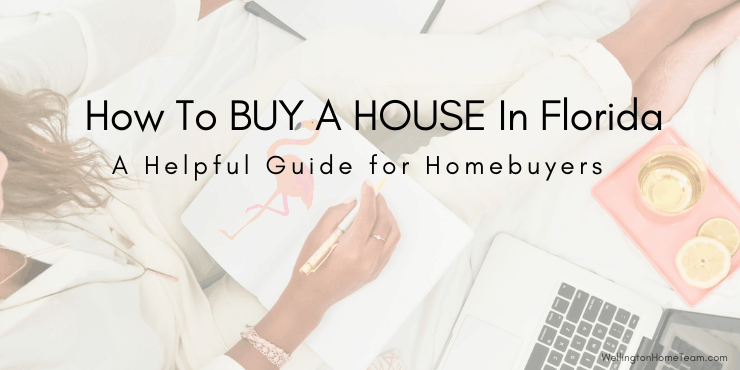 Here are some essential steps to keep in mind when you're buying a home in Florida:
Find A Real Estate Agent
One of the best ways to buy a house in Florida is by doing a search online as this can give you some great information that you can use. Just remember to be careful when doing this, as you'll also get a lot of unreliable and false information. If you don't have the time to filter through what's wrong and what right, find a real estate agent who knows what they're doing.  However, it's still a good idea to do your own research about the agent's credentials and experience before you make your decision.
How To Buy A House In Florida | A Helpful Guide for Homebuyers #homebuying #realestate
The first step when it comes to finding a real estate agent in Florida is to contact a few different establishments. You'll want to contact as many real estate companies and agents in the state as possible to see who's the right match for you. This will also allow you to compare all of their offerings and pick out one agent that can best address your needs. Make sure that they're someone you're comfortable with. You don't want to end up wasting time with an agent that you don't like or that doesn't understand your situation. 
Consider Your Budget
You'll also want to consider how much money you want to spend on a house in Florida, this should be included in your home-buying checklist. Some people might want to spend a lot on a home in Florida, while others might be able to afford something smaller. Have a definite idea about how much money you can afford to spend and make sure that you know what you're getting yourself into. It is also important to know the current prices of homes in your area so that you can buy a house in Florida at a cheaper price. 
There are many different areas in Florida that you can get houses in, and that is why you will have a lot of options when you decide to go out and start looking. Some of the top locations are the Keys, Miami Beach, and Fort Lauderdale. These are some of the most popular areas for houses in Florida. All of these areas are worth looking at, and prices will vary depending on which area you eventually decide on.
Once you've found a few houses in Florida that are within your price range, you'll need the help of the agent in order to make an informed decision. They help ensure that you're making the best possible decision by letting you know about the pros and cons of each home. They'll also help you understand if each option is worth the price or if the cost is over-inflated.
Check The Market Trends
Buying a house in Florida is not an easy task. In fact, it may be even more challenging than you think. It's no secret that Florida is considered the biggest real estate market in America today. And with all of the different housing markets in the country today, it's no wonder that the homes in Florida have gradually seen rising prices over the years.
It's easy to understand why real estate buyers are more than willing to pay a premium price for any property in this state. But if you're looking to buy a home in Florida, there are some things that you should keep in mind before you sign a contract and make that commitment that can significantly impact your financial future.
When buying a house in Florida, it's crucial to know about the market trends.  Some people think that buying a house in Florida is easy but this is not the case. There are many factors that one has to consider before a sale can be completed. You need to know what kind of property works best for you. It may be a traditional home or a condominium unit that can be converted into a home. The most important thing to consider is to consider the cost and the location of the property. Also, before you finalize the deal, ensure that the terms and conditions of the deal are acceptable to you.
Choose Between Bank and Private Seller Financing
One thing you need to understand before you sign anything for a home in Florida is the difference between purchasing a home from a bank versus buying a home from a private seller. Banks are not going to give you a loan for a house that's going to be sold in public auction. So if you're looking to buy a home, you're going to want to make sure that you're purchasing a property that's going to be in private ownership and not one that is going to go through an auction.
If you're planning to buy a home from a private seller, you also have the option of working out a seller-financed real estate transaction. This means that the seller will finance your purchase of their home, instead of going through a bank, and applying for a mortgage. They'll negotiate the terms with you, and you'll have to sign a promissory note.
Conclusion
When looking to purchase a home in Florida there are no doubt a number of different aspects to consider that can affect your overall decision on a property or a specific agent you want to work with. With extensive research, you'll find what works best for you and make sure that your choosing a home that is perfect for you and your family.

Looking to buy a house in Florida? If so here is an excellent step-by-step guide for homebuyers and what to expect when buying a Florida home. #realestate #floridaliving
About the Author

Lakisha Nelson has been blogging since she was twenty years old. Now at twenty-six, Lakisha has successfully gained the loyalty of thousands of readers across the globe because of her ability to write witty and informative pieces on real estate. Lakisha aims to help her readers understand the real estate industry, and how beneficial it is for her readers to invest in this endeavor.