The Ultimate Home Buying Checklist | A Step by Step Guide for Buyers
Buying a home is an important stage in most people's lives. It allows you to put down roots and create stability for you and your family. It also means you are putting your money into a home that should be increasing in value, instead of it going to a landlord.
If you are on your way to becoming a homeowner, there is a lot to learn and deal with when buying your first home. We have compiled a checklist covering the most important things you need to know about when heading into this exciting time.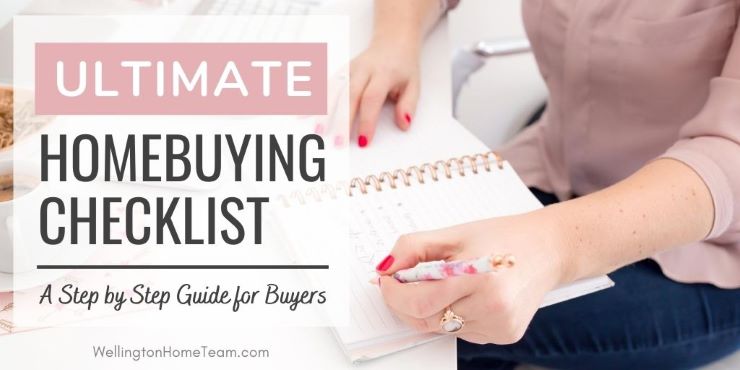 What is Your Home Buying Budget?
The first important step in our checklist is easy to overlook in the excitement of looking for a new home. But if you ignore how much you can afford to spend, you are setting yourself up for problems in the future.
You need to understand the size of the mortgage you can afford before you begin your search. Otherwise, you will end up looking at homes that are over your budget, wasting your time, and being disappointed.
To find out how much you can afford, you need to work out your expenses and income. You should try to make sure that the monthly mortgage payments don't exceed 28% of your earnings before deductions. This is the figure that lenders typically use to assess the amount they can loan to you. When you calculate this, you need to remember it isn't just the mortgage payments you need to consider, property taxes, private mortgage insurance, and homeowners insurance need to be factored in as well.
Saving for Your Down Payment
Lenders are normally looking for borrowers to have a down payment of 20%. If you do have this amount saved, you are likely to get a better interest rate and have fewer fees to pay. If you can't put down 20%, there will be private mortgage insurance to pay. This protects the lender should you fail to keep up your loan payments, and it is an extra expense you should try to avoid.
There are mortgages available that allow borrowers to only have down payments of 3.5%, or nothing at all if you qualify for a VA loan. Though, whatever your situation, it is better to start saving each month for a down payment to reduce the costs of buying your home.
Is Your Credit Score Good Enough?
Do you know what your credit score is? If you don't, it is a good idea to check and do things to improve your credit before you apply for a mortgage. If you have a better FICO score, lenders will offer you lower interest rates. This will reduce the cost of the loan, potentially by many thousands of dollars over the mortgage term.
If your credit score is below 680, you could have some problems getting your mortgage approved. Loan programs from the VA and the FHA do allow lower scores. Though if you can improve your score, it will give you more options and less to pay.
If you get a copy of your credit report, you should be able to see how you can improve your score. There could be an error in your report, and correcting the mistake might make all the difference. Your lender may be able to offer you some advice about your debts, and which you should try to settle first to help your score.
The Ultimate Home Buying Checklist | A Step by Step Guide for Buyers
Mortgage Pre-Approval
It is better to check what is available from a couple of different lenders, so you can compare which is best. Banks, mortgage companies, and credit unions could offer different terms for your loan, and doing more research will help you get a better deal.
When you have found a lender that offers the best loan terms, you will need to get pre-approved. A mortgage pre-approval is necessary for real estate agents to take you seriously as a purchaser, and show you homes. Your agent can then negotiate on your behalf, with the knowledge that you should have the finance available to purchase up to a certain amount.
Choosing Your Real Estate Agent
To help in your search, you need a good real estate agent in your corner. They should be able to have a firm understanding of what you are looking for in a home.
You can ask people you know for recommendations, or check online reviews of agents in your area. When you do select someone you've heard good things about, you need to feel comfortable working with them through the buying process. So if things aren't perfect at your first meeting, it may be better to try someone else because you should never work with multiple agents.
Finding the Right Neighborhood
If you are moving to a new area you aren't familiar with, it is advisable to explore the neighborhood to see if it meets your needs. Are there homes of the type you are looking for? You may find areas you hadn't considered that offer more than you expect.
If you just look for the right house, you could end up in a neighborhood you don't like or that doesn't have the amenities you need. Check the area at different times of the week, and find out what it is like in the evening, to avoid nasty surprises. Your real estate agent will also help guide you through this process and help you pick the best neighborhood for you and your family.
Knowing What You Want
When you have decided on the area you would like to live in, you need to make a checklist of the features you want. How many bedrooms do you need, how much space do you want, and what features do you expect?
Your real estate agent will then be able to use your list to find homes that you might like. When you attend showings, you can look for potential problems and the condition of the property, as well as deciding if the home is what you're looking for.
Some problems will be fairly obvious to spot. Does the home look like it's in good condition? Do the walls need repainting, or the floor need replacing? Does the air conditioning or water heating units look fairly new? If they are old, they might need to be replaced soon.
However, you shouldn't expect everything to be perfect. If most of the features of the home are what you're looking for, you may have to compromise with some other things.
Making an Offer
When you have found a home you really love, in your ideal neighborhood, it's time to make an offer. An offer should be in writing, this is something your real estate agent will do. In addition to the amount you are willing to pay, it will also include the escrow amount, closing date and contingencies. Contingencies such as a home inspection, financing, appraisal, or the sale of your current home. If you need assistance paying for your closing costs you might ask for seller concessions.
However, before you decide on the terms you're willing to offer you need to know what you're up against. Is it a sellers market or buyers market? Are sellers receive multiple offers? What's the list to sales price ratio? Is the house overpriced or underpriced? When are the sellers looking to move? If it's a strong sellers market and this home has multiple offers you'll have to submit your highest and best offer to have a shot. Even then a full price offer could be rejected. So it's important to know the current market conditions to ensure you submit an offer that'll be considered by the seller.
Negotiations
The seller might agree to your offer and terms, or they might not. They could return with a counteroffer, perhaps increasing the price you offered or altering the terms. Your agent will negotiate on your behalf, suggesting how to respond to the seller so that you still get a good deal.
Your agent will send your response back to the seller, and when they agree to your offer, you've bought yourself a home. However, until it's signed by all parties anyone can change their mind and back out, verbal means nothing. So until everyone signs on the dotted line don't start celebrating.
Home Inspections
Even if you didn't see anything to concern you when you looked around the home, it is advisable to have a professional cast their expert eye over the property. Your home inspector will look for problems in the structure, roof, electrical, plumbing, and more. They are almost certain to find some issues even if the home is very new, but more minor issues are to be expected with any property.
However, don't just hire anyone! You should hire a licensed and insured home inspection. You should also prepare a list of questions to ask the home inspector before, during, and after the inspection. Not all home inspectors will inspect a pool, sprinkler system, or septic. So if the home you're purchasing has a pool you'll want to make sure the inspector you hire will inspect it. If they don't you'll want to find an inspector who does or hire a pool inspection company.
Home Appraisals
To get the home loan, your lender will need to make sure the property is worth the amount you have agreed to pay. An appraiser will evaluate the market value of the home for the lender. The value they put on the home should be close to the amount you've offered. If there is a large difference the loan could be denied.
Home appraisals and home inspections are not the same things, they are very different. A home appraisal is a process that assesses the fair market value of a home. While a home inspection will determine the condition of the property. If you're obtaining a mortgage your lender will hire the appraiser, you'll hire the home inspector, and you'll be paying for them both.
More Negotiations
If the inspector found significant issues with the home, you may be able to go back to the seller to renegotiate. It could mean a reduction in the purchase price, or an agreement for the seller to have the problems repaired. The deal could fall apart if they don't agree, or you could walk away if the problems with the home seem too serious. You should have contingencies to cover situations like this in your offer.
Closing
If things have gone to plan, you will have the mortgage available to purchase the home. You can now complete the home buying transaction, closing on the property.
Closing involves money changing hands and the property deeds transferring to you. This has to be officially recorded in the county courthouse, and a title company or attorney will complete the documentation to make sure everything is correct. When this has been completed you are the new owner.
The Ultimate Home Buying Checklist | A Step by Step Guide for Buyers
Final Thoughts
The home buying process can take longer than you expect, with things going wrong along the way. This is one of the many reasons you need to have a great team in place, a top Realtor, lender, and home inspector. All of these professionals will be able to guide you along the way and make it as smooth as possible for you.
Hopefully, this checklist will help you prepare for the home buying process. Let you know what is supposed to happen, and what to do if it does. Buying a home might seem confusing at first, but before you know it, you will be the proud owner of a new home.
Please consider spreading the word and sharing; The Ultimate Home Buying Checklist | A Step by Step Guide for Buyers
About the Author
Top Wellington Realtor, Michelle Gibson, wrote: "The Ultimate Home Buying Checklist | A Step by Step Guide for Buyers"
Michelle has been specializing in residential real estate since 2001 throughout Wellington Florida and the surrounding area. Whether you're looking to buy, sell or rent she will guide you through the entire real estate transaction. If you're ready to put Michelle's knowledge and expertise to work for you call or e-mail her today.
Areas of service include Wellington, Lake Worth, Royal Palm Beach, Boynton Beach, West Palm Beach, Loxahatchee, Greenacres and more.