Home buyers who submit a full price offer on a home may wonder why their offer was rejected. Some may even think the seller has to accept their offer because it was full price. First and foremost, a seller can reject any offer they want, even if it's full price. Second, there are other terms to an offer besides the price. Sometimes those other terms can be a deal-breaker for the seller. Below we discuss the 5 most common reasons a buyer's full price offer was rejected.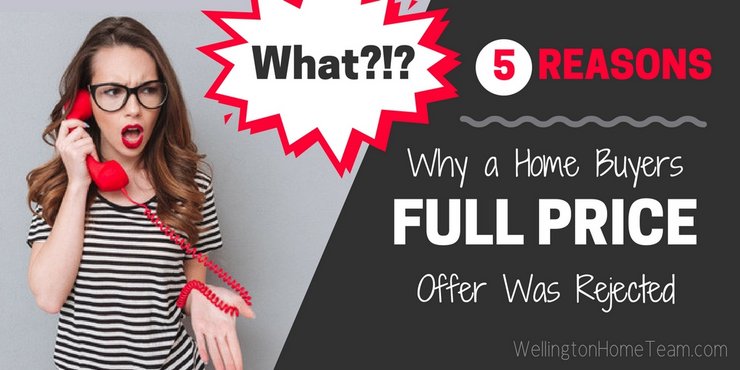 No Proof of Funds
Before starting their home search most buyers get pre-approved for a mortgage unless they're paying cash. However, a few buyers don't think it's necessary before they start looking. Although every seller wants to make sure the offer they accept is from a qualified buyer who's been pre-approved. So if a buyer submits an offer, but isn't pre-approved, the seller may reject it regardless of the price.
Contingencies
There are a lot of different contingencies a buyer may include in their offer. There are some pretty standard contingencies like a home inspection contingency or a finance contingency. However, there are also more significant contingencies that aren't common, like a home sale contingency. If a home buyer has one or more contingencies a seller may reject their full price offer.
Seller Concessions
Some buyers can't afford to pay their own closing costs or don't want to, so they ask the seller to pay for a portion or all of their closing fees. This is where a full price offer may technically not be a full price offer.
If a buyer offers list price but asks the seller to contribute $10,000 toward their closing fees the seller is netting $10,000 under list. Now, some buyers understand offering full price and asking for seller concession isn't really a full price offer. So they'll add the number of seller concessions they're requesting onto the top of the list price. However, even though a seller may still net their list price they may still reject the above full price offer.
Escrow
An escrow deposit, also known as an earnest money deposit, is the money a home buyer puts down as a sign of good faith when purchasing a home. Some buyers don't understand why they need to put money down up front. Some even feel it's unnecessary, so they offer $0 or an amount well below the customary. When a buyer puts little to no money in escrow a seller may reject their full price offer.
Closing Date
Not all home sellers have a flexible close date, some need a quick close while others may need an extended closing date. So if the buyer's desired closing date doesn't line up with the seller's desired closing date their full price offer may be rejected. Finding out when a seller wants to close or needs to close can usually be answered by making a phone call to the listing agent, so before a buyer submits a full price offer they should find out when the seller wants to move.
Final Thoughts
Be prepared! Never assume a full price offer will be accepted. Have a pre-approval letter or proof of funds in hand prior to looking at homes. Understand the market conditions and limit contingencies. Know what escrow amount is customary for the area and possibly offer more. Have money to pay for closing costs. Know when the seller wants to move.
If you think this article, 5 Reasons Why a Buyer's Full Price Offer was Rejected, was an interesting read please give it a share!
A majority of home buyers don't understand why a seller would reject their full price offer, but here are 5 reasons why their offer was rejected. #homebuying
Additional Real Estate Advice from Top Professionals
About the Author
The above real estate article "5 Reasons Why a Buyer's Full Price Offer was Rejected" was written by Michelle Gibson of Wellington Florida Real Estate. Specializing in residential real estate since 2001 in Wellington and the surrounding area. Not only does Michelle assist buyers and sellers, she assists landlords and tenants too. She would love to share her expertise and guide you through the entire real estate process.
We service the following areas; Wellington, Lake Worth, Royal Palm Beach, Boynton Beach, West Palm Beach, Loxahatchee, Greenacres, and more. If you are considering selling your home, we welcome the opportunity to work with you and list your home with a top Realtor in Wellington Florida