Contingencies are common in real estate transactions. In fact, it's unlikely a transaction won't have at least one contingency. If you are unfamiliar with the term "contingency," it simply means a sale will not occur unless certain conditions are met within the agreed-upon time period. If conditions are not met the buyer will be able to cancel the contract without penalty. Most people assume contingencies are only related to financing, but they're not. There are other types of contingencies and here are the most common types.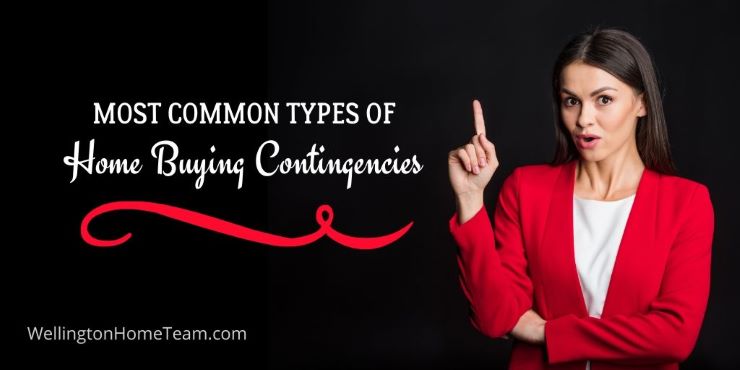 Most Common Types of Home Buying Contingencies
Home Inspection Contingency
The most common home buying contingency is the home inspection contingency. Whether a buyer is paying cash or obtaining financing odds are they'll want to have a home inspection. Within this period the buyer will need to complete all of their inspection. Sometimes multiple inspectors will need to be hired. It all depends on the type of property and the inspector's scope of work. Not many inspectors will inspect swimming pools. Therefore another inspector who specializes in swimming pools will need to be hired. The same holds true for termite, mold and septic tank inspections.
Now, unlike other contingencies, a buyer may not be able to cancel the contract within the inspection period, it all depends on the contract. Some buyers will be able to cancel the contract within the inspection period. While others cannot, but the seller may be required to make repairs.
Home inspection contingencies usually have the shortest contingency period. So it's imperative the buyer hires an inspector asap to ensure they have all of the reports back in a timely manner. This will also give them enough time to hire a specialist if an item needs a second opinion or further investigation.
Most Common Types of Home Buying Contingencies
Finance Contingency
Unless a buyer is paying cash for their new home they'll need to obtain a mortgage. No matter how confident a buyer is that they'll be approved for a mortgage most will still include a finance contingency in their offer. If they are unable to obtain a mortgage within the contingency period they can cancel the contract.
Strategically many buyers will structure their offer so the finance contingency ends the day of closing. This is certainly a smart move on their part. Even if a buyer is "approved" for a mortgage it doesn't mean it's a done deal. Anything can happen from the approval date to the closing date and their loan may suddenly be denied. A great example is the loss of employment, it may prompt an unforeseen mortgage denial.
Now, this isn't a strategy a seller should necessarily get on board with. If the buyer is denied for a mortgage on the day of closing they get to walk away. Not only do they get to cancel the contract they get their escrow deposit back too. Therefore the seller is left with an empty house and having to start the home sale process all over again. Every seller needs to pay attention to contingency time periods and the position they'll be put in if the buyer cancels the contract.
Appraisal Contingency
When a buyer adds an "appraisal contingency" to their offer the home must appraise for the contracted price. If the property doesn't appraise within the contingency period they can cancel the contract. Now, if the buyer has a finance contingency included in their offer they may not need to add an appraisal contingency. In many cases, if a home doesn't appraise the buyer will be denied financing. This will need to be discussed with the buyer's mortgage broker prior to submitting an offer.
Unlike a finance contingency, where the deal is dead if the buyer is denied for a mortgage, the same doesn't hold true for an appraisal contingency. If a home doesn't appraise for the contracted price there are four possible outcomes.
Asking the seller to reduce the contracted price to the appraised value is usually the first option a buyer will explore. If the seller won't budge another option is for the buyer to pay the shortfall. So if the home appraised for $10,000 under the contracted price the buyer can bring an additional $10,000 to closing. This is in addition to their down payment and closing costs. The third option is for both parties to meet somewhere in the middle. The last option is for the buyer to use their "appraisal contingency" and cancel the contract. However, this can only be done within the contingency period, which is why it's important for the mortgage broker to order the appraisal right away.
Sale of Existing Home Contingency
If a buyer needs to sell their home in order to purchase a new one they may add a "home sale contingency" to their offer. If they are unable to successfully close on their current home within the contingency period they can cancel the contract. Most buyers don't want to move multiple times, they want to move from their current home into their new one. This means they'll most likely try to coordinate a simultaneous closing, which means closing on both properties the same day. So if the buyer's home sale doesn't occur neither will their home purchase.
Where does this leave the seller? At square one. They will need to put their home back on the market and find a new buyer. Not only will they be out of time they may be out of money too. Now, if the seller is already moved out of the property and it's a buyer's market they may have nothing to lose accepting a home sale contingency offer. However, if it's a hot market they may not even have to contemplate whether or not they should accept an offer contingent on the sale of the buyer's home.
Most Common Types of Home Buying Contingencies
Clear Title Contingency
By default, a standard real estate contract will include a "clear title" contingency. The title is a legal document that shows the current and previous ownership of a property. It will also show any liens, disputes or other issues tied to the property. In order for a property to be transferred from one party to another, the title has to be clear; no liens, disputes or other issues. If the seller is unable to provide a clear title within the contingency period the buyer will be able to cancel the contract.
How Many Contingencies Do Most Buyers Have?
The number of contingencies will vary from buyer to buyer, but the average is three; a home inspection contingency, finance contingency and clear title contingency. If a buyer is paying cash there still might only be three contingencies; a home inspection, appraisal and clear title. However, some cash buyers don't feel an appraisal contingency is necessary especially if their agent prepared a CMA for them. So a lot of cash home buyers will only have two contingencies included in their offer.
Final Thoughts
When buying a home it's important to include certain conditions in an offer. However, it's also important for buyers to limit the number of contingencies and time periods to make their offer appealing to a seller. If a buyer only needs 7 days to inspect a home they shouldn't put 15 days in their offer. Now, they might be able to draw out contingency periods in a buyer's market, but in a hot seller's market they need to be shortened and in some cases removed. This is where a top Realtor comes into play. They know the market conditions and will be able to recommend the best terms.
Please consider spreading the word and sharing; Most Common Types of Home Buying Contingencies
When buying or selling a home you'll most likely encounter contingencies in an offer. Here are the 5 most common types of buying contingencies. #homebuying #realestate
Additional Real Estate Resources
Can I buy a home that's contingent? In a hot real estate market where properties are flying off the market this is a popular question. The answer is it depends. It depends on a lot of factors, mainly if the current buyer is qualified and is going to move forward with the purchase.
If a home seller receives multiple offers they may request your "highest and best" offer. When this happens you'll want to make sure you keep contingencies to a minimum and short.
About the Author
Top Wellington Realtor, Michelle Gibson, wrote: "Most Common Types of Home Buying Contingencies"
Michelle has been specializing in residential real estate since 2001 throughout Wellington Florida and the surrounding area. Whether you're looking to buy, sell or rent she will guide you through the entire real estate transaction. If you're ready to put Michelle's knowledge and expertise to work for you call or e-mail her today.
Areas of service include Wellington, Lake Worth, Royal Palm Beach, Boynton Beach, West Palm Beach, Loxahatchee, Greenacres and more.