Open House VS Private Showing | What is Better for a Home Seller?
When you are selling your home, there are a couple of options to allow buyers to view your property. You can choose to have an open house or stick to private showings. There are advantages and disadvantages to both methods of real estate showings, but which is best for you? Let's review your options and compare having an open house vs private showing.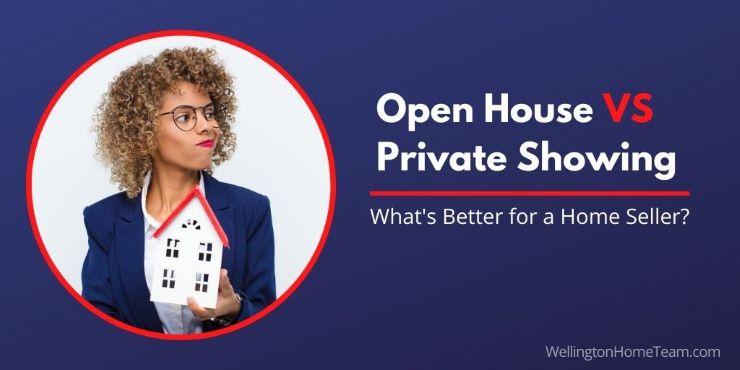 An Open House
Your real estate agent might suggest you have an open house for a few hours over the weekend. Open houses are just that "open," which means anyone can attend and walk through your home.
Now, visitors will be required to sign in, but not everyone will, and if they do may provide fake information. Once signed in the prospective "buyer" will then take a look around your home. If your agent isn't busy with other attendees they may show them around and answer any questions they may have. However, your agent can't be in two places at once. So if multiple people show up at the same time you'll have strangers walking around your home unsupervised.
Private Showings
Unlike an open house, a private showing is just that, private. A buyers agent will schedule an appointment for a specific time frame to tour your home with their client alone, no other buyers. This gives the buyer an opportunity to take their time looking around your home and envision living there without being distracted by other people or your agent. Oftentimes when a buyer takes the time to schedule an appointment they are a serious buyer unlike an open house, which may only attract nosy neighbors or looky-loos.
Open House VS Private Showing | What is Better for a Home Seller?
Open House VS Private Showing: What's Best?
Choosing between the two approaches can be difficult if you don't know the benefits and drawbacks involved, let's take a look.
Open Houses
Pros for Sellers
You might be told that opening up your home to buyers is helpful in motivating someone to purchase. The truth, however, is that there isn't much upside to having an open house.
Real estate agents tend to like them because they enable them to market their business. They get to advertise in your front yard and talk to potential clients that attend your open house, but the benefit to the seller is minimal.
Pros for Buyers
As a buyer, they can attend your open house without making an appointment. They also don't have to be qualified for a loan, so they can see the sort of homes that are available before they begin the mortgage pre-approval process. Nor do they have to give an agent their correct name and contact information.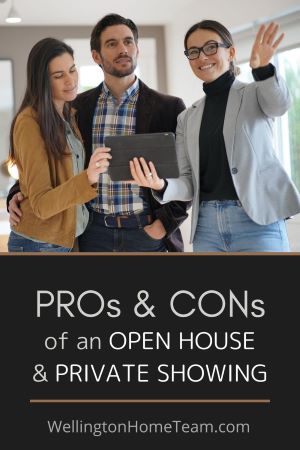 Cons for Sellers
The chances of selling because of an open house are very low. While it's true that sometimes open houses do lead to a sale, it would have likely happened anyway. If someone is interested in your home, they will make an appointment if they are really serious. With most people looking online for their next home, there seems little need for open houses as a way of marketing a property.
What is more, most of the people attending your open house won't have any intention of buying. Some won't be qualified to purchase, lacking the pre-approval from a lender, or be very early in their home buying process. Others will just want to have a look around your home because they are nosy neighbors or people who have nothing else to do.
But there could be attendees at your open house with much worse intentions. Criminals can use events like this to steal from you. They might take sensitive information from financial documents, or raid your medicine cabinet when your real estate agent is occupied with other people. Perhaps a visitor to your home is looking to see if you are worth burglarizing, checking your security, and unlocking a door or window to come back later.
Cons for Buyers
Other than being pestered by your agent, who is looking to offer their services, there really isn't a downside for a buyer. They will be required to give their details, and this can be used by your agent to follow up, that is if they provide accurate information.
Private Showings
Pros for Sellers
You will only have qualified people scheduling a private showing. They will be serious about purchasing a house like yours and have their finances ready to make an offer if they like what they find.
Pros for Buyers
With a private showing, buyers will be able to take their time viewing your home and do so without interruption from others. They'll be able to discuss right then and there and share their thoughts with their agent.
Cons for Sellers
It is better to be out of the property during a showing, so this could mean a lot of inconvenience to your life. You will also have to keep your home in a pristine condition until you find a buyer.
Cons for Buyers
They can't just arrive at your property and be shown around, they have to make an appointment. They will also need to be pre-qualified and screened by their real estate agent.
Final Thoughts
While decades ago an open house may have been a great strategy to sell a home with a minimal amount of inconvenience that is no longer the case. Now, open houses mainly attract nosy neighbors, looky-loos, and criminals. So in today's real estate market, the best way to keep your home and family safe is with private showings. This not only keeps strangers out it only allows qualified buyers who can actually purchase your home in. Yes, you will be required to keep your home pristine and be inconvenienced with showings throughout the week, which selling with kids can be tough, but odds are you'd have to do this even if you had open houses.
Please consider spreading the word and sharing; Open House VS Private Showing | What is Better for a Home Seller?
About the Author
Top Wellington Realtor, Michelle Gibson, wrote: "Open House VS Private Showing | What is Better for a Home Seller?"
Michelle has been specializing in residential real estate since 2001 throughout Wellington Florida and the surrounding area. Whether you're looking to buy, sell or rent she will guide you through the entire real estate transaction. If you're ready to put Michelle's knowledge and expertise to work for you call or e-mail her today.
Areas of service include Wellington, Lake Worth, Royal Palm Beach, Boynton Beach, West Palm Beach, Loxahatchee, Greenacres and more.

Open House VS Private Showing | What is Better for a Home Seller