There is no rule stating a home seller has to leave for showings. After all, it is their home so they can certainly stay, but top Realtors will always instruct them to leave. There is no question leaving for showings can be a big inconvenience to homeowners. Especially if the buyer provided a timeframe of when they'd be arriving and not an exact time. Throw kids and pets into the mix and it can be next to impossible to get everyone out of the house all while leaving it clean.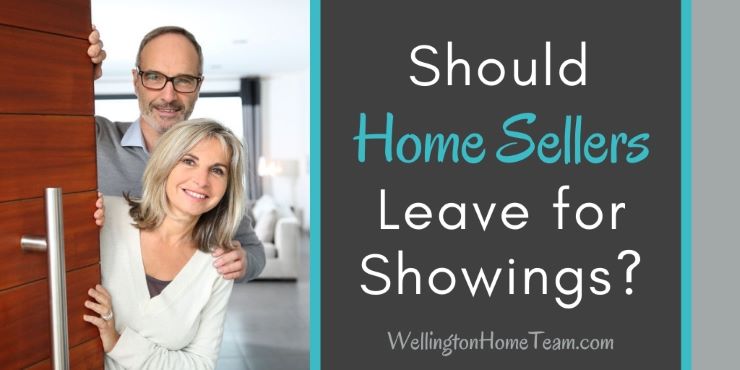 However, it's important for sellers to keep their eye on the prize, which is to sell their home. Remember the inconvenience of showings is only temporary. Although there are always a few sellers who don't feel being home for showings will negatively impact their home sale. In fact, some see it as a benefit, but here are 3 reasons why they should leave for showings.
An Uncomfortable Distraction
Not only can a seller make a home buyer uncomfortable by being present for showings, they can also be a huge distraction. The whole purpose of a showing is for the prospective buyer to view the property and see if it's "the one" for them. This means they'll want to envision themselves in the home. Think about furniture placement, discuss what changes they'd make, point out what they like or don't like and get a good look at everything, including what's behind the closet doors.
Oftentimes when a seller or even the listing agent is present it's impossible for a home buyer to do any of this. And the last thing a seller wants is for a buyer to rush out of the property. Now, there is a time and place when the listing agent should be present for showings. If it's a custom home that has features not visible and needs highlighting is a great example. But not for an average home where everything is standard and visible.
Showing Their Cards
Some home buyers and even agents will take advantage of the seller being home for showings and ask them questions. I'm not talking about questions pertaining to the home, like how old the roof or AC are. I'm talking about questions that can negatively impact their home sale, like why are they moving, where are they going and when are they leaving.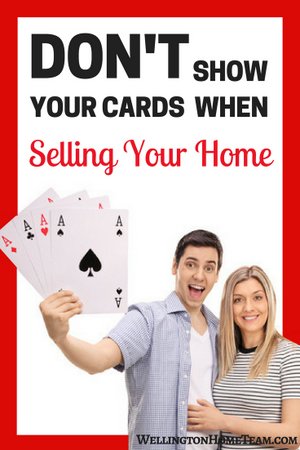 While a few sellers will dodge these types of questions others will spill the beans because they don't want to seem rude by not answering. When a seller starts disclosing their circumstances and shows the buyer their cards the information may be used against them.
If the seller is getting a divorce or going through a job transfer it could produce a lower offer. If the seller lets the buyer know they don't have to move it may produce no offer at all because the buyer doesn't feel the seller is motivated. Losing leverage during negotiations can be avoided if the seller leaves during showings.
False Hope
Selling a home can be an emotional roller coaster for a lot of sellers. But when they are home for showings the roller coaster can be derailed. Now, most buyers are not going to tell a seller their home smells, their style is tasteless or the backsplash they are so proud of is hideous.
So instead the buyer and even the Realtor may say something general like "nice house." However, what some sellers hear is "they love my home and will be making an offer" all while the buyer is marking a big X on the MLS sheet as they leave the property. So instead of a seller getting their hopes up or feelings hurt based on what the buyer said they can avoid the emotional stress altogether by leaving during showings.
Final Thoughts
There is no upside to a seller being home during showings. A lot of times it's not necessary for the listing agent to be there either. A lot of sellers want every feature of their home to be showcased during the showing. But it usually doesn't require the listing agent to be there and definitely doesn't require the seller to be there.
The MLS sheet and in-home feature sheet are great ways to highlight what the home has to offer. This can be done through photographs and descriptions, which gives the buyer an opportunity to freely look at the home and openly talk about it. I've shown homes with sticky notes posted everywhere pointing out the "upgrades," which was laughable to most of the buyers because those "upgrades" were standard and expected. My advice to home sellers is to leave for all showings.
If you think this article, Should Home Sellers Leave for Showings?, was an interesting read please give it a share!
Home sellers often wonder if they should leave for showings and not only does this article provide the answer it also explains exactly why. #homeselling
Additional Real Estate Advice from Top Professionals
About the Author
The above real estate article "Should Home Sellers Leave for Showings?" was written by Michelle Gibson of Wellington Florida Real Estate. Specializing in residential real estate since 2001 in Wellington and the surrounding area. Not only does Michelle assist buyers and sellers, she assists landlords and tenants too. She would love to share her expertise and guide you through the entire real estate process.
We service the following areas; Wellington, Lake Worth, Royal Palm Beach, Boynton Beach, West Palm Beach, Loxahatchee, Greenacres and more. If you are considering selling your home, we welcome the opportunity to work with you and list your home with a top Realtor in Wellington Florida